Today, 21st of February 2017, a reader of Ziarul de Garda reported that he found a ghost site titled ziaruldegarda.com. Editors checks have confirmed that this site is really a false page, which makes use of the name "Ziarul de Garda" and distribute information written by anonymous authors or stolen from other websites, causing harm to consummers of online media.
Analyzing the data, we found that web page ziaruldegarda.com was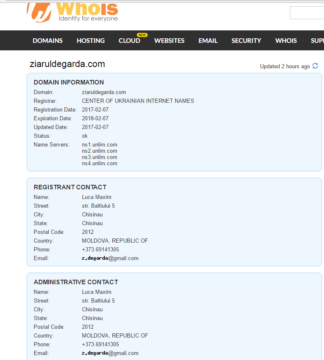 registered on 7 February 2017 by a man named Maxim Luca, having a false legal address. Although in registration data is written street address Balti, 5, Chișinau, the register of state data Cadastru.md says such an address does not exist. Also postcode indicated by the registrar of the fake web page is incorrect. Those who have registered this web page also left a phone number: 69141305. Repeatedly contacting by the newsroom, someone answered the phone number, ensuring that it has nothing in common with the media, is not involved to create any site and did not allow anyone to use its phone number.
On ziaruldegarda.com there is no mention of who and why created this webpage, where they are, how they can be contacted, what is its purpose and why they took the name of a known printed an onlinenewspaper operating legally in Moldova since 2004. The portal seems to have an editorial policy similar to other anonymous sites that have emerged in the last year the Moldovan media market, promoting anti-opposition and pro-government opinions.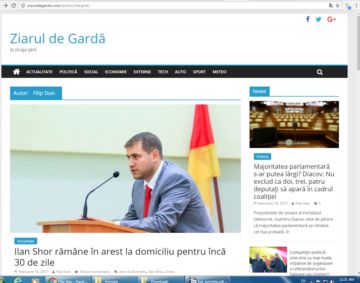 We also notice that the materials placed on this website are signed by a single author, probably falsely named Stan Filip,but actually texts are taken from the numerous pages of official media, some being linked to the real source, others – not. We notice that, although all texts are signed by Stan Filip, on URL bar of the page appears as the author someone named Harghel.
We note with concern that this website posing as a media outlet, is based on a false physical address, other false data, was released exclusively on stealing a designation of an existing institution and content stolen from other media outlets.
-We call on colleagues in the media to inform citizens about this fake. In these circumstances, when the independent media passes the most precarious conditions we could have in Moldova, when falsehoods are propagated excessive in politically controlled media, solidarity and defense of authentic press and transparent media institutions and ethical traditions is a day by day struggle.
-We urge civil society to support real media, that shows names, addresses, real teams and does real journalism. We also call for civil society to join our demarches to the authorities to elucidate this forgery and brutal image theft.
-We urge law enforcement authorities to investigate the theft of image and information and to come up with information about the ultimate beneficiaries of this project.
-We urge development partners of Moldova to take note of this attack on the image of a reputed group of investigative journalists, which is now placed in difficulties to defend its name and its readers of criminal abuses, staged by counterfeit.
It's not the first time when attempts to steal the identity of Ziarul de Garda are made. In the election campaign in May 2011 in Chisinau,it was distributed a print run of fake numbers of printed edition Ziarul de Garda and Timpul. The law enforcement agencies then initiated an investigation, but so far did not show any name for counterfeiters of the two newspapers in Chisinau.
Ziarul de Garda was registered at the State Registration Chamber of Moldova on 22 March 2004, the name was created by the founders of the newspaper. The first printed number of Ziarul de Garda appeared on 29 July 2004, then appeared and web page www.zdg.md, which rose constantly and last year recorded more than one million unique visitors.
During 13 years of activity, our reporters and the newsroom got numerous prizes for specific indepependent investigative work.