01 September 2021 | 15:00
Interpol National Office in Chișinău requested the General Secretariat of the INTERPOL in Lyon, France, to detain the controversial businessman Veaceslav Platon and the politician – Colonel Gheorghe Cavcaliuc, after they both fled Moldova after the July 11 parliamentary elections.
Asked by ZdG, Viorel Țentiu, stated that:
"In the case of Platon, I requested his extradition and arrest, and in the case of Cavcaliuc, I requested his location. I submitted the necessary request last week to the Lyon office," Viorel Țentiu mentioned for ZdG.
On August 2, the prosecutors requested an arrest warrant for Veaceslav Platon, after he left Moldova. The controversial businessman Veaceslav Platon flew from Chișinău to London on Sunday evening, July 19, but from there he flew to Prague. At least that's what Platon's lawyer, Ion Crețu, says in a comment for Ziarul de Garda. Later, in a post on Facebook, Platon confirmed that he is in London.
In this context, on the same day, July 19, the General Prosecutor's Office issued a statement regarding Platon's departure from Moldova stating that "currently there is no pending work requiring the application of any preventive measure regarding Platon" and that "Platon does not have any motive to evade."
On June 14, the controversial businessman, Veaceslav Platon, sentenced in 2017 to 18 years in prison for allegedly obtaining, through illegal schemes, about 1 billion lei (47 million euros) from the Banca de Economii Bank, then released and re-tried, was acquitted in the bank fraud case.
On July 20, the General Prosecutor's Office announced that four members of the Build Europe Home Party had been sent to trial in the "brilliant green" case. The Prosecutor's Office issued an arrest warrant on the president of the party, Gheorghe Cavcaliuc. According to the institution, Cavcaliuc did not appear on July 16, at the Prosecutor's Office, his lawyers claiming that he is on vacation. Cavcaliuc is accused of hooliganism and violence after, on April 6, several members of his party allegedly sprayed the vice president of Sângerei district, Tudor Tutunaru, with brilliant green.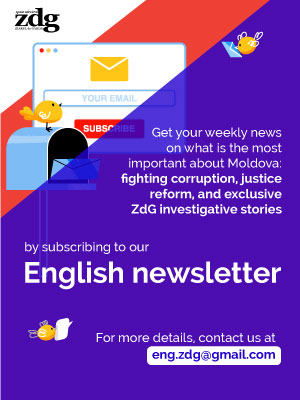 27 October 2021
While looking for interesting local people to invite to the Moldovan-American Convention MAC8 in Seattle, that will be held between September 30th and October 2nd 2022, I found Vladislav Zotea, a mountain climb…
Starting with his own life story, in 2010, Jasminko Halilovic, originally from Bosnia and Herzegovina, began documenting a book about children growing up in war times. Meanwhile, meeting dozens of people who we…
Roskomnadzor (Federal Communications, Information Technology, and Media Surveillance Service) ordered Ziarul de Gardă to delete an article about Russia's war on Ukraine and asked Internet operators to blo…
Several articles published by ZdG during 2021 have had an impact and led to opening criminal cases or sanctions. The investigation "Concrete Instead of Trees in a Chișinău Forest" brought to the public's…
"I left the unit out of fear. I joined the army to do military service and not to let someone mock me. (…) The superiors reacted aggressively. I learnt nothing from the military service: I made repa…
"Fighting corruption is a very important process that we engage to complete; the country's strategy, however, must focus on education." A year after the inauguration of Maia Sandu as President…
-
-
eskort
-
eskort eskişehir
-
-
betasus twitter
-
barista oat milk