Roskomnadzor (Federal Communications, Information Technology, and Media Surveillance Service) ordered Ziarul de Gardă to delete an article about Russia's war on Ukraine and asked Internet operators to block ZdG's website.
Ziarul de Gardă's editorial office received a summons on several e-mails stating that "At the request of the General Prosecutor's Office of the Russian Federation, on February 27, 2022, the Federal Surveillance Service in the field of communications, information technology, and media, requests the restriction of access to the article "Кто воюет против Украины? "Слідство.Інфо" выяснило, что известно о российских пленных" or "Who fights in Ukraine? "Слідство.Інфо" found what's known about the captured Russian soldiers." We mention that it is an article taken from our partners in Ukraine with which ZdG has been collaborating for many years.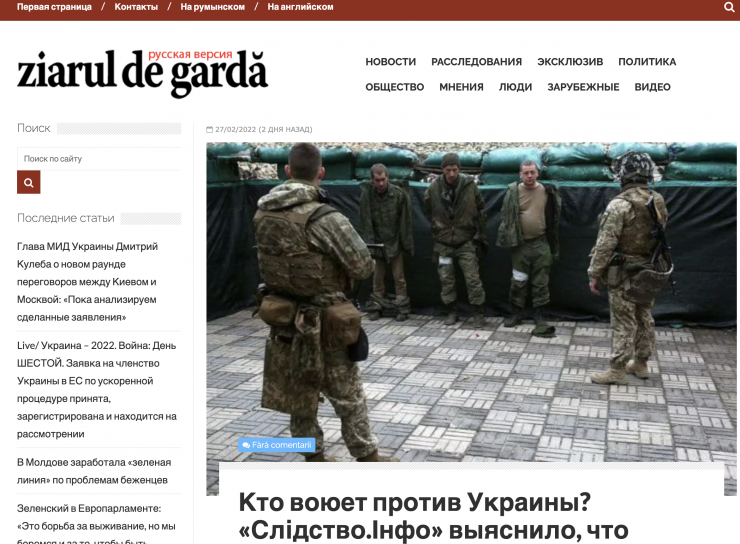 The ZdG editorial office is informed that we must remove the article within a day and that we need to inform the authority through an e-mail indicating that their request has been granted. At the same time, according to Roskomnadzor's indications, the internet operators should immediately remove our article, qualified as "illegal".
Please note that the summons reached the ZdG office on several e-mail addresses, including the address of the ZdG hosting company located in Germany.
The procedure is all the more difficult as the Roskomnadzor page is semi-functional, as are many other pages of the Russian authorities, so we cannot at least check whether the ZdG has already been included in the list of banned web pages in the Russian Federation.
ZdG analyzed the summons and decided that there was no legal basis to submit to any requests from the Russian Federation authorities, so the article in question, as well as all other articles, will remain on the site, and the editorial office will continue to write about Russia's war of occupation of Ukraine.
We call on the Moldovan legal authorities to take measures to protect the electronic space from possible intrusions and to take measures to protect the work of journalists from possible attacks or restrictions on the Internet activity of journalists who criticize the war waged by Russia.
We suggest to our readers in the Russian Federation to follow us on our Telegram channel, in case it will not be possible to access the web page.
The Roskomnadzor (Federal Communications, Information Technology, and Media Surveillance Service) is the institution that regulates media activity in the Russian Federation.
Several Russian soldiers captured by Ukrainian forces say they did not want to take part in the war and did not know where they were being taken. Dozens of videos of Russian soldiers captured by Ukrainians have been posted on social media. They were filmed while addressing their relatives or the Russian President Vladimir Putin. Some of the prisoners were filmed while they call their parents.
In one of the clips, a soldier taken prisoner began to cry, and the Ukrainians who were filming him tried to comfort him: "Calm down, everything is alright. Calm down."
While looking for interesting local people to invite to the Moldovan-American Convention MAC8 in Seattle, that will be held between September 30th and October 2nd 2022, I found Vladislav Zotea, a mountain climb…
Starting with his own life story, in 2010, Jasminko Halilovic, originally from Bosnia and Herzegovina, began documenting a book about children growing up in war times. Meanwhile, meeting dozens of people who we…
Several articles published by ZdG during 2021 have had an impact and led to opening criminal cases or sanctions. The investigation "Concrete Instead of Trees in a Chișinău Forest" brought to the public's…
"I left the unit out of fear. I joined the army to do military service and not to let someone mock me. (…) The superiors reacted aggressively. I learnt nothing from the military service: I made repa…
"Fighting corruption is a very important process that we engage to complete; the country's strategy, however, must focus on education." A year after the inauguration of Maia Sandu as President…
On December 24, 2020, Maia Sandu pronounced her inauguration oath of office as President of the Republic of Moldova: "I swear to give all my strength and skill to the prosperity of the Republic of Moldova, to r…
-
-
barista oat milk
-
yatırımsız deneme bonusu