The new US Ambassador to Moldova, Kent Doyle Logsdon, took the oath of office on Wednesday, December 28, in Washington DC. Ambassador Logsdon will soon arrive in Moldova to lead the Embassy team in further strengthening the US-Moldova bilateral relationship that the two countries have built over the past 30 years.
A senior member of the Higher Diplomatic Service, Ambassador Logsdon was the most recent Chief of Staff to the Undersecretary for Growth, Energy and the Environment and, prior to that, was Assistant Principal Secretary of State in the Office of Energy Resources.
He also served as Deputy Head of the US Embassy Mission in Berlin, Germany, serving as Chargé d'Affaires from January 2017 to May 2018.
Prior to leaving for Berlin, Ambassador Logsdon served as Executive Assistant to the Deputy Secretary of State for Management and Resources and was also Deputy Executive Secretary of the State Department. His previous duties include Director of Operations Center, Director of the Office of Russian Affairs, and Deputy Head of Mission in Tbilisi, Georgia.
He has also been a political advisor in Kyiv, Ukraine, and has held a variety of positions in Bangkok, Thailand; Almaty, Kazakhstan; Islamabad, Pakistan; and Stuttgart, Germany. Ambassador Logsdon speaks Russian, Ukrainian, Thai, and German. He is studying Romanian. Ambassador Logsdon is originally from Sewickley, Pennsylvania.
The new ambassador holds a master's degree in international relations from the University of Virginia and a bachelor's degree in government from the University of Notre Dame. He will be joined in Chișinău by his wife, Michelle, a recently retired foreign affairs officer.
On July 13, US President Joe Biden nominated Kent Doyle Logsdon for the post of US Ambassador to Moldova. The announcement was made by White House representatives in a press release.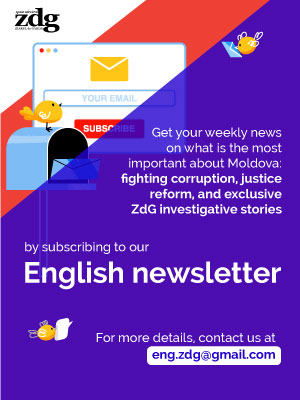 Alina Radu
22 August 2021
While looking for interesting local people to invite to the Moldovan-American Convention MAC8 in Seattle, that will be held between September 30th and October 2nd 2022, I found Vladislav Zotea, a mountain climb…
Starting with his own life story, in 2010, Jasminko Halilovic, originally from Bosnia and Herzegovina, began documenting a book about children growing up in war times. Meanwhile, meeting dozens of people who we…
Roskomnadzor (Federal Communications, Information Technology, and Media Surveillance Service) ordered Ziarul de Gardă to delete an article about Russia's war on Ukraine and asked Internet operators to blo…
Several articles published by ZdG during 2021 have had an impact and led to opening criminal cases or sanctions. The investigation "Concrete Instead of Trees in a Chișinău Forest" brought to the public's…
"I left the unit out of fear. I joined the army to do military service and not to let someone mock me. (…) The superiors reacted aggressively. I learnt nothing from the military service: I made repa…
"Fighting corruption is a very important process that we engage to complete; the country's strategy, however, must focus on education." A year after the inauguration of Maia Sandu as President…
-
-
barista oat milk
-
yatırımsız deneme bonusu