The salary arrears at Moldovan Railway amount to over 5 million euros, according to the leadership of the Railway Trade Union Federation, which announced that it signed a new collective labor agreement with the company's presidents.
"The Moldovan Railway Trade Union and the Moldovan Railway has signed a new collective labor contract for the years 2021-2026, which provides for the procedure of establishing and revising the minimum amount guaranteed to the salary in the sector, the functioning of the tariff system of labor remuneration, the remuneration of the personnel who work in harmful working conditions, being established at the same time various categories of bonuses and salary additions."
In the context of the situation related to arrears of wages accumulated for several months, which harmed the interests of about 6,500 employees of the company, the branch union repeatedly addressed to the authorities for a solution and organized several protests, requesting the resignation of the management.
In April 2021, a Special Parliamentary Commission presented a report on the Moldovan Railway's activity in the last decade. They found embezzlement of over 50 million euros. The Commission submitted the report to the Government and the General Prosecutor's Office.
In March 2021, the ZdG reporters investigated the situation of the Moldovan Railway. Read the full investigation here: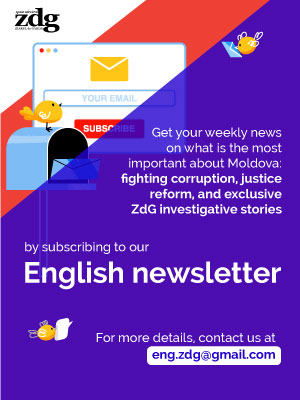 Press Release
05 October 2020
While looking for interesting local people to invite to the Moldovan-American Convention MAC8 in Seattle, that will be held between September 30th and October 2nd 2022, I found Vladislav Zotea, a mountain climb…
Starting with his own life story, in 2010, Jasminko Halilovic, originally from Bosnia and Herzegovina, began documenting a book about children growing up in war times. Meanwhile, meeting dozens of people who we…
Roskomnadzor (Federal Communications, Information Technology, and Media Surveillance Service) ordered Ziarul de Gardă to delete an article about Russia's war on Ukraine and asked Internet operators to blo…
Several articles published by ZdG during 2021 have had an impact and led to opening criminal cases or sanctions. The investigation "Concrete Instead of Trees in a Chișinău Forest" brought to the public's…
"I left the unit out of fear. I joined the army to do military service and not to let someone mock me. (…) The superiors reacted aggressively. I learnt nothing from the military service: I made repa…
"Fighting corruption is a very important process that we engage to complete; the country's strategy, however, must focus on education." A year after the inauguration of Maia Sandu as President…
-