Germany donates Moldova medical equipment worth 9.6 million euros. The donation was made through the Civil Protection Mechanism of the European Union, under the auspices of the Europa Team initiative.
According to the Ministry of Health, the donation includes 100 lung ventilation equipment, 900 pulse oximeters, 4 million masks, 7 million surgical masks, 500,000 disposable gloves, 500,000 goggles, 100,000 antiseptic protective suits, and 50,000 protective suits, amounting to 9.6 million euros.
"The help offered today is further proof that Germany is a reliable partner and a true friend to our country. Thanks to this assistance, medical institutions in the country will be provided with sufficient protective equipment and intensive care medicines to save more lives. We thank Germany and the European Union for their continued support to Moldova," said President Sandu.
"The government and the people of Germany are with Moldova, and through this batch of medical equipment, we show once more support in difficult situations. The purpose of this donation is to supply medical institutions with the necessary materials and equipment to prevent the spread of COVID-19, mentioned Angela Ganninger, Ambassador of the Federal Republic of Germany to Moldova.
According to the Ministry of Health, in the last year, Germany has offered to Moldova free of charge several medical devices and protective equipment to fight the COVID-19 pandemic. At the same time, Germany is one of the biggest funders of the COVAX initiative, through which Moldova received free vaccines against COVID-19.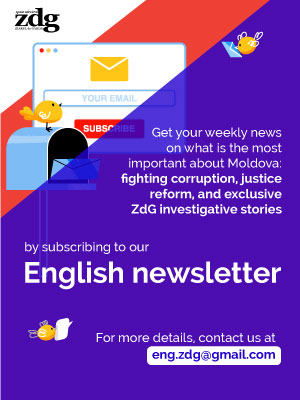 Aneta Grosu
23 March 2021
While looking for interesting local people to invite to the Moldovan-American Convention MAC8 in Seattle, that will be held between September 30th and October 2nd 2022, I found Vladislav Zotea, a mountain climb…
Starting with his own life story, in 2010, Jasminko Halilovic, originally from Bosnia and Herzegovina, began documenting a book about children growing up in war times. Meanwhile, meeting dozens of people who we…
Roskomnadzor (Federal Communications, Information Technology, and Media Surveillance Service) ordered Ziarul de Gardă to delete an article about Russia's war on Ukraine and asked Internet operators to blo…
Several articles published by ZdG during 2021 have had an impact and led to opening criminal cases or sanctions. The investigation "Concrete Instead of Trees in a Chișinău Forest" brought to the public's…
"I left the unit out of fear. I joined the army to do military service and not to let someone mock me. (…) The superiors reacted aggressively. I learnt nothing from the military service: I made repa…
"Fighting corruption is a very important process that we engage to complete; the country's strategy, however, must focus on education." A year after the inauguration of Maia Sandu as President…
-
-
barista oat milk
-
yatırımsız deneme bonusu