President Maia Sandu will pay an official visit to Berlin on May 19-20. According to a press release from the Presidency, the visit takes place at the invitation of the President of the Federal Republic of Germany, Frank-Walter Steinmeier, "with the aim of giving a new impetus to bilateral relations between the two states".
According to the information note issued by the presidential institution, on the first day of the visit, on May 19, Maia Sandu will have a meeting with the Presidents of Germany, Frank-Walter Steinmeier, after which the two heads of state will hold a press conference. Following the noon of the same day, President Sandu will have a discussion with the German Chancellor, Angela Merkel.
Also, during the official visits to Berlin, Maia Sandu will participate in hearings on Moldova in the Parliamentary Committee on Foreign Affairs and in the Committee on European Affairs and will have meetings with deputies from the CDU / CSU factions, SPD, Green Party of the Bundestag. Among the high-ranking officials that the head of state will meet with are:
Armin Laschet, Prime Minister of North Rhine-Westphalia, President of the Christian Democratic Party
Heiko Maas, Federal Minister of Foreign Affairs
Annegret Kramp-Karrenbauer, Federal Minister of Defense
Günther Krichbaum, Chair of the Parliamentary Committee on European Affairs
Norbert Roettgen, Chairman of the Committee on Foreign Policy
In Berlin, Maia Sandu will discuss several topics, such as: how bilateral relations between Germany and Moldova can be effective, the political and security situation in the country and the region, the support we need to mitigate the pandemic consequences, stronger economic cooperation, improving conditions for the Moldovan diaspora in Germany.
Likewise, President Sandu will participate in a public discussion entitled "Moldova – a new beginning", organized by the Konrad Adenauer Foundation. This will be preceded by a meeting with Mr. Norbert Lammert, President of the Foundation, and Gerhard Wahlers, Deputy Secretary-General.
The official delegation that will accompany Maia Sandu to Germany includes Cristina Gherasimov, presidential adviser in the field of foreign policy, and Veaceslav Negruța, adviser in the economic field.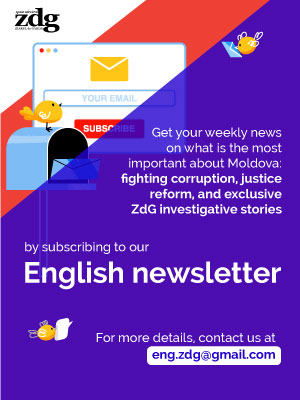 Corina Seremet, Foto/Video: Ecaterina Alexandr
25 July 2020
While looking for interesting local people to invite to the Moldovan-American Convention MAC8 in Seattle, that will be held between September 30th and October 2nd 2022, I found Vladislav Zotea, a mountain climb…
Starting with his own life story, in 2010, Jasminko Halilovic, originally from Bosnia and Herzegovina, began documenting a book about children growing up in war times. Meanwhile, meeting dozens of people who we…
Roskomnadzor (Federal Communications, Information Technology, and Media Surveillance Service) ordered Ziarul de Gardă to delete an article about Russia's war on Ukraine and asked Internet operators to blo…
Several articles published by ZdG during 2021 have had an impact and led to opening criminal cases or sanctions. The investigation "Concrete Instead of Trees in a Chișinău Forest" brought to the public's…
"I left the unit out of fear. I joined the army to do military service and not to let someone mock me. (…) The superiors reacted aggressively. I learnt nothing from the military service: I made repa…
"Fighting corruption is a very important process that we engage to complete; the country's strategy, however, must focus on education." A year after the inauguration of Maia Sandu as President…
-
-
-
barista oat milk
-
Tipobet Giriş
-
Ligobet