Two investigations carried out by our colleagues won the first and the third places in a competition organized by the Friedrich Naumann Foundation for Freedom (Germany) and the Independent Press Association.
ZdG author Anatolie Eșanu took the third place to investigate the "The Portrait of a Head of National Penitentiary Administration." ZdG revealed that Serghei Demcenco, deputy director of the National Administration of Penitentiaries, has lived for many years in an undeclared luxury house in midtown Chișinău. Starting with 2014, Serghei Demcenco declares alleged donations from relatives amounting to 60,000 euros.
READ MORE: The Portrait of a Head of National Penitentiary Administration (Part II): One More Undeclared House and Instructions Given to a Subordinate in Obscene Language
The first prize went to our colleague Victor Moșneag for the "All the President's Men" investigation, which follows family members or university colleagues of Igor Dodon and his wife, Galina Dodon. The presidential entourage developed businesses and big fortunes for the presidential couple's benefits.
READ MORE: All the President's Men
The contest is in its third edition, the best journalistic investigations being awarded in 2018 and 2019. The purpose of the competition is to stimulate investigative journalists' merits in Moldova to fight against corruption and other crimes.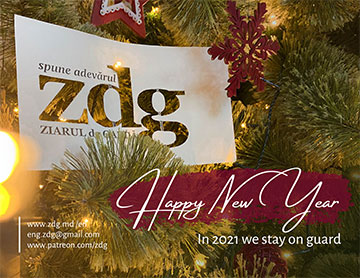 Alina Frunza
08 August 2020
Natalia Gavriliță is the candidate for the prime minister position. The announcement was made today, January 27, during a press briefing by President Maia Sandu. "Today I made the decision to nominate Nat…
President Maia Sandu came with a message on International Holocaust Remembrance Day. She says that it is our duty to do everything possible so that such tragedies never happen again, anywhere in the world. R…
The General Prosecutor's Office confirms to ZdG the detention of the former anti-corruption prosecutor Roman Statnîi, a former subordinate of the suspended head of the Anticorruption Prosecutor's Of…
The Parliamentary Assembly of the Council of Europe adopted a resolution on undermining the independence of the judiciary in Moldova. The Assembly is concerned about the judiciary's proximity to political autho…
President Maia Sandu amended the regulations of the Supreme Security Council establishing new and exact criteria regarding the persons who can be appointed as members. Today was the first meeting of the new cou…
At the end of December 2020, the EU offered Moldova a batch of equipment to combat the COVID-19 pandemic as part of its "Solidarity for Health" Initiative in the Eastern Partnership (EaP) countries.