09 September 2020 | 14:27
The National Platform of the Eastern Partnership Civil Society Forum organized a protest at the Embassy of Belarus in Chișinău, in solidarity with the Belarusian National Platform regarding the presidential elections of August 9, 2020, and the current political situation in Belarus.
The participants called for the release of their three colleagues from the National Platform in Belarus.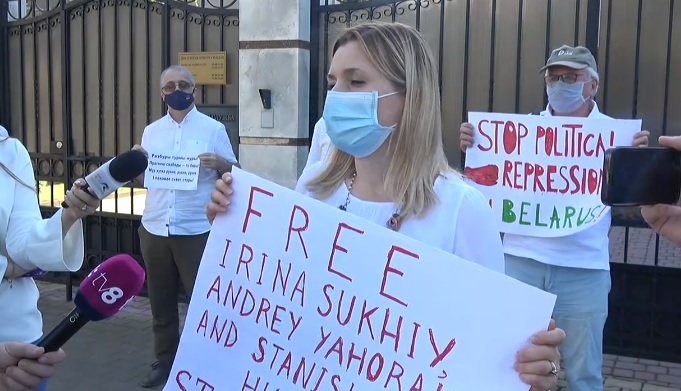 "Shame, shame," "We demand the release of our colleagues," "We demand free and fair elections in Belarus," "Freedom, freedom, freedom," chanted the protesters.
A Special Parliamentary Commission presented on Thursday a report on the Moldovan Railway's activity in the last decade. They found embezzlement of over 50 million euros. The Commission submitted the repo…
The State Secretary of the Ministry of Interior Cornel Lebedinschi, that is the brother of the socialist deputy Adrian Lebedinschi, is proposed by the Socialist Party to the director position of the National Ce…
There are dangerous tensions between Moscow and Kyiv. Ukraine has said it is threatened with war after Russia has concentrated up to 20,000 troops on its borders in recent weeks. Kremlin rejects the allegations…
The Parliament announces that the Socialist Vice President of the Parliament Vlad Batrîncea met in Strasbourg with the President of Venice Commission, Gianni Buquicchio, and discussed the latest decision of the…
On her return from Strasbourg, President Maia Sandu had a meeting at the Cotroceni Palace with the Romanian President Klaus Iohannis. She also met with Romanian Prime Minister Florin Cîțu and discussed the pand…
On April 19-22, President Maia Sandu participated in the spring session of the Parliamentary Assembly of the Council of Europe delivering a speech about Moldova. She met with a number of officials discussing th…