Prosecutors from the Prosecutor's Office for Combating Organized Crime and Special Cases (PCCOCS) carried out on Friday, November 4, raids at the home of Orhei District President Dinu Turcanu, a member of the "Shor" political party. According to sources of Ziarul de Gardă, the raids took place in a criminal case concerning the preparation of mass riots.
Recently, the vice-president of the "Shor" party Marina Tauber, who is the target of two criminal cases filed on "knowingly accepting party funding from an organised criminal group" and "falsifying the party's financial management report", announced that the house of Dinu Turcanu, who is a party member, was raided.
"(…) I would like to inform you that today new searches were organized at the home of Mr. Dinu Turcanu, the president of Orhei district, and, as far as I have learned from our lawyers, at some of our activists. (…) As far as I know, Mr. Turcanu was heard at the PCCOCS. We already have a new file on our head – destabilization of the situation in the country", said Marina Tauber in front of the "Shor" Party protesters in front of the Chisinau Court, Ciocana seat.
On Friday morning, November 4, employees of the National Investigation Inspectorate (INI) of the IGP, together with prosecutors from the PCCOCS, conducted searches of several figures on a criminal case aimed at preparing mass riots.
Representatives of the IGP have not yet provided details of the raids and the criminal case aimed at "preparing mass disorder".
An important figure in the protests, to which people were brought in an organized way and paid for it, Țurcanu joined the "Șor" party team in 2019, when he participated in the local elections for the Orhei District Council. He became a councillor and in November 2019 he was elected president of the district.
Previously, ZdG wrote that the political camp he elected three years ago is, however, different from his previous work. For example, from 2000-2004 he studied in Romania at the University of Craiova, and in 2005 he attended a NATO studies course at the National School of Political and Administrative Studies in Bucharest. Shortly afterwards, Turcanu began collaborating with Iurie Rosca, then leader of the unionist movement in Moldova, now a promoter of conspiracy theories and pro-Kremlin messages justifying the war in Ukraine and portraying Russian President Vladimir Putin as a saviour. Turcanu worked for Rosca as a non-permanent consultant to parliament, then in 2009 he openly allied himself with the pro-European, pro-union Christian Democratic People's Party (PPCD), which Rosca led.
A leading promoter of the party's messages, Țurcanu became one of the party's "Magnificent 7" – a team of young people ready for the 29 July 2009 parliamentary elections, but who did not make it to the legislature. In a March 2010 interview, Țurcanu described himself as "the number two person in the PPCD party hierarchy". He tried three times, in 2009, 2010 and 2014, to get into parliament on the PPCD lists, without winning a seat. After his failure in 2014, Țurcanu, considered one of Rosca's closest and most devoted supporters, disappeared from political life.
In his last declaration of wealth and personal interests for the year 2021, Dinu Țurcanu declares only his salary of about 181 thousand lei, collected from the Orhei District Council, a plot of land with an area of almost five acres, obtained in 2018, whose indicated value is 250 thousand lei, and a Renault car, manufactured in 2012 and obtained in 2016, listed in the papers with a value of 180 thousand lei. Țurcanu also declares a debt of 200 thousand lei, money that his wife contracted in 2020 from Moldindconbank and that he must return by 2025.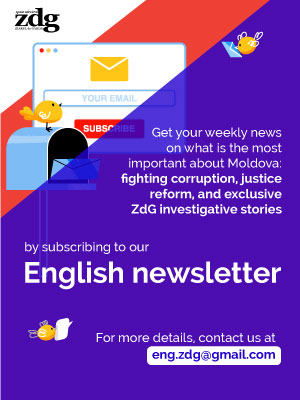 Alina Radu
30 September 2020
While looking for interesting local people to invite to the Moldovan-American Convention MAC8 in Seattle, that will be held between September 30th and October 2nd 2022, I found Vladislav Zotea, a mountain climb…
Starting with his own life story, in 2010, Jasminko Halilovic, originally from Bosnia and Herzegovina, began documenting a book about children growing up in war times. Meanwhile, meeting dozens of people who we…
Roskomnadzor (Federal Communications, Information Technology, and Media Surveillance Service) ordered Ziarul de Gardă to delete an article about Russia's war on Ukraine and asked Internet operators to blo…
Several articles published by ZdG during 2021 have had an impact and led to opening criminal cases or sanctions. The investigation "Concrete Instead of Trees in a Chișinău Forest" brought to the public's…
"I left the unit out of fear. I joined the army to do military service and not to let someone mock me. (…) The superiors reacted aggressively. I learnt nothing from the military service: I made repa…
"Fighting corruption is a very important process that we engage to complete; the country's strategy, however, must focus on education." A year after the inauguration of Maia Sandu as President…
-
-
-
barista oat milk
-
Tipobet Giriş
-
Ligobet