26 September 2022 | 09:24
Three border guards are under criminal investigation for facilitating the illegal entry, stay and transit of the Republic of Moldova by citizens of Ukraine. The total amounts paid by the applicants ranged from $3,000 to $5,000. According to law enforcement officers, part of this money went to the policemen. The Prosecutor's Office for Combating Organised Crime and Special Cases (PCCOCS), announces that the investigation of the group began in January 2022, and subsequently, another criminal case was connected to that case, which was started at the end of August.
The three border guards are two men and one woman, aged between 30 and 38. They are employees and managers in the Border Police Sectors "Basarabeasca," "Săiți" in Causeni and "Tudora." Following the hearing of the three, two suspects agreed to cooperate with the investigating authority, while the third was detained and is to be charged by PCCOCS prosecutors.
"According to the data in the case file, which was gathered including as a result of the nine searches, for the services provided illegally, the applicants paid fees ranging from 3,000 to 5,000 US dollars. Part of this money, up to $1,000, went to the border guards investigated in the case.
Their role was to enter the data of persons from Ukraine who entered the country illegally into the Border Police's information system, as having crossed the state border legally. This ensured the applicants the possibility of legal transit of Moldova to the European Union," PCCOCS announced.
As for the actual crossing of the state border by the applicants, this task fell to other members of the criminal group, say PCCOCS prosecutors.
"They were smuggling people into the country through the southern region, outside the state border crossing points, as well as through the Transnistrian region. Some of these members of the criminal group have been identified, and some of them are reported wanted," law enforcement officials announce.
Investigations are continuing in order to establish all aspects of the crime committed, including financial-parallel investigations, during which the figures in the case are presumed innocent, according to the law.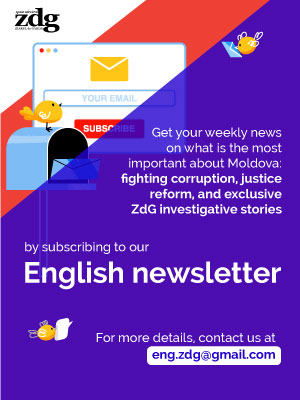 28 December 2021
While looking for interesting local people to invite to the Moldovan-American Convention MAC8 in Seattle, that will be held between September 30th and October 2nd 2022, I found Vladislav Zotea, a mountain climb…
Starting with his own life story, in 2010, Jasminko Halilovic, originally from Bosnia and Herzegovina, began documenting a book about children growing up in war times. Meanwhile, meeting dozens of people who we…
Roskomnadzor (Federal Communications, Information Technology, and Media Surveillance Service) ordered Ziarul de Gardă to delete an article about Russia's war on Ukraine and asked Internet operators to blo…
Several articles published by ZdG during 2021 have had an impact and led to opening criminal cases or sanctions. The investigation "Concrete Instead of Trees in a Chișinău Forest" brought to the public's…
"I left the unit out of fear. I joined the army to do military service and not to let someone mock me. (…) The superiors reacted aggressively. I learnt nothing from the military service: I made repa…
"Fighting corruption is a very important process that we engage to complete; the country's strategy, however, must focus on education." A year after the inauguration of Maia Sandu as President…
-
-
barista oat milk
-
yatırımsız deneme bonusu