While looking for interesting local people to invite to the Moldovan-American Convention MAC8 in Seattle, that will be held between September 30th and October 2nd 2022, I found Vladislav Zotea, a mountain climber and a native of Chișinău who currently resides in Auburn, WA. As a student of ULIM, he studied Business and Management, he left Moldova when he was 21, and arrived in US in 2014 on J-1 Work and Travel Visa.
Washington state wasn't his first destination. He spent his first couple of months in Galveston TX, a small island near Gulf of Mexico, working restaurant jobs. Now he's the owner of the trucking company called Always Best Service, LLC in Kent, WA with operations in the Seattle area, Chicago, IL and Portland, OR. However, all I wanted to talk with him about was his newly found passion – climbing. If you'd see his Facebook posts, you'd want to talk to him too. The list of mountains he conquered is impressive, considering he just started climbing three years ago.
In Washington state: Mt. Eldorado, Mt. Daniel, Dragontail Peak, Mt. Suksan, The Tooth Mt., Mt. Baker, Mt. St. Helen's, Mt. Adams, Mt. Rainier. Mt. Hood in Portland, Oregon, Mt. Whitney in California, Mt. Denali in Alaska. The farthest is Mt. Kilimanjaro in Africa.
Why mountains? How did you get into climbing? By enlarge, this is not a solo sport. Is that comradery that attracts you to it? Or what is it?
Besides the fact that I like to be out in nature, I got into climbing to deal with my stress. After I started my business, I had so much struggle, everything was tense, all conversations with my customers were stressing me out. I decided to do something, so I wouldn't get so overwhelmed. But nothing was helping. I couldn't manage it. I even got into an accident because of this. Everything was falling apart because I was too tired, all the time. Even when I would recover on the weekends, on Monday everything will start all over again, and I would be stressed out all week until Friday. I decided I have to look for something different to get the stress out, to help me survive because I was in so much stress and pain, I felt like I was dying. So, I looked up the types of hiking trails that I could do in the area. It's a pity to live here, surrounded by mountains, and not to take advantage of nature. One of those hikes was Wonderland trail. It's 100 miles around Mt. Rainier and one of the most beautiful backpacking hikes in America. (Author's note: Per Washington State National Parks' website, it is a strenuous hike with lots of elevation gain and loss, through lowland forests and valleys and into high alpine and sub-alpine areas.) On a Monday in August 2019, I decided to go there without any climbing or backpacking experience. I thought I'll just go there and manage to survive mentally and spiritually but on Tuesday I was already on the trail. In six days, I finished my 100 ml hike. From there, I started picking up other routes. Right after that I met people from a climbing club called Gorizont https://www.facebook.com/groups/211160202309571 with over 1,500 members, primarily for local climbers in Washington state but geared toward Russian-speaking people from the former Soviet Union, like Ukraine, Moldova, Kazakhstan, Russia, Uzbekistan etc. They have a training class for new beginners A1 and A2. We go out almost every weekend to climb volcanoes or to other cool places in the mountains.
You touched on a very interesting subject of using climbing as a stress relief. That's a very important subject to talk about, especially because men don't like to talk about stress and mental health. Would you like to expand on that?
Yes, actually climbing is all about that. People ask why I go to the mountains and my answer is to get extremely tired. Then I recover from it and I feel completely fresh. Also, when you are coming out of YOUR comfort zone and spending days without good food and nice living conditions, then when you're back to normal life, you start valuing what you have in your dailies.
This is not a cheap sport. Gear, safety training, time away from work. How can you finance your endeavors? Can you give some tips to others who would like to try climbing but can't afford it?
Definitely. Going to Denali in Alaska needed some planning and budgeting. Next year I am planning to climb Everest. But before you go to big mountains, there are three things that you need to do first, and that will be the same advice for the local mountaineers.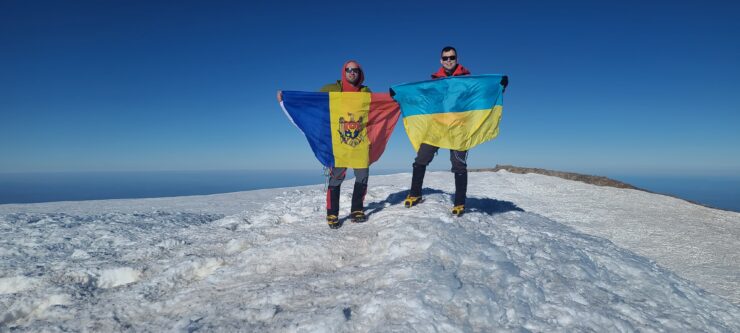 You have to prepare yourself. You have to be in good physical shape to climb mountains. Do some training before climbing, like walking and riding bicycles. Start eating healthy foods.
Find time for it. This one I call: "Just plan it and do it!" For me, if I plan it, I have to do it, to achieve my goal. Besides, that's something that I love to do. It makes me a stronger and a better person. I work better after that. I'm a better man for my family. So, my advice will be: Find time in your busy life and just do it. Forget what people want from you because everyone wants something different. Someone wants you to work, someone wants you to spend time with them. But you should make the final decision about what you want to do. If you care about yourself, and you want to make yourself better, you have to put your goals first.
Last but not least- money. Though, money is the easiest for me. I have a business, and I was always good at saving money. You can buy gear little by little and after time you'll notice that you have all that you need and it's worth a bunch of money.
How affordable is this sport?
It could get expensive with the time. Probably, all the gear I have right now costs $10,000. But when you start, it's not expensive. I would start with something small. Everyone has a pair of sneakers. Later you can add hiking poles, more comfortable shoes, and more comfortable hoodies. You need to go out a few times to figure out what are the challenges and what better gear you need. Every month or every couple of months I was adding something new to my list of gear, so it was a gradual expense.
What is the most challenging when you climb?
That's a very good question. Honestly, I never thought about it so deeply, so I will need to think about it for a minute. Physically, it's hard for either your legs, your heart, or your lungs. Mentally, it's hard to downclimb back after you climbed to the top of the summit. Everything hurts and you don't have the same motivation as you had on the way up to the summit. Though I enjoy a challenge, and I never complain. If we need to turn around for some reason, then we turn around. But the hardest thing is to find the right company to go with you. If you don't have the right people with you, then it's going to be a challenge and a problem. They will complain, they will be scared, they won't understand what you mean. That's why it's important to have the right people with you when you climb. Don't show to your rope partners how much you struggle and how tired you are. It wears them down.
What do you feel when you're done climbing? Pain, adrenaline, relief?
When I climb, I feel freedom and I feel special. Not many people go to those places and not everyone can make it. When I'm done, I'm feeling my pain, all of my body is exhausted but, at the same time, I'm happy and satisfied.
How is your family taking it all?
I got my wife involved in climbing too. I took her for her first climb to Mt. Bearing. She had her ice axe, crampons, and all the gear. She made it up there but then she got very scared because it was way too steep, too icy, and the snow was coming down, so we had to help her to get her down. But after that, she climbed with me Mt. St. Helens and even went by herself with her friends two times to Mt. Adams. She's supportive of me doing this, which really helps me to manage those trips.
I saw a Facebook post from July 24th about an incident when you climbed Mt. Olympus. One of your friends got pinned by a boulder and you and three of your friends had a hard time getting the boulder off him. You even had to interrupt your climb and go back to the camp. Can you tell me about that?
It was very scary. I honestly, thought I would never go back to the mountains again. When people said that climbing Mt. Olympus range was a bitch, they weren't lying. At that time, I felt terrible about going back to the mountains and having someone with me.
How do you get over this? How do you overcome that fear and anxiety to go to the mountains again?
I got over it faster than I thought I would. If you start going to the mountains, you'll just keep going. You'd probably never stop because the adrenaline rush is like a drug. Like one person, I don't remember who said: "I don't go to Mt. Everest to die, I go there to live." This part of my life brings me joy. It makes me feel alive. I would rather die in the mountains than be afraid of going there.
Back to the community matters. Are you aware that the 8th Moldovan-American Convection will be in Seattle this year? And would you consider joining us since you are already in the neighborhood?
I'll be honest, for some reason, I have never heard of it before, but apparently, it's the 8th Convention. I am now very interested. That sounds like a great event. I would definitely come. I will also invite my team members. I have a lot of team members from Moldova.
You are all welcome. Bring your wives and your kids. It will be fun.
Interview by Irina VanPatten
Starting with his own life story, in 2010, Jasminko Halilovic, originally from Bosnia and Herzegovina, began documenting a book about children growing up in war times. Meanwhile, meeting dozens of people who we…
Roskomnadzor (Federal Communications, Information Technology, and Media Surveillance Service) ordered Ziarul de Gardă to delete an article about Russia's war on Ukraine and asked Internet operators to blo…
Several articles published by ZdG during 2021 have had an impact and led to opening criminal cases or sanctions. The investigation "Concrete Instead of Trees in a Chișinău Forest" brought to the public's…
"I left the unit out of fear. I joined the army to do military service and not to let someone mock me. (…) The superiors reacted aggressively. I learnt nothing from the military service: I made repa…
"Fighting corruption is a very important process that we engage to complete; the country's strategy, however, must focus on education." A year after the inauguration of Maia Sandu as President…
On December 24, 2020, Maia Sandu pronounced her inauguration oath of office as President of the Republic of Moldova: "I swear to give all my strength and skill to the prosperity of the Republic of Moldova, to r…
-