Veronica Dragalin, the new Chief Prosecutor of the Anti-Corruption Prosecutor's Office (PA), held her first press conference on Friday 19 August, at the beginning of her mandate. Dragalin spoke about her first impressions and activities at the beginning of her mandate, as well as about her visions, goals and objectives to increase the efficiency of the work of the Anti-Corruption Prosecutor's Office.
"I believe that the PA has a responsibility to implement internal policies and procedures to ensure that all people are treated equally under the law, regardless of position, political affiliation, opinions, wealth or any other aspect. Ensuring equal application of the law will combat the perception of selective justice. This means that we as an institution need to have enough courage to investigate cases that target the most powerful people in the country, former, but for me more importantly current. These are even prosecutors, judges, officers, politicians in opposition or in power, it doesn't matter.
We must discourage corruption in the judiciary, in Parliament, in the Government, in the leadership of political parties, but also in city and local councils. State control bodies, or rather their current and former leadership, will be in our sights for corruption. In every area there must be living examples of how the corrupt go to prison.
We want to provide as much transparency and relevant information about the cases as possible. It is very important that the press and the whole of society can independently analyse as much information as possible and be convinced that the files are done correctly, that they are reasoned, that the prosecution's position is motivated, that there is no discrimination on political or other grounds.
We now have many restrictions imposed by law on what we can and cannot present. I believe that some of these restrictions are exaggerated, we will look at the legislation, at international best practice and we will propose to Parliament to review these rules. (…) In each case there will be an approved media communication plan. Communication will be done through briefings and press releases. We do not want a show, but transparency, fairness and efficiency. (…) We will say as much as the law and the interest of the investigations will allow," Dragalin said.
The speech about the first 15 days of work after taking office as Chief Prosecutor of the Anti-Corruption Prosecutor's Office began with a metaphor.
"I feel that we have arrived on a battlefield with wounded soldiers, who right now risk dying if we do not take urgent action. Every soldier represents a criminal case, and we as prosecutors and officers in this institution are responsible to save them all. (…) We are in a crisis situation where we are obliged to act as a triage system.
(…) So far in Moldova there has never been a genuine fight to eradicate corruption by bringing people to justice. There has been so much corruption in Moldova that it is not possible to investigate and convict all these cases. (…) We have a very large number of cases and a very small number of prosecutors and officers. We as an institution have a responsibility to investigate cases where a person paid a bribe of 20 euros for a false certificate at COVID, but we also have criminal cases with evidence, which are high-profile cases. (…) We have to focus on big corruption and resonance cases, the big ones in the past, but all the schemes and corruption that exist in our country until today. (…) Our goal is not necessarily to put as many people in jail as possible, our goal is to deter corruption.
(…) The criminals in the system, I mean prosecutors, judges and officers, are the most dangerous criminals. This includes not only accepting or soliciting bribes to affect cases, but it also includes illegally leaking information that obstructs justice and which are criminal offences. (…) We cannot afford to keep such people in our system. Final convictions will take time. The first tangible results will come not overnight and perhaps not even in a few months. I, as head of this institution, will devote all the resources (which are n.r.) at my disposal to investigate such abuses and corruption and I promise you that for such offenders we will ask for the harshest measures and criminal penalties that the law allows us. This is the first key priority we have identified in the first 15 days," said the new PA Chief Prosecutor Veronica Dragalin.
On 1 August 2022, Veronica Dragalin began her work as Chief Prosecutor of the PA. Veronica Dragalin's presentation event was attended by Justice Minister Sergiu Litvinenco and President Maia Sandu of Moldova.
On 5 August 2022, Dragalin, accompanied by acting Prosecutor General Dumitru Robu, attended the meeting of the Superior Council of Prosecutors (SCP) where she was sworn in.
Veronica Dragalin was sworn in as head of the Anti-Corruption Prosecutor's Office – PHOTO
Veronica Dragalin passed the pre-selection stage in the competition for the position of Chief Prosecutor of the PA on 7 June 2022. A decision to this effect was adopted by the members of the Superior Council of Prosecutors (SCP). Veronica Dragalin obtained the highest score in the interview – 72.15 points.
Veronica Dragalin is the daughter of Elena Dragalin, founder of Moldova AID and the Moldovan-American Convention, and the Dragalin family is based in the USA. According to data published on the University of Southern California website, Veronica Dragalin was a former Assistant United States Attorney in the Public Corruption and Civil Rights Section of the U.S. Attorney's Office for the Central District of California.
According to her resume, in 2019, Veronica Dragalin received the "Case of the Year" award from the Bureau of Alcohol, Tobacco, Firearms and Explosives (ATF). In 2020, she received the FBI Director's Award.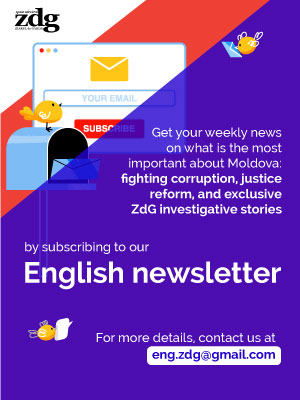 Press Release
30 August 2020
While looking for interesting local people to invite to the Moldovan-American Convention MAC8 in Seattle, that will be held between September 30th and October 2nd 2022, I found Vladislav Zotea, a mountain climb…
Starting with his own life story, in 2010, Jasminko Halilovic, originally from Bosnia and Herzegovina, began documenting a book about children growing up in war times. Meanwhile, meeting dozens of people who we…
Roskomnadzor (Federal Communications, Information Technology, and Media Surveillance Service) ordered Ziarul de Gardă to delete an article about Russia's war on Ukraine and asked Internet operators to blo…
Several articles published by ZdG during 2021 have had an impact and led to opening criminal cases or sanctions. The investigation "Concrete Instead of Trees in a Chișinău Forest" brought to the public's…
"I left the unit out of fear. I joined the army to do military service and not to let someone mock me. (…) The superiors reacted aggressively. I learnt nothing from the military service: I made repa…
"Fighting corruption is a very important process that we engage to complete; the country's strategy, however, must focus on education." A year after the inauguration of Maia Sandu as President…
-
-
barista oat milk
-
yatırımsız deneme bonusu