Three employees of the Chisinau Territorial Directorate for Food Safety were detained for 72 hours and questioned by prosecutors and officers of the National Anti-Corruption Centre (CNA), following searches carried out on August 9, at their homes and cars, in their offices, as well as in the single office for issuing permits within the Directorate. The officials are targeted in several criminal cases of passive and active corruption.
They are suspected of issuing, in exchange for bribes, phytosanitary certificates required for the export and re-export of goods to the European Union, Ukraine and the Russian Federation.
"According to the indictment, in the period 2017-2021 inclusive, employees of the Chisinau Municipal Directorate for Food Safety of the National Agency for Food Safety (ANSA) allegedly systematically collected sums of money, in the form of bribes, from economic agents for urgently obtaining phytosanitary certificates and other permissive and quality documents, without the goods intended for export being subject to detailed control. The officials allegedly issued certificates for various categories of goods, such as fruit, vegetables, cereals, wooden packaging, etc., with irregularities," the CNA statement said.
In one of the cases documented by the CNA, several economic agents specialised in the production of wooden pallets and packaging allegedly offered "undue" money to ANSA inspectors so that they could issue phytosanitary certificates required for export, without checking whether or not the pallets had been heat-treated, which was a condition that had to be met for the goods to be transported abroad, the CNA said.
As part of the special investigative measures, it was established that the documents were issued to traders in the absence of wood processing equipment, and for each batch of pallets exported, they would have passed on to officials a percentage of the cost of the goods.
"During the investigation of the systemic corruption scheme, dozens of episodes of issuing phytosanitary certificates against bribes with the involvement of ANSA officials were found. CNA officers have documented several transmissions in the amount of about 20,000 lei to officials, but the real amount, which went outside the official circuit, could be several times higher and is to be established in the investigation," the statement added.
Anti-corruption prosecutors are leading the criminal prosecution, which is being carried out in nine cases, which are based on passive and active corruption.
National legislation provides for up to 10 years' imprisonment for these offences, a criminal fine and deprivation of the right to hold public office.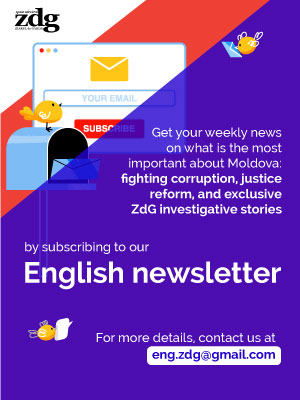 Cristian Jardan
12 July 2020
While looking for interesting local people to invite to the Moldovan-American Convention MAC8 in Seattle, that will be held between September 30th and October 2nd 2022, I found Vladislav Zotea, a mountain climb…
Starting with his own life story, in 2010, Jasminko Halilovic, originally from Bosnia and Herzegovina, began documenting a book about children growing up in war times. Meanwhile, meeting dozens of people who we…
Roskomnadzor (Federal Communications, Information Technology, and Media Surveillance Service) ordered Ziarul de Gardă to delete an article about Russia's war on Ukraine and asked Internet operators to blo…
Several articles published by ZdG during 2021 have had an impact and led to opening criminal cases or sanctions. The investigation "Concrete Instead of Trees in a Chișinău Forest" brought to the public's…
"I left the unit out of fear. I joined the army to do military service and not to let someone mock me. (…) The superiors reacted aggressively. I learnt nothing from the military service: I made repa…
"Fighting corruption is a very important process that we engage to complete; the country's strategy, however, must focus on education." A year after the inauguration of Maia Sandu as President…
-
-
barista oat milk
-
yatırımsız deneme bonusu