Interview with writer Anne Applebaum, author of Gulag: A History of Soviet Prisons; The Iron Curtain: The Crushing of Eastern Europe 1944-56; The Red Famine: Stalin's War in Ukraine.
Anne Applebaum was born in the US of Belarusian émigré descent and is known as one of the world's leading authors of historical books and articles published in the world's leading media on the history of the USSR and Eastern Europe, where she has exposed the crimes of the Soviet regime, and in recent years has critically described putinism, explaining why Russia is becoming a terrorist state in the heart of Europe.
Anne recently visited Ukraine, and from Odessa she travelled to Chisinau for a day. On the way to the airport she visited the ZdG newsroom.
– We would like to know about your new plans, you are visiting Odessa, you will write a new book. What is the idea?
– I have just been to Kyiv and Odesa. This is not really for a book, it is for a couple of articles I want to write in the next weeks. Since the war broke out in Ukraine, almost all of my plans have changed. I was supposed to be writing a book this spring that I did not even start. So, in that sense, I have a lot in common with everybody in this region, that everything we planned to do this year is now different. There is a short book I would like to write soon, based on an article I wrote for The Atlantic a couple of months ago which is on the subject of modern autocracy, how it works and how autocracies work together. So Russia, Belarus, China, and Venezuela, are countries that now work together, and who have a common fear and a dislike for European and American democracy, but also, their own democratic activism. Eventually, that's the book I want to write, but right now I just try to follow and understand what's going on in Ukraine.
– Previously you have published books and many articles on Gulags, famine and autocracy in this region of the former soviet regime. What are the lessons that humanity should learn to avoid these tragedies?
– The failure to absorb the lessons of the XX century bothers me a lot. It's particularly worrying in this part of the world, by which I don't mean only Moldova. I mean Germany, I mean France. Sometimes I think that western Europeans learned the wrong lesson. They did not understand that they won the cold war not because they are nice and not because they are peaceful, they won the cold war because the Americans put 200,000 soldiers on the border of Germany and because there was constant economic and political pressure on the Soviet Union and that's why, eventually, it collapsed. And we may need to do that again in order to stop Russia and maybe in order to stop China. But there is a lot of wishful thinking. There are a lot of people that want the world to be different, who want to be able to negotiate with Putin, who think they can call to speak with him, they can talk to him rationally and change his mind. They have forgotten how a dictator behaves, not just Stalin and Hitler, but others.Teaching people Soviet history and teaching people the history of modern Russia is very important here, in Europe, and in America.
– Do you have any communication with Russians?
– I have a friend who is still in Moscow. She is actually a member of the Russian opposition for many years, and she is one of the few people who decided not to leave and I talk to her every few weeks. Funny enough, she is a little bit more optimistic than many people, because she knows a lot of people whose careers have been very damaged by the war, like the wealthy people who lost their airplanes, their houses. She suspects that there will be an internal opposition to Putin eventually. She and others I have spoken to, who are inside or outside of Russia, think that there is not as much support for the war as it is sometimes portrayed. They say if you try an opinion poll in Russia, the majority of people who you call as the polling company says "we don't want to talk to you". So there is no good polling and we don't know what people really think. They also point out that, although there are no big demonstrations against the war now because it is very dangerous, there is also no big support for the war. You know this campaign with people who put Z on their cars, almost nobody does that.
– You published books on Gulag, Famine, and other results of Soviet dictators. Do you think that there will be new readers to your books after this war happened?
– I know that they will. One of my books is about Ukraine, it's about the history of the Ukrainian famine. It was published in March 2017. This year in March, it reappeared on the New York Times bestseller list. So, suddenly, people started to buy it in large numbers and not just in the US. It happened in some other countries too. So, partly it's because there are so few good history books about Ukraine around. There are some other ones. There is a very good historian at Harvard, called Serhii Plokhii, who wrote some very good books on the history of Ukraine.
– Looking at the world, and the biggest international institutions reaction to the war, from the beginning till now, they don't seem prepared for such a hard thing.
– There are different institutions. The United Nations has failed totally and one of the reasons it's failed is that Russia is a member of the Security Council so that means the United Nations effectively can't do very much. Actually, I understand that the Secretary General of the United Nations was very important in arranging some civilian evacuations from Mariupol and the Ukrainians were grateful to him, and I also understand that he is involved in conversations about the export of grain from Ukraine. He, personally, has done some good things, but yet, the UN which is supposed to be about enforcing peace was unable to do it. NATO is a very different kind of international organization and NATO was a little bit better prepared, partly because the United States began warning people that there might be a war already in October. NATO began to prepare, some soldiers were sent to Poland and Romania. Since the beginning of the war, we've seen this gradual increase in NATO supplying weapons to Ukraine. They understand what's necessary and before there could be any negotiations, the Russians have to be stopped and pushed back. So, I have a little bit more faith in them, because they're an organization that's dedicated to thinking about hard and difficult solutions.
– So the United Nations should think about a reform?
– I don't know if the United Nations is even fit for the 21st century as an institution. I don't know if we need it in its current form. Again, there are some things it does that are important, there is UNHCR and the refugee piece of it is very admired by some people, but the WHO failed in some ways during the pandemic and the Security Council has failed. Under the heavy influence of Russia and China, they don't function very well. Maybe we should think about alternative international institutions or democracies that want to act together and do things together.
– Coming back to China. In this part of the world we use to think more about Russia. But why should humanity and democracies think about China?What are the risks?
– China is a much more powerful, much wealthier country than Russia. Its leadership uses the same kind of aggressive, nationalist approach. Like Russia, it thinks of itself as a country that's above the law. It has very specific designs on some of its neighbors, most famously Taiwan. China says Taiwan is part of China and the possibility of China starting a war in Taiwan is a concern. The Chinese also have an enormous international influence campaign that they use all over Africa, the Middle East, South America, and Europe. They are less interested in undermining democracy the way that Russians are. They are more interested in promoting the model of China and so they directly could threaten democracies in Japan, South Korea, as well as Taiwan, and they, threaten the coherence of democracy around the world. Taking them seriously as another piece of the story is important for people even here. I also don't think that the Russians would have started the war in Ukraine if they weren't sure they had some support from China.
– Moldova is just amidst a lot of crisis now. How do you see the situation in Moldova now?
– I'm not here to tell Moldovans about their politics. I think it's very positive that Moldova has now, for the first time, a really unified pro-European government and as a result, you have this possibility of joining Europe in the future. I'm very sorry that didn't happen 20 years ago.
– But the Russian influence is still strong here.
– It's clear that the Russian influence is still large and it's gonna be very important for the current government to find a way of reaching Moldovans who live in this Russian informational sphere and reminding them of what their lives would be like in a Russian-occupied Moldova. It would look very much like the lives of people in Belarus who have no freedom and who are very poor. The autocracy brings loss of freedom, loss of movement, and poverty. It is one of the important tasks for this government and also for journalists like you, remining people about the risks.
– When you said that you are very sorry that the changes in Moldova didn't happen 20 years ago, what did we lose? I know you are so much involved in Poland, so maybe it's the case to compare those democracies and how it started.
– In 1989, Poland already had a kind of alternative elite. There were a group of people who were prepared to take over the government of the country and who had very clear goals, and the goal was to be part of the European Union and NATO and to rejoin the country in Europe. That was true from 1990. The first conversations about NATO membership took place in Warsaw, in 1991-1992, and over a decade, the Poles consistently made this argument, and maybe even more importantly, there were several changes of government in Poland between former Solidarity and former Communists, but even the former Communists agreed with this goal. Even though there was a lot of division and anger in Polish politics, this foreign policy goal did not change. It was shared by everybody. Because of that, EU and NATO membership were possible. It's also true that this was a different geopolitical moment. People were not afraid of Russia at that time. They did not believe that Russia was a threat.
– The last question. Just to have something for the dessert about yesterday's event. How is the situation in Odessa and how were the concert and people?
– I did go to a concert in Odessa. It was some kind of a benefit concert for some people of the military, and some volunteers, and, as you may have heard, Odessa is amazingly normal. People are out in the streets, restaurants are open, and many people begin to come back and they have also come back to Kyiv. And I have to tell you that when the air raid sirens go on, people don't even stop talking. They don't even react. I noticed this literally the same night, after the concert, I went for a walk around Odessa with a historian who has shown us these old buildings. He was explaining something and the sirens went on and he even did not stop his explanation. It turns out you get used to it. But, of course, I saw the mayor of Odessa and they are preparing the city in case there is a siege, they are collecting food, medicine, and so on, they are preparing for anything.
Interview by Alina Radu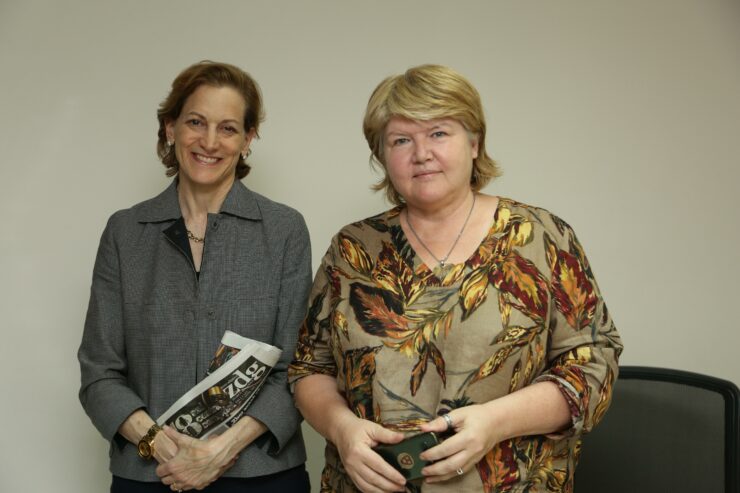 While looking for interesting local people to invite to the Moldovan-American Convention MAC8 in Seattle, that will be held between September 30th and October 2nd 2022, I found Vladislav Zotea, a mountain climb…
Starting with his own life story, in 2010, Jasminko Halilovic, originally from Bosnia and Herzegovina, began documenting a book about children growing up in war times. Meanwhile, meeting dozens of people who we…
Roskomnadzor (Federal Communications, Information Technology, and Media Surveillance Service) ordered Ziarul de Gardă to delete an article about Russia's war on Ukraine and asked Internet operators to blo…
Several articles published by ZdG during 2021 have had an impact and led to opening criminal cases or sanctions. The investigation "Concrete Instead of Trees in a Chișinău Forest" brought to the public's…
"I left the unit out of fear. I joined the army to do military service and not to let someone mock me. (…) The superiors reacted aggressively. I learnt nothing from the military service: I made repa…
"Fighting corruption is a very important process that we engage to complete; the country's strategy, however, must focus on education." A year after the inauguration of Maia Sandu as President…
-
-
barista oat milk
-
yatırımsız deneme bonusu