Source: MAI
Interior Minister Ana Revenco was in Prague on 11 July for a meeting of justice and home affairs ministers from all EU member states. According to the Interior Ministry, this is the first time that a minister from a non-EU country has been invited to attend the JHA meeting. At the same time, the JHA members are discussing for the first time the reshaping of the European security architecture, through the extension of the European security area, which will include the Republic of Moldova.
"The Justice and Home Affairs Council is developing cooperation and common policies on various cross-border issues with the aim of building an EU-wide area of freedom, security and justice. All EU interior ministers will discuss an innovative approach with concrete aspects of developing the European security ecosystem by setting up a JHA HUB in Chisinau. Two months ago, the Republic of Moldova proposed to the European Commissioner for Home Affairs, Ylva Johansson, the establishment of the EU Security HUB in Chisinau, for better protection and resilience to the risks and threats caused by the war in Ukraine, a proposal accepted by the EU states. With the establishment of this structure in Chisinau, the Republic of Moldova becomes a security producer for the European space, forming together with the EU member states a fortified security belt on the border with war.
Under the umbrella of this EU HUB in Chisinau, representatives of all law enforcement and judicial agencies in Europe, representatives of EU states, from national internal affairs systems will meet, who together with employees of Moldova's internal affairs system, will create strategies to counter trafficking in arms, drugs, heritage and art objects, human trafficking, terrorism and other organized crime activities, which force the borders of states bordering the war," MAI notes.
According to the source, such a structure in the Republic of Moldova would allow national law enforcement institutions access to advanced equipment, expanded infrastructure, access to information and better training modules for employees.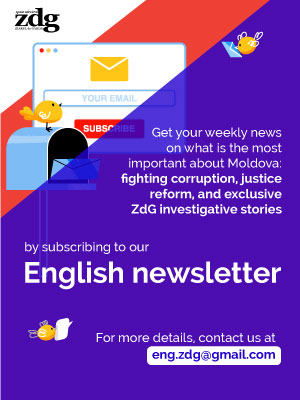 Maria Șveț
03 February 2021
While looking for interesting local people to invite to the Moldovan-American Convention MAC8 in Seattle, that will be held between September 30th and October 2nd 2022, I found Vladislav Zotea, a mountain climb…
Starting with his own life story, in 2010, Jasminko Halilovic, originally from Bosnia and Herzegovina, began documenting a book about children growing up in war times. Meanwhile, meeting dozens of people who we…
Roskomnadzor (Federal Communications, Information Technology, and Media Surveillance Service) ordered Ziarul de Gardă to delete an article about Russia's war on Ukraine and asked Internet operators to blo…
Several articles published by ZdG during 2021 have had an impact and led to opening criminal cases or sanctions. The investigation "Concrete Instead of Trees in a Chișinău Forest" brought to the public's…
"I left the unit out of fear. I joined the army to do military service and not to let someone mock me. (…) The superiors reacted aggressively. I learnt nothing from the military service: I made repa…
"Fighting corruption is a very important process that we engage to complete; the country's strategy, however, must focus on education." A year after the inauguration of Maia Sandu as President…
-
-
barista oat milk
-
yatırımsız deneme bonusu