The current purchase price of natural gas included in the tariff ($696 per thousand cubic meters) is $284 lower than the purchase price for July ($980). This is what Vadim Ceban, chairman of the Board of Directors of Moldovagaz SA, says after the company asked the management of the National Agency for Energy Regulation (ANRE) to increase the average natural gas tariff for end consumers by 45%.
So far Moldovagaz has accumulated 783 million lei in negative tariff deviations on the purchase price of natural gas, Ceban said.
"(…) Moldovagaz S.A. has never sought to increase tariffs at any price. We value our customers and always seek a balance between the interests of the supplier and the consumer (…). If the financial deviations of last year (1.7 billion lei) are taken into account, the total amount of deviations will be around 2.5 billion lei. I would like to point out that Moldovagaz does not request compensation for these financial deviations within one year, as required by ANRE methodology," Ceban said in a post on his Telegram page.
According to him, in addition to payment for consumed natural gas, the company is "obliged to bear fixed costs for the maintenance of natural gas transmission and distribution infrastructure."
"(…) As of July, these expenses will amount to 120-140 million lei. All these amounts are approved by ANRE under the current tariffs. Taking into account the fact that on 1 July 2022, the balance of the accounts of the enterprise left only 14 million lei, taking into account the priority payment of the obligations for the purchase of natural gas until 20 July 2022, it can be safely concluded that not all the expenses of the enterprise will be fully financed.
Moldovagaz's debt to the budget in the form of VAT for the import of natural gas in April and May 2022, based on the EC decision, amounts to 107 million lei, and every week the company will partially pay this debt. In July it is necessary to pay VAT for June, which in turn causes a significant financial burden (…). Since the beginning of the year, all categories of consumers have a debt of 79 million lei for natural gas supplied. Taking into account the prohibition of disconnection of debtors until 30 July, I do not see any positive dynamics for the repayment of the total amount of the debt in the next 14 days needed to collect funds for payment to the main supplier," Ceban concluded.
On July 2, Moldovagaz asked ANRE management to increase the average natural gas tariff for end consumers by 45%. If ANRE follows Moldovagaz's request, Moldovans will pay 23 lei and 57 bani, excluding VAT, for one cubic metre of natural gas consumed as of 1 July.
On 31 May, ANRE approved the current natural gas tariff of 17 lei 24 bani (excluding VAT) and 18 lei 60 bani with VAT, with the tariff being displayed on bills from 1 June.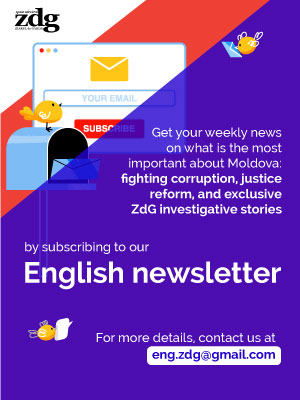 Christian F. Trippe
11 February 2021
While looking for interesting local people to invite to the Moldovan-American Convention MAC8 in Seattle, that will be held between September 30th and October 2nd 2022, I found Vladislav Zotea, a mountain climb…
Starting with his own life story, in 2010, Jasminko Halilovic, originally from Bosnia and Herzegovina, began documenting a book about children growing up in war times. Meanwhile, meeting dozens of people who we…
Roskomnadzor (Federal Communications, Information Technology, and Media Surveillance Service) ordered Ziarul de Gardă to delete an article about Russia's war on Ukraine and asked Internet operators to blo…
Several articles published by ZdG during 2021 have had an impact and led to opening criminal cases or sanctions. The investigation "Concrete Instead of Trees in a Chișinău Forest" brought to the public's…
"I left the unit out of fear. I joined the army to do military service and not to let someone mock me. (…) The superiors reacted aggressively. I learnt nothing from the military service: I made repa…
"Fighting corruption is a very important process that we engage to complete; the country's strategy, however, must focus on education." A year after the inauguration of Maia Sandu as President…
-
-
-
barista oat milk
-
Tipobet Giriş
-
Ligobet