Gazprom confirms that Moldova has paid its debt for the amount of gas consumed. The representatives of the Russian giant are worried that the debts may be repeated due to systemic problems in the energy sector of Moldova. The statements belong to Sergei Kuprianov, the press secretary of the chairman of the Board of Gazprom, writes TASS.
"Moldova has paid its current debts. Gazprom was kind and accepted a delay, although it had every reason to stop deliveries. The problem has been removed," Kuprianov said.
Gazprom expects the Moldovan side to take comprehensive measures to normalize the situation and to ensure the fulfillment of its contractual obligations to Gazprom, writes the Russian press.
"At the same time, the very fact that budgetary funds were needed to pay for gas signals systemic problems in the energy sector of Moldova. This means that the "crisis of defaults" can be repeated. All week, the Moldovan authorities reported publicly how they were saving the country and how they had reached an agreement on the allocation of money for an outstanding payment to Gazprom. There is nothing heroic about that. Payment under a contract is normal," said the representative of the Russian gas holding company.
Representatives of Moldovagaz announced on Friday evening, November 26, that they transferred to Gazprom the payment for natural gas consumed in October and the first half of November.
The deputies of the Chișinău Parliament approved in the second reading, during the plenary session of November 25, the amendments to the State Budget Law for the current year, which provides for the allocation of financial means to increase the share capital of Energocom Joint Stock Company by 85 million euros, in order to ensure measures for the purchase of natural gas to cover the deficit and for current consumption.
Moldova's debt to Gazprom was created due to the purchase of gas in October at a price of over 790 USD / thousand cubic meters, and the gas tariff applied for that month did not cover the difference, Deputy Prime Minister Andrei Spînu stated on November 23.
Gazprom previously announced that it intends to stop the supply of natural gas to Moldova because the payments are not paid within the set deadline, said Sergei Kuprianov, the press secretary of the chairman of Gazprom's Board of Directors.
On October 29, after a series of negotiations, the gas supply contract between Gazprom and Moldovagaz was extended for five years on mutually advantageous conditions, the Russian giant officially announced in an informative note.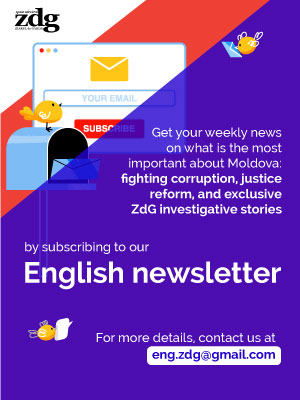 30 October 2021
While looking for interesting local people to invite to the Moldovan-American Convention MAC8 in Seattle, that will be held between September 30th and October 2nd 2022, I found Vladislav Zotea, a mountain climb…
Starting with his own life story, in 2010, Jasminko Halilovic, originally from Bosnia and Herzegovina, began documenting a book about children growing up in war times. Meanwhile, meeting dozens of people who we…
Roskomnadzor (Federal Communications, Information Technology, and Media Surveillance Service) ordered Ziarul de Gardă to delete an article about Russia's war on Ukraine and asked Internet operators to blo…
Several articles published by ZdG during 2021 have had an impact and led to opening criminal cases or sanctions. The investigation "Concrete Instead of Trees in a Chișinău Forest" brought to the public's…
"I left the unit out of fear. I joined the army to do military service and not to let someone mock me. (…) The superiors reacted aggressively. I learnt nothing from the military service: I made repa…
"Fighting corruption is a very important process that we engage to complete; the country's strategy, however, must focus on education." A year after the inauguration of Maia Sandu as President…
-
-
barista oat milk
-
yatırımsız deneme bonusu