Parliament rejected on Thursday, November 18, the simple motion of no-confidence initiated by the parliamentary faction of the Bloc of Communists and Socialists against the Ministry of Health.
"Following the hearing of the Minister of Health, the members of the Commission mention the efforts made by the Ministry of Health in the fight against the COVID-19 pandemic within 100 days of the inauguration, namely – the National Extraordinary Public Health Commission will declare starting November 18 cessation of the red epidemiological risk alert code due to the decrease in the number of cases registered daily and weekly. The rate of COVID-19 vaccination is increasing due to government efforts. The members of the Commission appreciated all the efforts made by the Minister of Health's team in fighting the COVID-19 pandemic," the report of the Commission on Social Protection, Health, and Family shows.
The Minister of Health, Ala Nemrenco, claims that "the motion is based only on stories out of context."
"I am not at all surprised that I am here today, because not today and not yesterday I am one of the favorite ministers of the opposition and all these feelings and attitudes even though I have seen them very well since January of this year, in fact, the roots are from 2019. Since some of them were interested in certain segments of drugs, anabolics, acquisitions, functions, grabbing. I also bothered a lot of people when I was too insistent with the insulin case, which National Anticorruption Center informed me was filed.
Moreover, I had a case initiated in 2016, which has been opened for many years, after it was merged with the Strim insulin case and was also filed. The ambulance case is also there. So there are many reasons for me to be a "favorite" of the opposition. I have become acquainted with your motion and I want to tell you that you did not even have the courage to initiate it against me. You wrote very nicely: "we initiate the motion of no-confidence to the minister's policies." So, because the policies are not animated and cannot come, out of respect for this Parliament I came. I want to tell you that the motion is based only on stories out of context and is submitted when, in fact, Moldova came out of this wave with the best situation in the region," said Ala Nemerenco from the rostrum of the Parliament.
52 deputies voted against the simple motion, and 6 parliamentarians voted "for".
The deputies met on Thursday, November 18, in a plenary session to debate the simple motion of no-confidence against the Ministry of Health. In the plenary, the Minister of Health, Ala Nemerenco, gave a speech from the rostrum of the Parliament, in which she described the text of the simple motion submitted by the opposition as "stories out of context."
On November 11, the Bloc of Communists and Socialists parliamentary faction filed a simple motion against the policies of the Ministry of Health. Vladimir Odnostalco, the deputy of the faction who read the text of the motion, invoked the inefficient management of the COVID-19 pandemic crisis. In this context, the deputy mentioned that "there is a need to give the vote of no confidence to the Minister of Health Ala Nemerenco."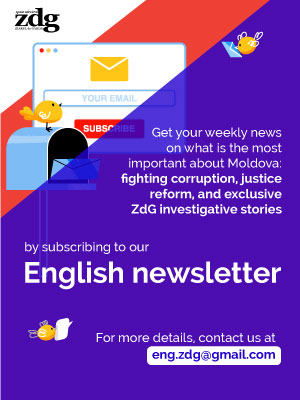 While looking for interesting local people to invite to the Moldovan-American Convention MAC8 in Seattle, that will be held between September 30th and October 2nd 2022, I found Vladislav Zotea, a mountain climb…
Starting with his own life story, in 2010, Jasminko Halilovic, originally from Bosnia and Herzegovina, began documenting a book about children growing up in war times. Meanwhile, meeting dozens of people who we…
Roskomnadzor (Federal Communications, Information Technology, and Media Surveillance Service) ordered Ziarul de Gardă to delete an article about Russia's war on Ukraine and asked Internet operators to blo…
Several articles published by ZdG during 2021 have had an impact and led to opening criminal cases or sanctions. The investigation "Concrete Instead of Trees in a Chișinău Forest" brought to the public's…
"I left the unit out of fear. I joined the army to do military service and not to let someone mock me. (…) The superiors reacted aggressively. I learnt nothing from the military service: I made repa…
"Fighting corruption is a very important process that we engage to complete; the country's strategy, however, must focus on education." A year after the inauguration of Maia Sandu as President…
-
-
barista oat milk
-
yatırımsız deneme bonusu