The deputy director of Poșta Moldovei State Enterprise Vasile Șoldan was detained this morning by the anticorruption officers in a case of abuse of office.
According to the preliminary data of the investigation, between May and June 2021, decision makers from Poșta Moldovei, having a prior agreement with two companies, would have concluded several fictitious contracts for the provision of IT services, despite the fact that Poșta Moldovei benefited from the same services, according to a contract concluded with another company in the field. In order to avoid the public auction, they would have completed the contracts as low value acquisitions, their total amount being 11,000 euros. Thus, the officials would have managed the financial resources contrary to their destination, harming the state budget to a large extent.
In order to accumulate the evidentiary material, several searches were carried out at the service office and the home of the current deputy director, and at the home of the former director of the institution. The offices of the two fictitiously contracted companies were also verified. Following the criminal prosecution actions, several pieces of evidence have been taken and are to be attached to the file.
For abuse of power or service, the national legislation provides a penalty of up to 7 years of detention or a fine of up to 6,000 euros, in both cases with deprivation of the right to hold certain public positions or to exercise a certain activity for a period of 5 to 10 years.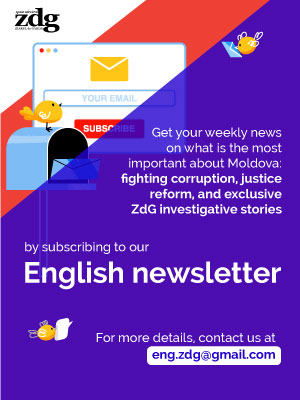 14 July 2021
While looking for interesting local people to invite to the Moldovan-American Convention MAC8 in Seattle, that will be held between September 30th and October 2nd 2022, I found Vladislav Zotea, a mountain climb…
Starting with his own life story, in 2010, Jasminko Halilovic, originally from Bosnia and Herzegovina, began documenting a book about children growing up in war times. Meanwhile, meeting dozens of people who we…
Roskomnadzor (Federal Communications, Information Technology, and Media Surveillance Service) ordered Ziarul de Gardă to delete an article about Russia's war on Ukraine and asked Internet operators to blo…
Several articles published by ZdG during 2021 have had an impact and led to opening criminal cases or sanctions. The investigation "Concrete Instead of Trees in a Chișinău Forest" brought to the public's…
"I left the unit out of fear. I joined the army to do military service and not to let someone mock me. (…) The superiors reacted aggressively. I learnt nothing from the military service: I made repa…
"Fighting corruption is a very important process that we engage to complete; the country's strategy, however, must focus on education." A year after the inauguration of Maia Sandu as President…
-
-
barista oat milk
-
yatırımsız deneme bonusu