Prime Minister Natalia Gavrilița and the USAID administrator, Samantha Power, held a press conference on Wednesday, November 17.
"The United States of America has always shown close support and friendship with Moldova, and your visit to us – the first visit to the highest level of USAID leadership in Moldova is a clear proof of this. We greatly appreciate the financial assistance and development support that Moldova has been providing for the last 29 years through USAID and other government agencies of the US Government worth over one billion US dollars. Anyone traveling through our country will notice large infrastructure objects marked with the USAID message from the American people. We see this message on water supply systems, refrigerators for agricultural products, tourist pensions, or wineries, but there are important changes for our country that cannot be marked with posters. I am considering important reforms supported by USAID over the years, such as regulatory reform that has simplified the lives of Moldovan entrepreneurs, justice reform, transparency of the financial system, support for the independent press, and democratic processes. There are entire areas of the economy that over time receive support, advice, and funding for certain activities from the US Development Agency. It is about agriculture and agricultural processing, IT, textiles, creative industries, furniture production, banking system," said Prime Minister Natalia Gavrilița.
"I am very happy that Moldova is the first country in Eastern Europe where I come for the first time as an administrator of USAID (…). Some of you may have heard or read that democracy is in retreat worldwide. Indeed, in some countries, freedoms have been in decline for 15 years, but it seems that Moldovan citizens have not received this message. The idea that democracy is in jeopardy and democratic regression has not been accepted by the people of this country, instead, they have come to call for an end to entrenched corruption and the oligarchic regime and to support leaders with an ambitious reform agenda. As you know, President Biden mentioned and appreciated this in his speech to the UN General Assembly, mentioning the efforts of the people here who want democracy. The revitalization of democracy is essential to addressing the common challenges facing the world today.
What is happening here in Moldova is a bright spot of democracy. During my meetings with the Prime Minister and President Maia Sandu, I discussed the Government's reform agenda, including those efforts to reduce corruption in the private and public sectors and to strengthen the connection between government institutions and citizens. We also discussed the reform of the justice sector which is a priority for this Government. The future is full of challenges. My message in my meetings with civil society and journalists was as follows: The USA will be with the citizens of Moldova. We are analyzing what kind of help we can offer to be on the same line with the Government of Moldova. I am glad that the Prime Minister will help me launch a new project today," said USAID Administrator Samantha Power.
On November 16-18, USAID Administrator Samantha Power will be in Moldova to promote the partnership between the United States and the Moldovan people, and to participate in events demonstrating USAID's commitment to supporting the country's reform agenda.
While in Moldova, the USAID administrator will launch a new program to improve the competitiveness of the country's growing sectors – digital and communications technology. She will meet with President Maia Sandu and Prime Minister Natalia Gavrilița to discuss democratic progress and USAID's efforts to increase Moldova's government transparency and economic opportunities, eliminate corruption and improve the lives of its citizens. In addition, Samantha Power will meet with journalists, civil society and community groups, business people, and local public administration.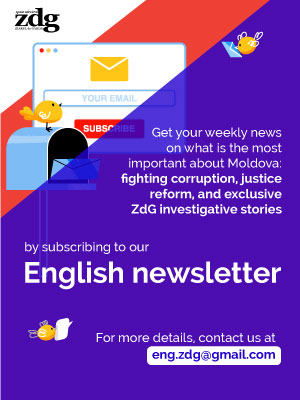 Alina Radu
07 June 2020
While looking for interesting local people to invite to the Moldovan-American Convention MAC8 in Seattle, that will be held between September 30th and October 2nd 2022, I found Vladislav Zotea, a mountain climb…
Starting with his own life story, in 2010, Jasminko Halilovic, originally from Bosnia and Herzegovina, began documenting a book about children growing up in war times. Meanwhile, meeting dozens of people who we…
Roskomnadzor (Federal Communications, Information Technology, and Media Surveillance Service) ordered Ziarul de Gardă to delete an article about Russia's war on Ukraine and asked Internet operators to blo…
Several articles published by ZdG during 2021 have had an impact and led to opening criminal cases or sanctions. The investigation "Concrete Instead of Trees in a Chișinău Forest" brought to the public's…
"I left the unit out of fear. I joined the army to do military service and not to let someone mock me. (…) The superiors reacted aggressively. I learnt nothing from the military service: I made repa…
"Fighting corruption is a very important process that we engage to complete; the country's strategy, however, must focus on education." A year after the inauguration of Maia Sandu as President…
-
-
barista oat milk
-
yatırımsız deneme bonusu