Fifty-two assets, worth over 24 million euros, frozen by the Agency for the Recovery of Criminal Assets and belonging to the former leader of the Democratic Party of Moldova Vladimir Plahotniuc, remain under seizure. Constitutional Court declared inadmissible the requests of Plahotniuc's lawyer, who asked the High Court to rule on alleged violations, admitted by the state bodies.
Lucian Rogac, Plahotniuc's lawyer, stated in 12 notifications that the contested norms allow the application of the seizure on the goods of some persons who do not have any status in the criminal case in which the application of the seizure is requested. In the notifications, it was mentioned that these provisions violate the person's right to free access to justice, the right to know his rights and duties, and the right to property. However, the court considered all the complaints, filed by Lucian Rogac, Vladimir Plahotniuc's lawyer, inadmissible.
The Agency for the Recovery of Criminal Assets seized 52 goods, belonging to Vladimir Plahotniuc, based on prosecutors' requests, in the billion-dollar bank fraud case. Among them are 11 cars, 11 buildings, a non-residential room, 5 share capitals, 17 residential and non-residential buildings, and 4 bank accounts. Of the total number of goods, 41 were identified in the country, another 11 – in Switzerland (7), France (1), and Romania (3).
The Agency for the Recovery of Criminal Assets representatives specifies that the process of recovery of criminal assets will be completed once the court adopts the confiscation decision. The final step of the process of recovery or sale of confiscated objects is performed by the institution of the bailiff and the State Fiscal Service.
Vladimir Plahotniuc left Moldova in June 2019, after the party he led, Democratic Party, ceded the government of a coalition formed by the ACUM Bloc and the Socialist Party, disbanded in November 2019. Following Plahotniuc's departure from the country, on his behalf, several criminal cases have been initiated.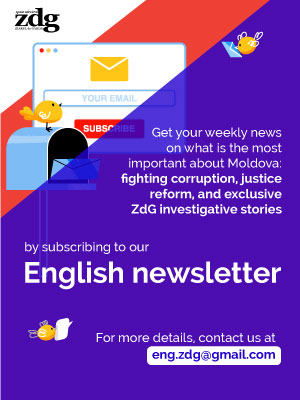 Petru Grozavu
14 October 2020
While looking for interesting local people to invite to the Moldovan-American Convention MAC8 in Seattle, that will be held between September 30th and October 2nd 2022, I found Vladislav Zotea, a mountain climb…
Starting with his own life story, in 2010, Jasminko Halilovic, originally from Bosnia and Herzegovina, began documenting a book about children growing up in war times. Meanwhile, meeting dozens of people who we…
Roskomnadzor (Federal Communications, Information Technology, and Media Surveillance Service) ordered Ziarul de Gardă to delete an article about Russia's war on Ukraine and asked Internet operators to blo…
Several articles published by ZdG during 2021 have had an impact and led to opening criminal cases or sanctions. The investigation "Concrete Instead of Trees in a Chișinău Forest" brought to the public's…
"I left the unit out of fear. I joined the army to do military service and not to let someone mock me. (…) The superiors reacted aggressively. I learnt nothing from the military service: I made repa…
"Fighting corruption is a very important process that we engage to complete; the country's strategy, however, must focus on education." A year after the inauguration of Maia Sandu as President…
-
-
barista oat milk
-
yatırımsız deneme bonusu