Parliament rejected a simple motion initiated by the Bloc of Communists and Socialists on the policies of the Ministry of Justice. There were 28 votes "for" and 53 votes "against" the motion.
The deputies met on Thursday, October 21, in a plenary session to debate the simple motion against the activity of the Ministry of Justice. The Minister of Justice, Sergiu Litvinenco, gave a speech from the rostrum of the Parliament, in which he described the text of the simple motion submitted by the opposition as "a mixture of lies and falsehoods."
"The motion is a mixture of fakes and lies. A manipulation with semi-truths taken out of context. (…) It is impossible in two months to build the rule of law. (…) Justice does not serve power, but those who seek justice. We have a rotten system and those from the opposition have contributed to it. After you overthrew the Maia Sandu Government, you took control of Justice," said the Minister of Justice.
The socialist deputy Grigore Novac stated that the reform of the Judiciary and the law on the Prosecutor's Office is a failure of the Action and Solidarity Party.
"We asked you what is being done in our state. You haven't done anything so far. (…) You have thwarted the reform of the Judiciary, and the law of the Prosecutor's Office is a failure of the Party for Action and Solidarity," stated the deputy Novac.
The deputies of the Shor Party announced that they will not participate in the voting procedure of the simple motion, mentioning that the action could be interpreted as retaliation.
"Mr. Stoianoglo acted against me and Jardan, so we will not participate because it is a conflict of interest, and our decision on this motion will be qualified as subjective (…) But in general, the position of the Shor Party towards the current government is a negative one," said the deputy Denis Ulanov.
On October 14, the parliamentary faction of the Bloc of Communists and Socialists submitted a simple motion against the activity of the Ministry of Justice. Vasile Bolea, who read the text of the motion, said that the Action and Solidarity Party and Justice Minister Sergiu Litvinenco "did everything they could to subdue justice." Bolea accused the majority of "political subordination of justice."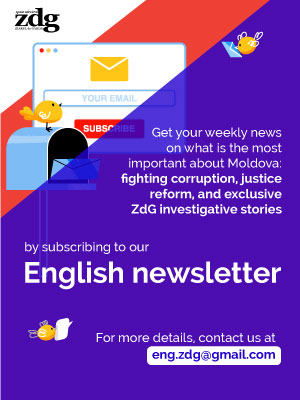 ZdG Newsroom
21 January 2021
While looking for interesting local people to invite to the Moldovan-American Convention MAC8 in Seattle, that will be held between September 30th and October 2nd 2022, I found Vladislav Zotea, a mountain climb…
Starting with his own life story, in 2010, Jasminko Halilovic, originally from Bosnia and Herzegovina, began documenting a book about children growing up in war times. Meanwhile, meeting dozens of people who we…
Roskomnadzor (Federal Communications, Information Technology, and Media Surveillance Service) ordered Ziarul de Gardă to delete an article about Russia's war on Ukraine and asked Internet operators to blo…
Several articles published by ZdG during 2021 have had an impact and led to opening criminal cases or sanctions. The investigation "Concrete Instead of Trees in a Chișinău Forest" brought to the public's…
"I left the unit out of fear. I joined the army to do military service and not to let someone mock me. (…) The superiors reacted aggressively. I learnt nothing from the military service: I made repa…
"Fighting corruption is a very important process that we engage to complete; the country's strategy, however, must focus on education." A year after the inauguration of Maia Sandu as President…
-