On October 5, General Prosecutor Alexandr Stoianoglo was suspended from office and remanded in custody, and a criminal case was filed against him. Stoianoglo is charged with several serious crimes, including abuse of office, passive corruption, and favoring an organized criminal group. On Sunday, socialists and communists protested in Chișinău, accusing the Party of Action and Solidarity (PAS) of dictatorship. They demanded the release of Stoianoglo and his reinstatement, while Minister of Justice Sergiu Litvinenco reacted, saying that "the fight against the major corruption is just beginning" and the General Prosecutor's Office must undergo a change.
Does Moldova need another General Prosecutor? What kind of prosecutor?
Alecu Reniță, Association "First Parliament"
Yes, we need a prosecutor who is no longer in line with thieves and bandits. As early as 2010-2011, and I was not the only one, I proposed bringing a European prosecutor to head the General Prosecutor's Office. The mafia opposed it, misleading public opinion and shouting that it is an insult to Moldovans, who have the best jurists in the world. Considering that Plahotniuc and Dodon are not in power now, I resume the proposal: Moldova needs a European prosecutor. It is the only chance for the General Prosecutor not to be related to any of the Moldovans, not to be part of different interest groups, to be foreign to the mafia and oligarchic clans, to the relatives, nieces, and nephews, to the whole political and bureaucratic network that turned the state into a threat and insult to free citizens.
Maria Ciobanu, teacher, former deputy
I know Stoianoglo since he was a deputy. I say it with all responsibility: he didn't accept the habits of "Al Capone from Grozești" (Plahotniuc) and condemned the acts of corruption of the deputies, of establishing Plahotniuc's dictatorship. Stoianoglo left the Democratic Party when Plahotniuc controlled "everything that moves in this country". Possibly, Stoianoglo was wrong, but those who detained him have many more serious sins on their conscience. Viorel Chetraru was decorated for that money laundering amendment that incriminates Stoianoglo. Chetraru was granted a lifetime pension, a generously paid service, etc., but PAS is only concerned with Stoianoglo … Stoianoglo's closeness to Platon for me is incomprehensible and unacceptable … The General Prosecutor's Office is the most dangerous nest of criminals. It will not be easy for anyone there.
Ecaterina Mardarovici, Women's Political Club 50×50
Moldova needs a new General Prosecutor, but who has never been involved in politics before, because in politics, as in the KGB, "former" do not exist. Firstly, the spirit of the gang in politics is very contagious. Secondly, for a General Prosecutor, a good reputation and professionalism are very important, but without the courage to stand by the law, you do nothing. Stoianoglo made a good first impression, but he failed with the appointment of Ruslan Popov as his deputy – a compromised person. This was followed by a lack of cooperation with the Presidency and Parliament and, what's more! – Platon's release from custody. Stoianoglo gave guarantees that Platon would return to Moldova. Where is he? In 30 years we have only had male General Prosecutors, and they all compromised. It's time for Laura Codruța to lead the General Prosecutor's Office.
Nicolae Osmochescu, Univ. Prof., PhD
It is obvious if Stoianoglo will be found guilty, a new prosecutor will be appointed. But things should not be theatricalized, as was done with masks, nor politicized, as the Socialists did at the rally on Sunday. We went so far as to speculate on the ethnic factor in this case. It's dangerous. The courts must be allowed to do their job. The new prosecutor must be out of politics and not involved in the backstage games in which the General Prosecutor's Office is involved. The Prosecutor's Office must be radically reformed. In our country, it was transformed into a repressive institution against political opponents, and that's serious. Although we have enough good people in the judiciary, it will not be easy to appoint a new General Prosecutor. There is a certain spirit of corporate solidarity in the General Prosecutor's Office and the door is locked for the "outside world". Let's see what comes next.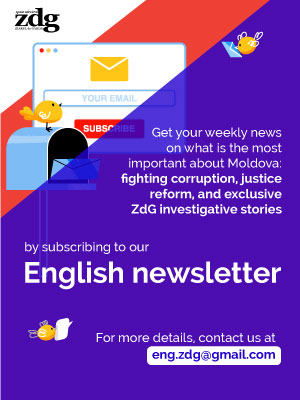 Alina Radu
31 July 2020
While looking for interesting local people to invite to the Moldovan-American Convention MAC8 in Seattle, that will be held between September 30th and October 2nd 2022, I found Vladislav Zotea, a mountain climb…
Starting with his own life story, in 2010, Jasminko Halilovic, originally from Bosnia and Herzegovina, began documenting a book about children growing up in war times. Meanwhile, meeting dozens of people who we…
Roskomnadzor (Federal Communications, Information Technology, and Media Surveillance Service) ordered Ziarul de Gardă to delete an article about Russia's war on Ukraine and asked Internet operators to blo…
Several articles published by ZdG during 2021 have had an impact and led to opening criminal cases or sanctions. The investigation "Concrete Instead of Trees in a Chișinău Forest" brought to the public's…
"I left the unit out of fear. I joined the army to do military service and not to let someone mock me. (…) The superiors reacted aggressively. I learnt nothing from the military service: I made repa…
"Fighting corruption is a very important process that we engage to complete; the country's strategy, however, must focus on education." A year after the inauguration of Maia Sandu as President…
-