Prosecutors from the Anticorruption Prosecutor's Office demanded an arrest warrant for Monday, October 11, for 30 days, regarding the suspended deputy prosecutor, Ruslan Popov, who was detained on Saturday, October 9, for 72 hours.
Asked by Ziarul de Gardă, the interim general prosecutor Dumitru Robu declared that on Monday, October 11, the anti-corruption prosecutors requested an arrest warrant, for 30 days, regarding the suspended deputy prosecutor Ruslan Popov.
"On October 11, the prosecutors notified the investigating judge for the examination of the request regarding the application of the pre-trial detention regarding the detained person. Currently, criminal prosecution actions are being carried out, the number of investigated cases being in continuous expansion," said Dumitru Robu.
On Saturday, October 9, the suspended deputy head of the General Prosecutor's Office, Ruslan Popov, suspected of illicit enrichment was detained for 72 hours following searches of his home. The interim general prosecutor stated that the investigation started as a result of the analysis of information from journalistic investigations and other accumulated evidence.
On October 5, with the decision of the anti-corruption prosecutor to initiate criminal proceedings against Alexandr Stoianoglo, the deputies of the general prosecutor – Ruslan Popov, Mircea Roșioru, and Iurie Perevoznic were also suspended by law.
In 2013, ZdG wrote that Ruslan Popov lives with his wife, Iulia Popov, also a prosecutor at the Ialoveni Prosecutor's Office, in a two-level house in Mileștii Mici, Ialoveni district, with an estimated value of 100,000 euros. Popov claimed that he built his house mainly from the money he had accumulated after selling his apartment in Chișinău with his wife.
Ruslan Popov, the richest deputy general prosecutor of Moldova indicates in his wealth declaration on March 29, that in 2020 he obtained a salary of 20,000 euros from the General Prosecutor's Office. At the same time, Popov got a salary of about 700 euros from the State University of Moldova, but also a salary of about 2,000 euros from the National Institute of Justice. Also in 2020, Ruslan Popov obtained a remuneration of 1,300 euros from the International Center La Strada. The Popov family also obtained an income of 4,500 euros from the Associated Law Firm of Ialoveni, as well as an income of 2,200 euros from the Prosecutor's Office of Moldova. In 2020, Ruslan Popov sold a Hyundai Grand Santa FE car worth 29,990 euros and bought a Hyundai Santa FE CRDi car worth 38,000 euros.
According to his wealth declaration, Ruslan Popov holds 80 shares in Dac Hermes Company. This is the debtor of a debt contracted in 2020, amounting to 400 euros to be returned in 2021. From 2014 and 2016, Iulia Popov, the prosecutor's wife, has two debts to her parents, Ion (who died in the meantime ) and Pelaghia Oprea – of 10,000 euros, to be returned in 2034, as well as a debt of 50,000 euros, to be returned in 2036.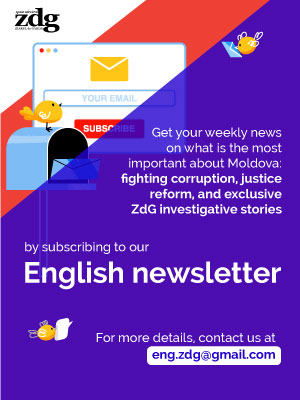 ZdG Newsroom
24 November 2020
While looking for interesting local people to invite to the Moldovan-American Convention MAC8 in Seattle, that will be held between September 30th and October 2nd 2022, I found Vladislav Zotea, a mountain climb…
Starting with his own life story, in 2010, Jasminko Halilovic, originally from Bosnia and Herzegovina, began documenting a book about children growing up in war times. Meanwhile, meeting dozens of people who we…
Roskomnadzor (Federal Communications, Information Technology, and Media Surveillance Service) ordered Ziarul de Gardă to delete an article about Russia's war on Ukraine and asked Internet operators to blo…
Several articles published by ZdG during 2021 have had an impact and led to opening criminal cases or sanctions. The investigation "Concrete Instead of Trees in a Chișinău Forest" brought to the public's…
"I left the unit out of fear. I joined the army to do military service and not to let someone mock me. (…) The superiors reacted aggressively. I learnt nothing from the military service: I made repa…
"Fighting corruption is a very important process that we engage to complete; the country's strategy, however, must focus on education." A year after the inauguration of Maia Sandu as President…
-
-
barista oat milk
-
yatırımsız deneme bonusu