The head of Swedish diplomacy, Ann Linde, will pay a working visit to Moldova as President-in-Office of the Organization for Security and Cooperation in Europe. On October 6, Ann Linde will meet with Moldovan counterpart Nicu Popescu, President Maia Sandu, Prime Minister Natalia Gavrilița and Deputy Prime Minister for Reintegration Vladislav Kulminski.
Meetings with Moldovan officials will address the conflict settlement process in the Breakaway Transnistrian region of Moldova, as well as regional security issues on the OSCE agenda. The visit will also provide an opportunity to discuss priorities on the bilateral agenda and ways to intensify the Moldovan-Swedish dialogue.
According to the OSCE, Ann Linde is Sweden's current foreign minister. She has held this position since September 2019. Previously, Linde held the position of Minister for Business and Trade of the European Union, and from 2014 to 2016 she was Secretary of State at the Ministry of Internal Affairs. From 2013 to 2014, she was the head of the International Unit for the Party of European Socialists, based in Brussels. Ann Linde was International Secretary of the Swedish Social Democratic Party from 2000 to 2013.
In 1980, Linde worked for several non-governmental organizations, and in the 1990s she worked in Swedish government offices, holding both political and non-political positions.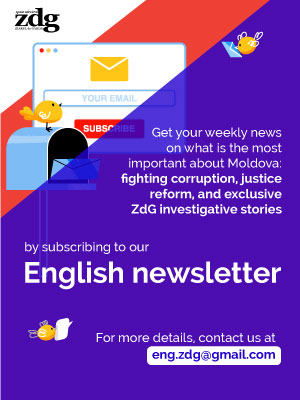 Petru Grozavu
15 October 2021
While looking for interesting local people to invite to the Moldovan-American Convention MAC8 in Seattle, that will be held between September 30th and October 2nd 2022, I found Vladislav Zotea, a mountain climb…
Starting with his own life story, in 2010, Jasminko Halilovic, originally from Bosnia and Herzegovina, began documenting a book about children growing up in war times. Meanwhile, meeting dozens of people who we…
Roskomnadzor (Federal Communications, Information Technology, and Media Surveillance Service) ordered Ziarul de Gardă to delete an article about Russia's war on Ukraine and asked Internet operators to blo…
Several articles published by ZdG during 2021 have had an impact and led to opening criminal cases or sanctions. The investigation "Concrete Instead of Trees in a Chișinău Forest" brought to the public's…
"I left the unit out of fear. I joined the army to do military service and not to let someone mock me. (…) The superiors reacted aggressively. I learnt nothing from the military service: I made repa…
"Fighting corruption is a very important process that we engage to complete; the country's strategy, however, must focus on education." A year after the inauguration of Maia Sandu as President…
-
-
barista oat milk
-
yatırımsız deneme bonusu