12 September 2021 | 20:12
I received my first visa for London in 2005. It was a time when visas were difficult to obtain, they cost a lot, and after a long wait, one could receive a refusal. I was lucky and received it, I had applied for a visa just for a few days, but I got a permit for a few months. While preparing my suitcase putting there three blouses and the necessary things for hygiene, my mother asks me: Why don't you stay there longer and make some money?
It was a time of political stagnation and repression of freedoms when Voronin ran all state institutions, his son Oleg was considered the head of all business, and Plahotniuc was growing his muscles by stealing oil businesses while being under political protection.
People were leaving en masse and clandestinely. They paid a lot of money to get abroad and work illegally. People were leaving and trying to make their stay there legal, some were asking for political asylum, others were marrying fictitiously to make it. People were saving themselves from Moldova. I could have applied for asylum. I had some lawsuits on my name, because of my journalistic activity, I had a list of articles that criticized the power.
I didn't stay in London. I attended the event I was invited to, I talked with a lot of journalists, I gathered a lot of ideas, I went to the Church of Journalists (yes, it exists), to the London Eye, I bought something from Marks & Spencer, and came back home. I had small children, a small apartment, small financial prospects. Even if I work with my husband on weekends, we couldn't see the end of austerity.
What did I found back? A newsroom full of problems and pressures, a low salary, a disgusting political era? No, I returned to my young children, to my good family, to my extraordinary colleagues. I went back to journalism. I really liked journalism and I believed in its power.
Some wild years followed in Moldovan journalism and political life. Pro-Russian corruption has shifted to pro-European corruption, contract and tender thefts have turned into frauds of billions. On the other hand, in London and other cities in the UK, thousands of Moldovan citizens who arrived there with false visas, false documents, with pain and suffering, helped and saved their people at home from perishing, through working, sending remittances, but also by creating a community of modern people. Gradually, they were joined by people who were able to leave legally, including students at top universities or young people who chose to pursue a career. Their voice and participation became more felt and it became more important.
But London is not just for migrants, students, and smart young people. London is the place where money, business, thefts, and the secrets of oligarchs from corrupt states are kept. Post-Soviet countries offered Britain an impressive number of country thieves, tyrants, money launderers, and financial criminals.
Moldova, as small as it is, has contributed too. Vlad Plahotniuc kept his companies and the accounts there. Luca Filat came to the attention of the British police for spending on exorbitant sums of money luxury. Recently, Gheorghe Cavcaliuc, passionately awaited by the law enforcement agencies in Chișinău, also took refuge in London. He opened there a company and sends letters of intimidation to those who criticize him. Iurie Cojocaru also received a request from Cavcaliuc.
Veaceslav Platon, the controversial banker sentenced to 18 years in prison, who was released from prison last July, participated in recent parliamentary elections, retired to London too. He seeks political asylum from the British authorities.
The trend I am following in the last period is that of the British authorities sending home the money of oligarchs from poor countries. But we wait for them to send home controversial people with criminal cases that are wanted internationally. Moldova needs the stolen money back, but it also needs those that committed the crimes home, because the justice in money laundering cases could not be done without culprits.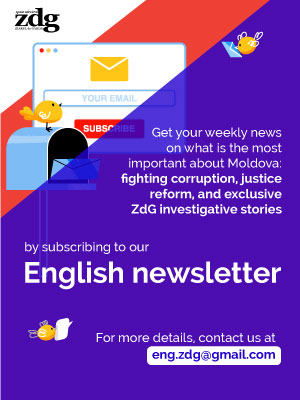 Alina Radu
04 July 2021
While looking for interesting local people to invite to the Moldovan-American Convention MAC8 in Seattle, that will be held between September 30th and October 2nd 2022, I found Vladislav Zotea, a mountain climb…
Starting with his own life story, in 2010, Jasminko Halilovic, originally from Bosnia and Herzegovina, began documenting a book about children growing up in war times. Meanwhile, meeting dozens of people who we…
Roskomnadzor (Federal Communications, Information Technology, and Media Surveillance Service) ordered Ziarul de Gardă to delete an article about Russia's war on Ukraine and asked Internet operators to blo…
Several articles published by ZdG during 2021 have had an impact and led to opening criminal cases or sanctions. The investigation "Concrete Instead of Trees in a Chișinău Forest" brought to the public's…
"I left the unit out of fear. I joined the army to do military service and not to let someone mock me. (…) The superiors reacted aggressively. I learnt nothing from the military service: I made repa…
"Fighting corruption is a very important process that we engage to complete; the country's strategy, however, must focus on education." A year after the inauguration of Maia Sandu as President…
-