06 September 2021 | 12:43
Daniel Ioniță, Romania's ambassador to Moldova, participated on Friday, September 3, 2021, in the official ceremony of handing over a batch of 100,000 COVID-19 rapid antigen tests donated by Romania to Moldova as international humanitarian assistance, announced the Romanian Embassy in Chișinău, through a press release.
The special donation ceremony was organized at the headquarters of the National Agency for Public Health in Chișinău and was possible based on the Decision of August 26, 2021, of the National Committee for Emergency Situations of Romania.
On this occasion, Ambassador Daniel Ioniță underlined the history of Moldovan-Romanian relations.
"Today's donation is a new occasion of joy because once again we are witnessing a gesture of maximum generosity and solidarity that the Romanian Government makes for the citizens of Moldova. At the same time, she shows the honor of some promises made by the Romanian Minister of Foreign Affairs, Bogdan Aurescu, on the occasion of the working visits made to Chișinău in July 2021.
This gesture acquires profound values given that it is made near important data that mark the 30th anniversary of the establishment of diplomatic relations between our countries and 30 years since the independent proclamation of Moldova. At the same time, it comes to underline the special character of the relations between Romania and Moldova based on the language, culture, and history. At the same time, Romania's donation of rapid COVID-19 antigen tests satisfies a pressing need of the Moldovan citizens in conditions where they are witnessing a new wave of COVID-19 infections. These negative developments come to confirm once again the need to vaccinate the population in order to achieve a high level of immunization," it is mentioned in the ambassador's message.
The Romanian Embassy mentions that the arrival of the donation in Chișinău was possible through the logistical and financial effort of the Romanian General Inspectorate for Emergency Situations. At the same time, the institution states that the 100,000 rapid antigen tests donated add to the 506,220 doses of anti-COIVD-19 vaccine donated so far by Romania to all Moldovan citizens regardless of region, ethnicity, language, or political affiliation, within the unconditional support to combat the pandemic.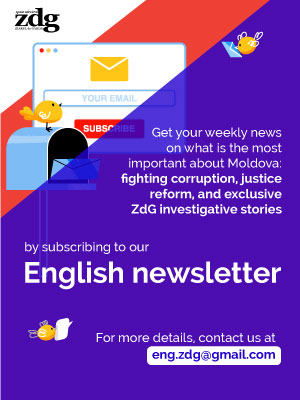 Press Release
21 August 2020
While looking for interesting local people to invite to the Moldovan-American Convention MAC8 in Seattle, that will be held between September 30th and October 2nd 2022, I found Vladislav Zotea, a mountain climb…
Starting with his own life story, in 2010, Jasminko Halilovic, originally from Bosnia and Herzegovina, began documenting a book about children growing up in war times. Meanwhile, meeting dozens of people who we…
Roskomnadzor (Federal Communications, Information Technology, and Media Surveillance Service) ordered Ziarul de Gardă to delete an article about Russia's war on Ukraine and asked Internet operators to blo…
Several articles published by ZdG during 2021 have had an impact and led to opening criminal cases or sanctions. The investigation "Concrete Instead of Trees in a Chișinău Forest" brought to the public's…
"I left the unit out of fear. I joined the army to do military service and not to let someone mock me. (…) The superiors reacted aggressively. I learnt nothing from the military service: I made repa…
"Fighting corruption is a very important process that we engage to complete; the country's strategy, however, must focus on education." A year after the inauguration of Maia Sandu as President…
-