Vladimir Putin congratulated Maia Sandu on the occasion of the 30th anniversary of Moldova's independence. The Kremlin leader wished Maia Sandu much success and expressed his confidence in a constructive bilateral dialogue and cooperation in several areas.
"Dear Maia Grigorevna, I send you sincere congratulations on the occasion of the 30th anniversary of the independence of Moldova. For centuries, the peoples of our countries have been linked by friendship and mutual respect. I am sure that, through joint efforts, we could ensure a constructive development of bilateral dialogue and cooperation in several directions. This, no doubt, corresponds to the interests of the citizens of the Russian Federation and the citizens of Moldova and is aimed at strengthening regional stability and security. I wish you, Maia Grigorevna, good health, and success, and to your compatriots – happiness and well-being," it is shown in the message signed by Vladimir Putin, published on the page of the Embassy of the Russian Federation in Moldova.
On August 27, 1991, the Moldovan Soviet Socialist Republic declared its independence from the USSR and became the Republic of Moldova. Since then, relations between Moldova and the Russian Federation have been marked by several tensions. In 1992, the armed conflict broke out on the Dniester. The conflict was not resolved even after 29 years, and Russia has not withdrawn its military troops from the breakaway Transnistria.
On August 27, 2021, Moldova celebrated 30 years of independence. The President of Moldova, Maia Sandu, invited to the ceremony her counterpart from Bucharest, Klaus Iohannis, but also the heads of state from Poland, Andrzej Duda, and Ukraine, Volodimir Zelenski.
Moldova proclaimed its independence on August 27, 1991, in the context of the collapse of the Soviet Union. It is one of nine former Soviet republics that broke away from Moscow after a failed coup on August 21, 1991, when the Communists tried to oust then-President Mikhail Gorbachev.
In the center of Chișinău, the Great National Assembly was convened, and the Parliament, meeting in extraordinary session, adopted the Declaration of Independence, the tricolor flag, and the state anthem.
In 1992, the new state became a member of the UN, and four years later, it became a member of the Council of Europe.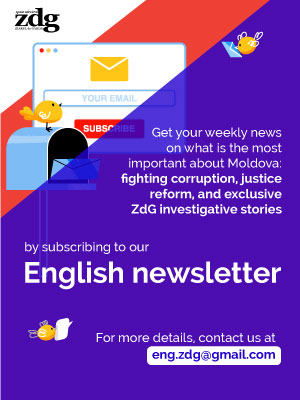 Press Release
31 July 2020
While looking for interesting local people to invite to the Moldovan-American Convention MAC8 in Seattle, that will be held between September 30th and October 2nd 2022, I found Vladislav Zotea, a mountain climb…
Starting with his own life story, in 2010, Jasminko Halilovic, originally from Bosnia and Herzegovina, began documenting a book about children growing up in war times. Meanwhile, meeting dozens of people who we…
Roskomnadzor (Federal Communications, Information Technology, and Media Surveillance Service) ordered Ziarul de Gardă to delete an article about Russia's war on Ukraine and asked Internet operators to blo…
Several articles published by ZdG during 2021 have had an impact and led to opening criminal cases or sanctions. The investigation "Concrete Instead of Trees in a Chișinău Forest" brought to the public's…
"I left the unit out of fear. I joined the army to do military service and not to let someone mock me. (…) The superiors reacted aggressively. I learnt nothing from the military service: I made repa…
"Fighting corruption is a very important process that we engage to complete; the country's strategy, however, must focus on education." A year after the inauguration of Maia Sandu as President…
-