Did Platon fool us? Did Prosecutor General Stoianoglo deceive us? It could be one or the other. In any case, Platon, left forever, although on August 2 he was forced to appear in the courtroom and no one knows, including his lawyers, where he is and if he will return în Moldova. According to unofficial sources, Platon was in Great Britain, others say he is in the Czech Republic, but some also claim that he went to seek political asylum. So, what most people suspected would happen, happened.
On July 19, a week after the early parliamentarians (let someone say that those with a lot of money are not afraid of anything), the controversial businessman Veaceslav Platon, one of the billionaires and the brain in all kinds of banking business from the CIS space, sentenced in Chișinău, to 25 years in prison in two difficult cases for scams, acts of corruption and money laundering in particularly large proportions, left Moldova. In fact, he was fleeing, although Prosecutor General Alexandr Stoianoglo, with whom he was supposed to have agreed to leave, assured us on the same day that Platon had not fled and would return to Moldova, and if he did not return, he would be wanted internationally. Okay, let's just say he'll be wanted. And if so, what guarantees do we have that he will be found and brought back to Moldova? Platon is not the only fugitive. We have two more (of the officially recognized ones), the oligarch Vlad Plahotniuc and Ilan Shor, who have been wanted for two years, who are wanted by specialized institutions and no one, it is not known why cannot track them down. Will it be different în Platon's case? Will it be easier? More complicated? Plahotniuc and Shor left Moldova at night, unseen, although they had parliamentary immunity, while Platon did it freely and unhindered, without being a parliamentarian. It seems Prosecutor General's position mattered more than the deputy mandates.
Although he has several problems with the law, Veaceslav Platon was convicted in Moldova in only two criminal cases. During Plahotniuc's time, in August 2016, he was arrested in Kyiv, extradited and investigated in the case of bank fraud (Plato allegedly stole about 50 million dollars from several Banca de Economii bank funds through several offshore companies), and in April 2017 he was sentenced to 18 years in prison. In December of the same 2017, Platon is sentenced to another 12 years in prison in another criminal case, being accused of passive corruption and fraud. According to the court, in 2016, when he was under arrest, Platon allegedly tried to steal several hundred million lei from a series of insurance companies in which he was the majority shareholder.
In 2019, Democrats lose power in Chișinău, Vladimir Plahotniuc leaves Moldova in a hurry. A new chief comes to the General Prosecutor's Office, Alexandr Stoianoglo, who is supposed to have good relationships with Platon. Stoianoglo, at Platon's request, ordered the retrial of the case, Platon being released from prison. On May 28, 2021, the General Prosecutor's Office waived all charges against Veaceslav Platon in the bank fraud case, the case was declared falsified by the General Prosecutor, and Platon, after 4 years in prison – acquitted. Even if the sentence of 18 years in prison was final and irrevocable. Plato's acquittal in the bank fraud case has been questioned by many. Vladislav Gribincea, from the Center for Legal Resources in Moldova, claims that the release of Veaceslav Platon is illogical, given that there is sufficient evidence to convict him, and President Maia Sandu considers it illegal. "Plato's group is a danger to state security. It is extremely worrying how quickly the prosecutor's office gave up the accusations in relation to this group … I urge the prosecutor's office to analyze its decisions well in terms of legality and national interest," stated Maia Sandu. The tone of the message denotes the gravity of the case.
By acquitting Platon in the most scandalous corruption case, dubbed the "robbery of the century", Stoianoglo drew a lot of harsh criticism, including the "announcement in search" of a new prosecutor-general. All the more so as Platon's second case is pending, in which he was sentenced to 12 years in prison. I don't think Stoianoglo understood that by acquitting Platon, he would make more trouble to himself. Why did he do it? The reasons would be several: an older friendship between them, possible external pressures, some older accounts with Plahotniuc, the money. Neither of them is good for a general prosecutor.
Meanwhile, Platon, taking advantage of this great gift which was the acquittal in the bank fraud case left Moldova on July 19. Two weeks later, on August 2, the Anticorruption Prosecutor's Office asked the Chișinău Court to search and arrest Platon on the grounds of "failure to appear" at the court hearing in which he is accused of "active corruption and fraud." Curious, isn't it? First, we give him "freedom" to flee Moldova (having a pending criminal case), after look for him. The magistrates refused to announce his search until August 12 (they really want Platon to be found). What if he doesn't come on the 12th? As Shor has not been for two years. Those like Shor or Platon do not leave Moldova, they run away. And they run to save themselves. And we, giving them the chance, create precedents and pretend to search for them. Platon's so-called departure is a symptomatic one. Platon fled for fear of being caught up in the new changes in Moldova. An Anticorruption Tribunal would be hell for Platon and others like him. Mr. Litvinenco, when do you start the "engines"?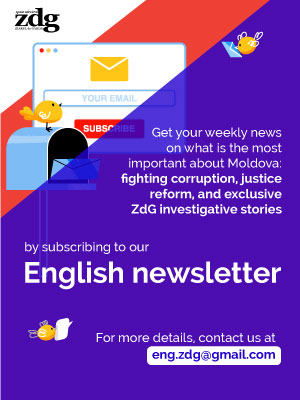 Diana GAȚCAN
14 March 2021
While looking for interesting local people to invite to the Moldovan-American Convention MAC8 in Seattle, that will be held between September 30th and October 2nd 2022, I found Vladislav Zotea, a mountain climb…
Starting with his own life story, in 2010, Jasminko Halilovic, originally from Bosnia and Herzegovina, began documenting a book about children growing up in war times. Meanwhile, meeting dozens of people who we…
Roskomnadzor (Federal Communications, Information Technology, and Media Surveillance Service) ordered Ziarul de Gardă to delete an article about Russia's war on Ukraine and asked Internet operators to blo…
Several articles published by ZdG during 2021 have had an impact and led to opening criminal cases or sanctions. The investigation "Concrete Instead of Trees in a Chișinău Forest" brought to the public's…
"I left the unit out of fear. I joined the army to do military service and not to let someone mock me. (…) The superiors reacted aggressively. I learnt nothing from the military service: I made repa…
"Fighting corruption is a very important process that we engage to complete; the country's strategy, however, must focus on education." A year after the inauguration of Maia Sandu as President…
-
-
-
barista oat milk
-
Tipobet Giriş
-
Ligobet