The Anticorruption Prosecutor's Office sent to court the criminal case in which the deputy of the Shor Paty, Denis Ulanov, is accused of fraud and money laundering, both crimes committed in particular proportions and in the interests of a criminal group. Ulanov's property of nearly half a million euros was seized.
Four months ago, at the request of the Prosecutor General, Alexandr Stoianoglo, the Parliament lifted Ulanov's parliamentary immunity.
In a year and a half, the Prosecutor's Office totally changed the course of the investigations related to the billion-dollar bank fraud as the previous investigations were in vain. Currently, prosecutors are investigating a multitude of criminal acts that took place between 2010 and 2015. The investigations will continue until the stage at which not only the organizers and beneficiaries will be held accountable, but also those who favored the adoption of illegal decisions that allowed the robbery of the national banking system," it is mentioned in the Prosecutor's Office note.
The Shor Party deputy, Denis Ulanov, was left without parliamentary immunity on March 22 to approve the request of the General Prosecutor, Alexandr Stoianoglo. Ulanov was subsequently detained for 72 hours and later released.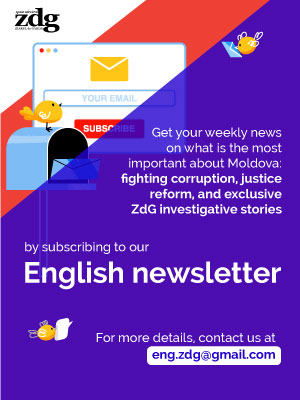 Anatolie Eșanu, Daniela Calmis, Victor Moșneag
19 November 2020
While looking for interesting local people to invite to the Moldovan-American Convention MAC8 in Seattle, that will be held between September 30th and October 2nd 2022, I found Vladislav Zotea, a mountain climb…
Starting with his own life story, in 2010, Jasminko Halilovic, originally from Bosnia and Herzegovina, began documenting a book about children growing up in war times. Meanwhile, meeting dozens of people who we…
Roskomnadzor (Federal Communications, Information Technology, and Media Surveillance Service) ordered Ziarul de Gardă to delete an article about Russia's war on Ukraine and asked Internet operators to blo…
Several articles published by ZdG during 2021 have had an impact and led to opening criminal cases or sanctions. The investigation "Concrete Instead of Trees in a Chișinău Forest" brought to the public's…
"I left the unit out of fear. I joined the army to do military service and not to let someone mock me. (…) The superiors reacted aggressively. I learnt nothing from the military service: I made repa…
"Fighting corruption is a very important process that we engage to complete; the country's strategy, however, must focus on education." A year after the inauguration of Maia Sandu as President…
-