Socialist deputy Alla Darovannaia was obliged by the Chișinău Court to apologize publicly and pay 1,000 euros for damage to the presidential adviser on health, Ala Nemerenco for spreading the fake information that Ala Nemerenco had illegally received her master's degree. Darovannaia appealed the decision at the Chișinău Court of Appeal.
The court obliges deputy Alla Darovannaia to publicly deny the information stated in a press conference. The Socialist deputy also is obliged to state that the information is false on her Facebook account.
"I did not talk much about what happened to me in January-February when I was the target of a media attack by three Socialist deputies. One of the subjects of the attack was the manipulative story about a fake diploma. I then declared publicly that I will sue everyone for the dirty and manipulative attack they organized for their political purposes," declares the presidential adviser Ala Nemerenco.
The Socialist deputy must pay Ala Nemerenco 1,000 euros.
"The money will go to four minor orphans cared for by a single and elderly lady with a big heart," says Ala Nemerenco.
On February 5, the presidential adviser on health, Ala Nemerenco, announced that she would sue the Socialist deputies, Vladimir Odnostalco and Alla Darovannaia, who had previously asked the Ministry of Health to cancel the order by which Ala Nemerenco received a master's degree.
"The intention of the presidential adviser with a false diploma to sue us is as stupid as if she were to sue COVID-19, in order to" ban him by a court decision," Alla Darovannaia previously stated.
"President Maia Sandu promised to promote only competent, professional people to the leadership. However, since the beginning of her term, she has not fulfilled her promise," said the socialist deputy.
Socialist deputy Alla Darovannaia asks the Chișinău Court of Appeal to annul the decision of the Chișinău Court by which she was forced to apologize publicly and pay 1,000 euros to the presidential health adviser Ala Nemerenco. The Socialist Party argues that the court's ruling must be viewed in terms of "political subordination of justice and the use of magistrates in political interests."
"Lately, we are witnessing more and more cases in which justice is politically subordinated to the new power, mentions the Socialist Party representatives.
According to deputy Darovannaia, the court's actions show "serious damage to the right to a fair trial and raise reasonable doubts about the magistrate's objectivity." The deputy also stated that "according to the Law on Freedom of Expression, criticisms against public figures is allowed. The facts exposed in the address of Ala Nemerenco referred to public activities and her abilities as a public person, the aspects of private life not being criticized."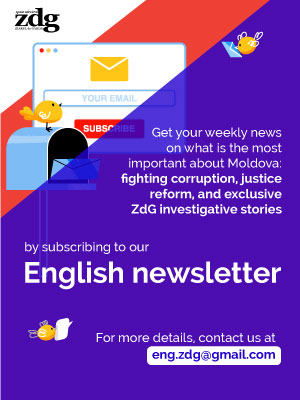 Daniela Calmis, Diana Gatcan
05 November 2020
While looking for interesting local people to invite to the Moldovan-American Convention MAC8 in Seattle, that will be held between September 30th and October 2nd 2022, I found Vladislav Zotea, a mountain climb…
Starting with his own life story, in 2010, Jasminko Halilovic, originally from Bosnia and Herzegovina, began documenting a book about children growing up in war times. Meanwhile, meeting dozens of people who we…
Roskomnadzor (Federal Communications, Information Technology, and Media Surveillance Service) ordered Ziarul de Gardă to delete an article about Russia's war on Ukraine and asked Internet operators to blo…
Several articles published by ZdG during 2021 have had an impact and led to opening criminal cases or sanctions. The investigation "Concrete Instead of Trees in a Chișinău Forest" brought to the public's…
"I left the unit out of fear. I joined the army to do military service and not to let someone mock me. (…) The superiors reacted aggressively. I learnt nothing from the military service: I made repa…
"Fighting corruption is a very important process that we engage to complete; the country's strategy, however, must focus on education." A year after the inauguration of Maia Sandu as President…
-
-
-
barista oat milk
-
Tipobet Giriş
-
Ligobet