A new contingent of the Moldovan Army was deployed on Thursday, July 8, in the KFOR peacekeeping operation in Kosovo. The 15th military contingent includes 40 soldiers: a light infantry platoon and an intelligence team.
The official ceremony was attended by the interim Prime Minister, Aureliu Ciocoi, the Minister of Defense, Victor Gaiciuc, and several ambassadors.
"I am proud that the 15th contingent comes to confirm for the 15th time that Moldova does not only receive security but also can offer it and you are those that do it. Today you have become the military ambassadors of Moldova. I hope you will proudly carry the flag of our country during the mission," stated the interim prime minister in his speech.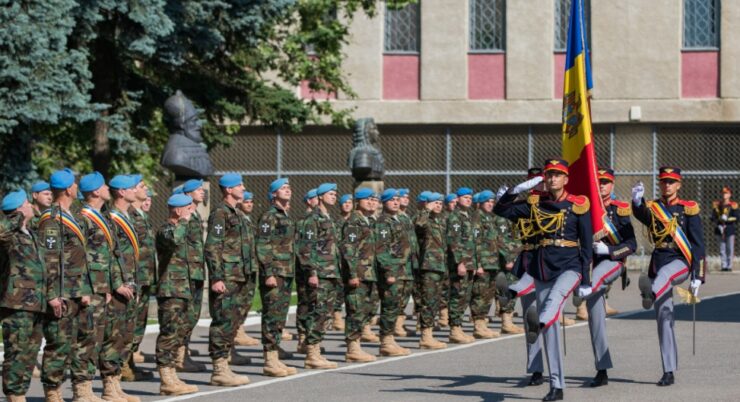 Ciocoi mentioned that although Moldova is fully committed to the international peacekeeping exercise in Kosovo, the Government will undertake to examine the opportunity to expand the list of missions in which our country should be involved, both within the UN and EU while maintaining the status of military neutrality.
As of 2014, 527 troops have completed their mission in the international peacekeeping operation in Kosovo, with the contingent rotating every 6 months.
The military contingent of the Moldovan Army is deployed at the base of Camp Villaggio Italy. Their mission is to provide security and safety in the area, patrol jointly with Italian forces, recognize mined land, or conduct climbing training. The KFOR military has the support of partner states – Italy and the United States.
While looking for interesting local people to invite to the Moldovan-American Convention MAC8 in Seattle, that will be held between September 30th and October 2nd 2022, I found Vladislav Zotea, a mountain climb…
Starting with his own life story, in 2010, Jasminko Halilovic, originally from Bosnia and Herzegovina, began documenting a book about children growing up in war times. Meanwhile, meeting dozens of people who we…
Roskomnadzor (Federal Communications, Information Technology, and Media Surveillance Service) ordered Ziarul de Gardă to delete an article about Russia's war on Ukraine and asked Internet operators to blo…
Several articles published by ZdG during 2021 have had an impact and led to opening criminal cases or sanctions. The investigation "Concrete Instead of Trees in a Chișinău Forest" brought to the public's…
"I left the unit out of fear. I joined the army to do military service and not to let someone mock me. (…) The superiors reacted aggressively. I learnt nothing from the military service: I made repa…
"Fighting corruption is a very important process that we engage to complete; the country's strategy, however, must focus on education." A year after the inauguration of Maia Sandu as President…
-