A European Commission delegation came to Chișinău to present the economic recovery plan for Moldova, worth 600 million euros. Katarína Mathernová, Deputy Director General for Neighborhood Policy and Enlargement Negotiations had a meeting with President Maia Sandu and with the interim prime minister Aureliu Ciocoi.
"This plan is solid support, aimed at improving and increasing the standard of living of our citizens. We give the priority to reforming the judiciary and capitalize on infrastructure investment. I hope that Moldova will have the capacity to start implementing the plan immediately after the early parliamentary elections and the establishment of a functioning Government," said Aureliu Ciocoi.
The financial means are to be granted to Moldova for three years and will come to support the recovery of the national economy through five key areas: support in public finance management, support for small and medium enterprises, including facilitating exports to the EU market and rural community development, infrastructure development, including the continuation of projects for the interconnection of electricity systems with Romania, investments in education and justice reform, the fight against corruption and the strengthening of the capacities of state institutions for this purpose.
The European Commission approved on Wednesday, June 2, an economic recovery plan for Moldova, which establishes between 2021 and 2024 up to 600 million euros of macro-financial assistance, subsidies, and investments.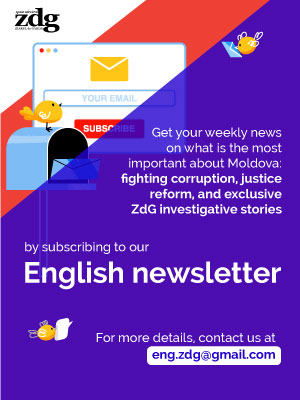 22 March 2021
While looking for interesting local people to invite to the Moldovan-American Convention MAC8 in Seattle, that will be held between September 30th and October 2nd 2022, I found Vladislav Zotea, a mountain climb…
Starting with his own life story, in 2010, Jasminko Halilovic, originally from Bosnia and Herzegovina, began documenting a book about children growing up in war times. Meanwhile, meeting dozens of people who we…
Roskomnadzor (Federal Communications, Information Technology, and Media Surveillance Service) ordered Ziarul de Gardă to delete an article about Russia's war on Ukraine and asked Internet operators to blo…
Several articles published by ZdG during 2021 have had an impact and led to opening criminal cases or sanctions. The investigation "Concrete Instead of Trees in a Chișinău Forest" brought to the public's…
"I left the unit out of fear. I joined the army to do military service and not to let someone mock me. (…) The superiors reacted aggressively. I learnt nothing from the military service: I made repa…
"Fighting corruption is a very important process that we engage to complete; the country's strategy, however, must focus on education." A year after the inauguration of Maia Sandu as President…
-
-
barista oat milk
-
yatırımsız deneme bonusu