Over the past few years, a system operator of the natural gas distribution and the most important subdivision in the energy sector from Moldova has accumulated little revenue due to unregulated supplementary activities. Although the company Chișinău-Gaz has full executive capacity and resources, its activity is carried out by private contractors. Moreover, companies affiliated to representatives of the Chișinău-Gaz operator earn millions of euros from the implementation of gas pipeline installation projects.
The contractors who have worked or continue to work at Chișinău-Gaz do not see a problem in the fact that their companies or affiliates carry out projects worth millions – projects which the operator of the distribution system could easily carry out on its own. According to energy experts, the fact that companies affiliated with employees within the gas operator enterprise provide services similar to those of the regulated company raises suspicions and such situations should be investigated by authorities.
Until April 2019, the Regulation on the supply and use of natural gas, approved by the National Agency for Energy Regulation, provided that the network operator or other persons holding a license at the choice of the applicant carried out the design and the connection installation. Subsequently, the Agency for Energy Regulation approved another Regulation, on top of the first one, that the applicant is entitled to hire another contractor for the design and connection installation. Officially, when connecting to the natural gas network, Chișinău-Gaz provides the potential end consumer with four services – design, installation, reception of the connection installation, and pressure connection of units of use. In reality, the first two activities bring less money to Chișinău-Gaz. Meanwhile, private economic contractors, who have connections with representatives from the Chișinău-Gaz operator of the natural gas distribution system, earn annually thousands of euros from the implementation of gas pipeline installation projects.
Two brothers-in-law manage the company of former chiefs from Chișinău-Gaz
Gazoduct-GTN is one of the companies that has been carrying out gas pipeline installation projects worth millions of euros for over ten years. People who held managerial positions at Chișinău-Gaz manage the private company Gazoduct-GTN, founded in January 2006. Since 2009 it has been carrying out gas pipeline installation works. The same year, two people, Alexandr Arabadji and Ion Burdiumov received high positions at the Chișinău-Gaz enterprise. They were appointed during the management of an executive affiliated to the former director of Moldovagaz enterprise, Alexandr Gusev, who is under criminal investigation. Both appointees have been targets in corruption and money laundering cases.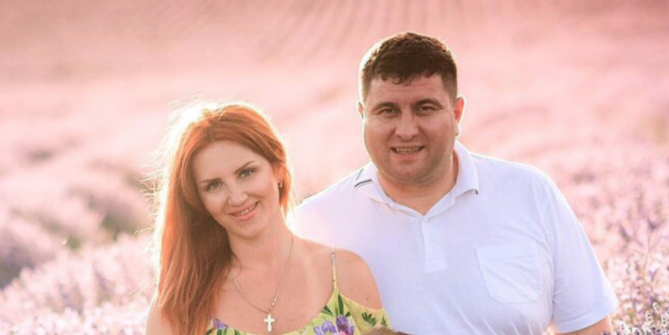 Until March 2020, the founder of Gazoduct-GTN was Arabadji's brother-in-law Vladimir Calin. In June 2020, Calin was replaced by Cristina Burdiumov, Ion Burdiumov's wife, who, in the meantime, moved to a department of the Chișinău City Hall and his brother-in-law Ivan Zamfirov became the company administrator. Over the past year, Cristina Burdiumov received dividends from Gazoduct-GTN amounting to 51,000 euros.
"We founded a company during our activity at Chișinău-Gaz. The founder was, however, a relative."
Alexandr Arabadji admits that the company belonged to his brother-in-law, but claims that he has never had anything to do with it. His business partner, Ion Burdiumov, contradicts him and relates that Vladimir Calin was only formally administrator of Gazoduct-GTN.
"I have known Mr. Arabadji since 2009 when we worked for Chișinău-Gaz. We founded a company together, and a relative of Mr. Arabadji became its founder because, at the time, we had no time to run it. His brother-in-law was out of work and I said `go ahead, be in charge of it.` In the meantime, Mr. Arabadji resigned from Chișinău-Gaz and I said that my wife will be the founder of this company. Arabadji is no longer related to this company," Burdiumov told us.
In a discussion with ZdG, his brother-in-law, Ivan Zamfirov, told us that the company belongs to Arabadji, with whom he states to be in good relations. In this case, Zamfirov claims that Arabadji did not make use of his position to favor Gazoduct-GTN in identifying and implementing expensive gas pipeline installation projects.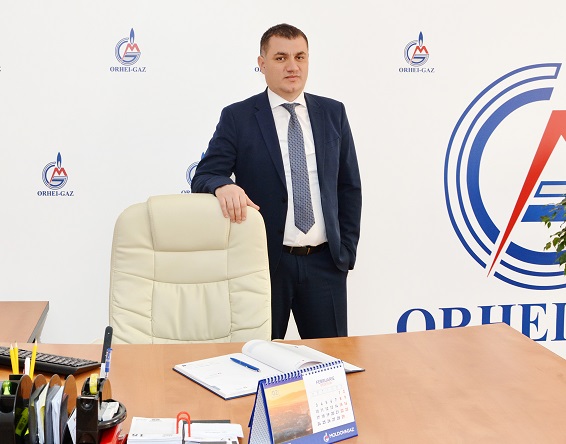 Alexandr Arabadji, contacted by ZdG, denied working as a business partner with Burdiumov. Arabadji added that he does not understand how being chief engineer at Chișinău-Gaz, a position he held until June 2017, could have favored Gazoduct-GTN. At first, he was reluctant to talk about Ivan Zamfirov, then Arabadji told ZdG about his kinship with the Burdiumov family.
"If I'm not mistaken, my brother-in-law has not been the owner of this company for about two years. I don't understand how I could have favored this company and what I have to do with it. How could I have favored this company as a chief engineer? I've got 17 years' experience and I know a lot of people in the gas sector. Some are my former university mates, others are colleagues. I don't know who Ivan Zamfirov is. (…) I know him, through Ion Burdiumov, he is his brother-in-law," Alexandr Arabadji told us.
However, the Burdiumov and Arabadji partnership does not end here. Their wives, Cristina Burdiumov and Maria Arabadji owned 50 percent of the company Profit Arena, and Cristina Burdiumov was also an administrator. In March, Maria Arabadji became the sole founder and took over as administrator. Cristina Burdiumov sold her 50 percent share of Profit Arena for 125 euros.
Projects worth millions and select beneficiaries
The company, affiliated with two former employees of Chișinău-Gaz, has been implementing expensive gas pipeline projects since 2009. In the last three years alone, Gazoduct-GTN completed the installation of gas pipelines for residential complexes worth about 2.2 million euros. In 2018, this company implemented 31 gasification projects worth about 550,000 euros or, on average, 18,000 euros per project. For comparison, during the same period, the Installation Department of Chișinău-Gaz carried out about 5000 gasification projects worth 530,000 euros or just over one hundred euros per project.
The company that belongs to the family of Burdiumov, the administrator of the General Department of Housing and Communal Services at the Chișinău City Hall, has an impressive list of select beneficiaries. Ion Burdiumov himself admits it.
"The company founded by my wife only deals with the installation of water pipes, sewerage and gas networks. This company has been operating since 2009 and has worked only with legal entities, on the basis of a contract," the Ion Burdiumov told us.
The company's budget amounted to over 750,000 euros due to gasification projects implemented for Energotehcomplet. Until last year, the company was on the list of founders of the construction company Eldorado Terra and was reorganized through a merger with Maol Investment, founded by Alexandr Rogovoi and Boris Shvartsman, former partners in Remington, one of the shareholders of Moldindconbank since the times when Veaceslav Platon managed the financial institution. Maol Investment manages the OASIS residential complex in Chișinău, whose real beneficiary is Eldorado Terra.
The list of beneficiaries of Gazoduct-GTN also includes the real estate company Exfactor-Grup, whose sole founder and administrator is Vladimir Tonu. For the contracted installation works, Exfactor-Grup paid around 300,000 euros to the Burdiumov family company. In recent years, Exfactor-Grup conducted various transactions with companies controlled by Ilan Shor or Vladimir Plahotniuc and carried out construction and modernization works at Chișinău International Airport, then controlled by Ilan Shor through Avia Invest. Exfactor-Grup was also one of the sponsors of the Shor Party in the electoral campaign for the parliamentary elections of February 24, 2019.
Reconscivil is another company that used the services of Gazoduct-GTN. According to calculations, the company would have contracted services worth about 200,000 euros. ZdG previously wrote that Reconscivil is the company that built the house of former president Igor Dodon where he lives with his family. Near the ex-president's house, Reconscivil built several other apartment buildings, where Igor Dodon's brother and godfather live. Lagmar-Impex and Braus Imobiliare are two other companies with which Gazoduct-GTN signed fat contracts.
Wife of a coordinating engineer at Chișinău-Gaz – founder of a company specializing in pipe fitting
Andronix-Din is another company linked to Chișinău-Gaz employees that implements projects worth hundreds of thousands of euros for the installation of natural gas pipelines. The founder of the company is Ludmila Dubină, the wife of Dinu Dubină, coordinating engineer of the Technical Supervision Service of Chișinău-Gaz. The company of the Dubină family was registered in February 2002 as a construction company, but in 2012 it obtained the license in "Design for the installation and technical-municipal networks, reconstructions." The company is managed by Emilian Margină, originally from Mărculești, Florești, Dinu Dubină's hometown.
The two families are on friendly terms, they post photos on social networks of the times they spent holidays together.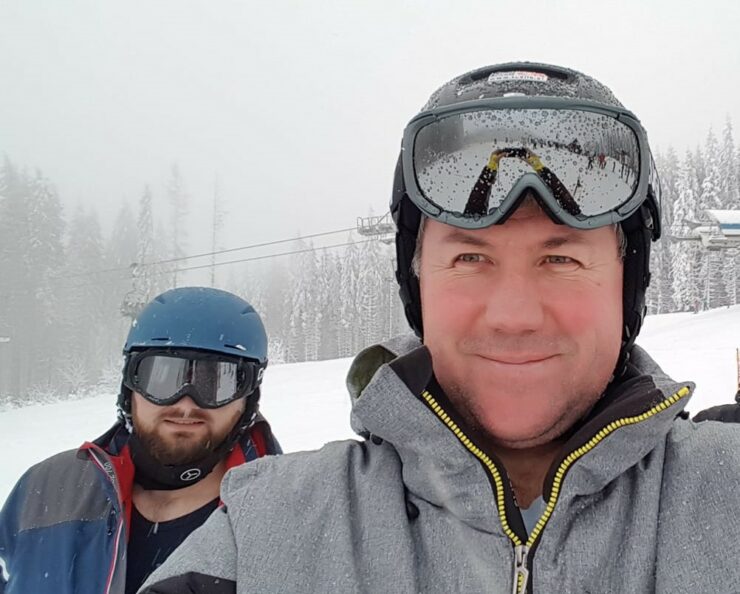 Ludmila Dubină, a doctor by profession, confirmed that her husband works for Chișinău-Gaz, but claims that he does not participate in the activity of the company where she is a founder.
"He does not work for this company. We have directors and engineers there. (…) We do everything in accordance with the legislation," said the wife of the coordinating engineer of the Technical Supervision Service of Chișinău-Gaz.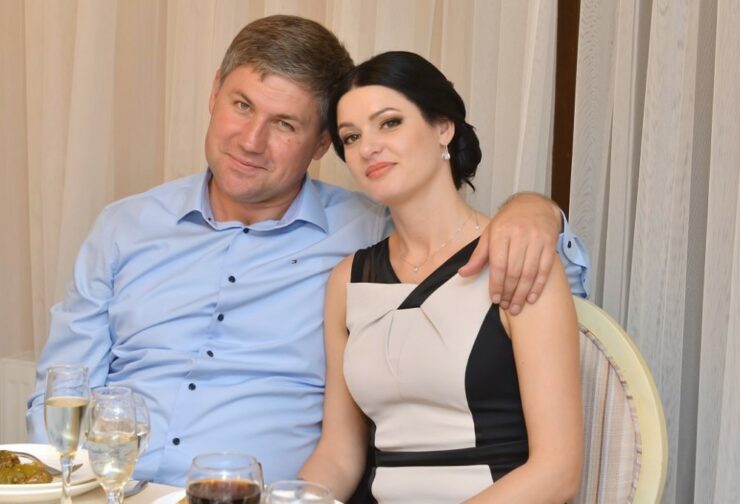 Over the past three years, Andronix-Din has completed gas pipeline installation works worth over 1 million euros, the main beneficiary being the construction company Inamstro, which contracted services worth about 465 thousand euros. In contrast to a project carried out by Gazoduct-GTN which costs around 18,600 euros, the average price of a project carried out by the company of the Dubină family is about 2,300 euros. In 2018 only, the company of the coordinating engineer of the Technical Supervision Service of Chișinău-Gaz completed gasification works at 36 facilities, registering revenues of 79,000 euros.
"He has been in the gas sector for many years and obviously we had met before."
ZdG sources claim that the two companies connected with Chișinău-Gaz, have unofficial agreements on gas pipeline installation projects, a fact denied by Alexandr Arabadji.
"I do not see how I relate to this. I know that Dinu Dubină was employed at Chișinău-Gaz. I don't know if he's currently working there. I knew Dinu before he came to Chișinău-Gaz. He has been in the gas sector for many years and, whether you like it or not, you cross paths," commented the current director of Orhei-Gaz, from northern Moldova.
Tehnicus-M, Termogaz Grup, Soltehinstal, Stavad-CG, and Instal Cons are among the economic contractors that, in recent years, added thousands of euros to their accounts after completing the installation of the gas pipeline.
Energy expert: The Competition Council and Moldovagaz shareholders should investigate the case
Victor Parlicov, an energy expert at Institute for Development and Social Initiatives Viitorul and former director of the National Agency for Energy Regulation, is suspicious about companies affiliated with employees from the regulated company providing services such as those of the regulated company. According to the expert, the management and shareholders of the regulated company (in this case, Chișinău-Gaz and Moldovagaz) should control such situations.
"The regulated and the unregulated part must be separated. If the prospective consumer requests those services from the network operator, the enterprise is obliged to provide them, according to the tariffs approved by the National Agency for Energy Regulation for auxiliary services. However, the client has the right to look for someone else who is authorized to provide these services, and here we leave the regulated area and enter the competitive market area. Respectively, we are not talking about the area of the National Agency for Energy Regulation responsibility, but that of the Competition Council, which checks whether there is a horizontal anti-competitive agreement with these companies, for example on prices or markets. In any case, the management of that company should investigate such cases, because they can disadvantage the company not only financially, but also in terms of image. Representatives of the Moldovan Government, as a shareholder of Moldovagaz, should come up with a reaction, if such cases are demonstrated," says Victor Parlicov.
From 2009 to the present, Chișinău-Gaz has had three directors. In 2015, the General Prosecutor's Office carried out several searches at the headquarters of Moldovagaz and Chișinău-Gaz, as well as in the houses of Alexandr Gusev and Constantin Cuiumju who were former directors of the two companies. The actions were carried out in two criminal cases, initiated for abuse of office, money laundering, and illegal practice of entrepreneurial activity. After this scandal, the two were fired. In March 2017, Vasile Botnari, the former head of Moldovagaz, promoted Ruslan Garbalî to the head of Chișinău-Gaz. Two years later, he resigned on his own initiative, and in April 2020 was replaced by Oleg Teterea, one of the oldest and most devoted friends of former President Igor Dodon.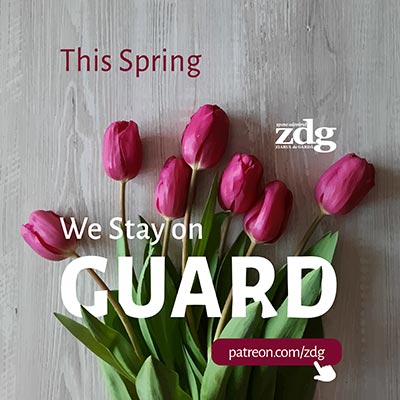 Press Release
21 July 2020
Several articles published by ZdG during 2021 have had an impact and led to opening criminal cases or sanctions. The investigation "Concrete Instead of Trees in a Chișinău Forest" brought to the public's…
"I left the unit out of fear. I joined the army to do military service and not to let someone mock me. (…) The superiors reacted aggressively. I learnt nothing from the military service: I made repa…
"Fighting corruption is a very important process that we engage to complete; the country's strategy, however, must focus on education." A year after the inauguration of Maia Sandu as President…
On December 24, 2020, Maia Sandu pronounced her inauguration oath of office as President of the Republic of Moldova: "I swear to give all my strength and skill to the prosperity of the Republic of Moldova, to r…
We say goodbye to 2021- a year full of question marks. Knock on 2022. How will it find us? More peaceful, more optimistic, more hopeful, or tired of waiting? It will be warm in the house, there will be bread on…
The new US Ambassador to Moldova, Kent Doyle Logsdon, took the oath of office on Wednesday, December 28, in Washington DC. Ambassador Logsdon will soon arrive in Moldova to lead the Embassy team in further stre…