The United Kingdom's Minister for the European Neighbourhood, Mrs Wendy Morton, makes her first official visit to Moldova next week as part of a two-country visit which also includes Romania. Following recent trips to Azerbaijan, Georgia, and Armenia, this mission is evidence of the United Kingdom's commitment to strengthening and deepening its relations with the countries of the region.
The Minister arrives in Moldova at an important moment. Although planned well before the parliamentary election was called for 11 July, the visit will certainly include discussion of the prospects for that crucial democratic process. The United Kingdom respects electoral processes of other countries and does not seek to influence democratic events beyond our own borders. However, as a Participating State in the OSCE and a fellow member of the Council of Europe, we do reserve the right to carefully observe the democratic process here. We call upon all institutions – including government, Central Electoral Commission, and Audio-visual Council – to fulfil their duties and ensure the election is free and fair. Shortcomings documented by ODIHR in previous elections should be addressed. In particular, all actors should refrain from fake news and disinformation and instead concentrate objectively on the issues that matter to the people. Mass media – especially state-owned outlets – have the duty to provide space for a genuine national conversation so that voters can better evaluate their options.
In addition to discussing the political landscape, the Minister will be keen to hear from the President about the kind of reforms which will make Moldova more prosperous, more secure, and a more attractive environment for trade and investment. Having recently confiscated a considerable sum of illicit finance from Moldovan citizen Luca Filat in London, the UK government is keen to understand what steps are needed and planned here in Moldova to pursue much larger amounts of illicit finance stolen from the state in recent years.
The United Kingdom is recognised as an important contributor to European security, not least through its commitment to NATO. Recent events along the Ukrainian – Russian border, and in the illegally-annexed Ukrainian territory of Crimea – underlined how security in one part of Europe affects the entire continent. The Minister is looking forward to getting the Moldovan perspective on these events and the security of the wider Black Sea region, in meetings with the Interim Prime Minister and the Minister of Defence.
It is disappointing that NATO is still misunderstood in some quarters in Moldova, and is the subject of deliberate disinformation. The Minister will reaffirm that the United Kingdom respects Moldova's constitutional neutrality. Our work – bilaterally and through NATO – to support defence reform in Moldova should not be seen through a geopolitical lens. Our only objectives are to help make Moldova more secure at home and better able to cooperate to security abroad under UN Peacekeeping auspices.
Whilst in Chisinau, Mrs Morton will also discuss current developments regarding settlement of the Transnistrian frozen conflict. The Minister will remind her Moldovan counterparts that we fully support a settlement of the Transnistria conflict which respects Moldova's territorial integrity and sovereignty whilst establishing a special status for the Transnistrian region. We also call for the immediate withdrawal of illegally stationed foreign troops.
In additional to discussing Moldovan political developments and regional security challenges, the Minister will take stock of the Moldovan-UK bilateral relationship. Following signature of the Strategic Partnership, Trade and Cooperation Agreement (SPTCA) in December 2020 and the first Strategic Dialogue meeting under that Agreement on 15 April, Mrs Morton will discuss areas where we can further strengthen the relationship. We already have strong relations in defence, education, and we cooperate well in multilateral fora such as the UN and Council of Europe on many subjects – from human rights and chemical weapons to anti-microbial resistance. We can – and should – seek to do more to promote stronger trade links.
It's time to take our already good relations to a new level. Minister Morton's visit will help prepare the ground, but in addition a free and fair election which returns an honest, reform-oriented parliament can provide the perfect conditions in which UK-Moldovan relations can grow to their full potential.
Steven Mark Fisher
British Ambassador to Moldova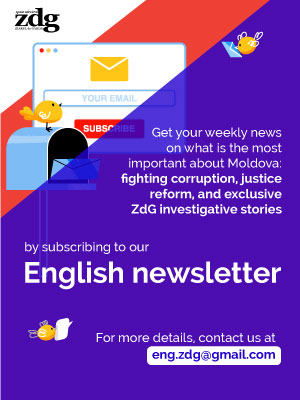 Petru Grozavu
04 July 2021
While looking for interesting local people to invite to the Moldovan-American Convention MAC8 in Seattle, that will be held between September 30th and October 2nd 2022, I found Vladislav Zotea, a mountain climb…
Starting with his own life story, in 2010, Jasminko Halilovic, originally from Bosnia and Herzegovina, began documenting a book about children growing up in war times. Meanwhile, meeting dozens of people who we…
Roskomnadzor (Federal Communications, Information Technology, and Media Surveillance Service) ordered Ziarul de Gardă to delete an article about Russia's war on Ukraine and asked Internet operators to blo…
Several articles published by ZdG during 2021 have had an impact and led to opening criminal cases or sanctions. The investigation "Concrete Instead of Trees in a Chișinău Forest" brought to the public's…
"I left the unit out of fear. I joined the army to do military service and not to let someone mock me. (…) The superiors reacted aggressively. I learnt nothing from the military service: I made repa…
"Fighting corruption is a very important process that we engage to complete; the country's strategy, however, must focus on education." A year after the inauguration of Maia Sandu as President…
-