On her return from Strasbourg, President Maia Sandu had a meeting at the Cotroceni Palace with the Romanian President Klaus Iohannis. She also met with Romanian Prime Minister Florin Cîțu and discussed the pandemic challenges.
According to the Romanian Presidential Administration, the two heads of state analyzed the stage of implementation of the agreed projects during the visit of the President of Romania to Chișinău, on December 29, 2020. In 2021, Romania donated medical and protective equipment against COVID-19 worth 2.3 million euros, as well as a quantity of over 200,000 vaccines, and in the next stage will make the donation of 6,000 tons of diesel to Moldovan farmers.
President Sandu expressed her gratitude for the support provided by Romania, in the difficult context generated by the COVID-19 pandemic, but also for Moldova's European path, emphasizing that it will continue its efforts to implement the reform agenda, in a democratic and European spirit.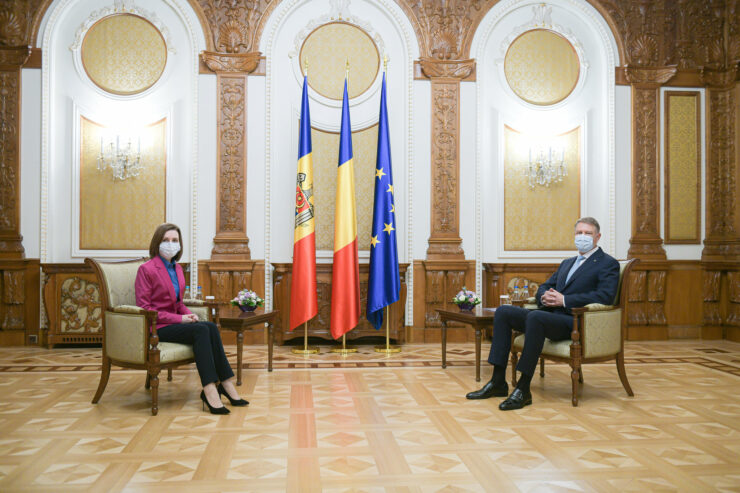 The two Presidents agreed to continue the high-level bilateral dialogue with a view to deepening multidimensional cooperation, in particular on bilateral projects of strategic importance, with a focus on energy, transport, education, and health. The main objective of this cooperation remains to ensure the sustainable development of Moldova and its irreversible connection to Europe.
President Klaus Iohannis reiterated the strong message of support for the reform agenda promoted by President Maia Sandu, in the spirit of the bilateral Strategic Partnership and the privileged relations between the two states.
President Sandu met in Bucharest with the Prime Minister of Romania Florin Cîţu. Sandu discussed the conditions under which Moldovan citizens that also have Romanian citizenship could be immunized against COVID-19 in vaccination centers from Romania, regardless of whether or not they reside in Romania. The Romanian Prime Minister reiterated that Romania remains Moldova's most important partner.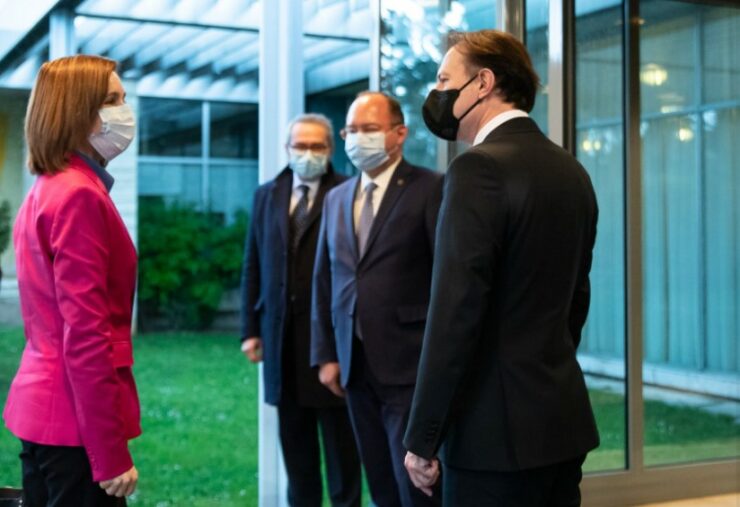 "No matter on which part of the Prut we live, we are all concerned with managing the pandemic as well as possible and protecting the health of our citizens. Today I had a very good meeting with Maia Sandu, President of Moldova, about the vaccination campaign, the safest way to overcome the health crisis and return to a normal life. We have supported the medical system and the citizens of Moldova by donating vaccines and medical equipment and we will continue to offer help. I discussed with President Maia Sandu about the conditions under which Romanian citizens in Moldova have the opportunity to be immunized against COVID-19 in vaccination centers in Romania, regardless of whether or not they have a home in the country. Romania remains the most important partner of Moldova and its citizens. Solidary and responsible in the efforts to fight the COVID-19 pandemic, we will overcome this period well and we will return to normal life ", declared Romanian Prime Minister Florin Cîțu.


The chairman of the European Parliament delegation for relations with Moldova, Siegfried Mureșan, considers that "it is a good thing that the future Government in Chișinău has a new structure". "The…
The list of ministers who will be part of the future Government led by Natalia Gavrilița was published on Tuesday, August 3. The government team includes members of the Action and Solidarity Party, as well as f…
The former Minister of Defense in the Chicu Government, Alexandru Pînzari, was detained this morning by the officers of the Information and Security Service. He is investigated in the case related to Dorin Dami…
The Anticorruption Prosecutor's Office sent to court the criminal case in which the deputy of the Shor Paty, Denis Ulanov, is accused of fraud and money laundering, both crimes committed in particular pro…
President Maia Sandu signed the decree appointing Natalia Gavrilița to the position of prime minister after the Action and Solidarity Party proposed her as their candidate for the prime minister position. Gavri…
The Constitutional Court declared on Thursday, July 29, unconstitutional the amendments made by the Socialist-Shor parties that blocked the transfer of the Republican Stadium ground in use to the Embassy of the…