Photo: bloguvern.md
A new accusation for the former interim president of the Banca de Economii, Viorel Bârca, whose case was sent to court on March 15 for embezzlement of foreign assets in particularly large proportions in the billion-dollar bank fraud.
According to authorities, prosecutors have gathered evidence that in November 2014, Viorel Bârca along with a head of the National Bank, former special administrator of the Banca de Economii "acting jointly with other members of the criminal organization, allegedly stole 10 million US dollars and 8 million euros from interbank investments granted by Moldindconbank and Moldova Agroindbank to the Banca de Economii."

According to the prosecutor's note, the two do not admit their guilt.

In order to recover the damage caused by the commission of the crime, the prosecutors instituted seizures on five real estates of the defendants for the benefit of the state.

The former President of Banca de Economii bank was detained at the beginning of December 2020, together with five other people, including the former leaders of the three bankrupt banks (Banca de Economii, Unibank and Banca Sociala), but also representatives of the Shor holding company. Since then, the defendant has been under house arrest.

The current Head of the National Bank was detained on March 11 and subsequently placed in arrest. He is currently investigated for abuse of office in the management of bank guarantees granted by National Bank to the financial institutions Banca de Economii, Unibank, and Banca Sociala.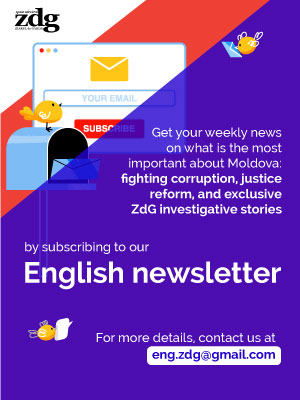 Alina Radu
11 April 2021
While looking for interesting local people to invite to the Moldovan-American Convention MAC8 in Seattle, that will be held between September 30th and October 2nd 2022, I found Vladislav Zotea, a mountain climb…
Starting with his own life story, in 2010, Jasminko Halilovic, originally from Bosnia and Herzegovina, began documenting a book about children growing up in war times. Meanwhile, meeting dozens of people who we…
Roskomnadzor (Federal Communications, Information Technology, and Media Surveillance Service) ordered Ziarul de Gardă to delete an article about Russia's war on Ukraine and asked Internet operators to blo…
Several articles published by ZdG during 2021 have had an impact and led to opening criminal cases or sanctions. The investigation "Concrete Instead of Trees in a Chișinău Forest" brought to the public's…
"I left the unit out of fear. I joined the army to do military service and not to let someone mock me. (…) The superiors reacted aggressively. I learnt nothing from the military service: I made repa…
"Fighting corruption is a very important process that we engage to complete; the country's strategy, however, must focus on education." A year after the inauguration of Maia Sandu as President…
-
-
barista oat milk
-
yatırımsız deneme bonusu