A few days ago, I was talking to Daniela, one of the representatives of the Moldovan community in Australia. "What's the news?" I asked her, to which a prompt answer came: "Yesterday, Victoria state did not register any new cases or deaths of COVID-19." Daniela's answer seemed incredible, given that in Moldova the number of infected people and death cases is tragically increasing. Victoria is one of the largest states in Australia, with a population of over 6 million people, i.e. twice as large as Moldova.
How did they manage to defeat this deadly virus?
I found out from Daniela that they tested huge numbers of people and not only those who had symptoms. Also, the lockdown for a period of four months was extremely strict. People stayed at home, and only one family member could go shopping for essentials. People were allowed to exercise or go walking near their homes. Only employees of hospitals, pharmacies, and grocery stores continued to work while places of worship, schools, and non-essential shops were closed. Meetings of any kind were forbidden and masks were compulsorily anywhere in public. 
"How was it?" I asked Daniela. "It was not easy, but it was worth it. Now that there are no more cases of coronavirus, we leave our homes without fear, we can go anywhere, but still respecting social distancing," she says.
As soon as we ended the discussion while comparing the rules of Australians with those applied to us, I heard the statement of Adrian Belîi, the head of Intensive Care of the Institute of Emergency Medicine in Moldova: "In two weeks, the grandparents and teachers who return in classrooms will be our patients, but we no longer have places."
It was Monday, and on Tuesday the students went to school. On Wednesday, the Chișinău educational institutions registered 529 cases of COVID-19, and the number will increase steadily by the end of the incubation period of the virus, considering the assumption that each infected person infects three others.
On March 13, the Supreme Security Council addressed issues related to the extremely serious pandemic situation in Moldova, and public health experts pointed out that a lockdown for at least two weeks will help to cope with the pandemic. Despite this, the situation remained unchanged. Following the Supreme Security Council meeting, president Maia Sandu announced to send the proposals formulated by the members of the Council to the Executive and, within three days, it should take action and identify solutions. It is true, there were some meetings, some secretaries of state were appointed and it was decided to draw up a so-called action plan, meanwhile every day, every hour, people continue to die.
Our officials seem to ignore the warnings of the World Health Organization, according to which Moldova will reach 100 deaths a day within two-three weeks if harsh restrictions are not introduced. By harsh restrictions, WHO means lockdown, specifying that there is no other solution. Independent experts state that a 30-day lockdown would avoid the contamination of about 49.200 people and save 1136 lives.
These data seem not to impress the Moldovan authorities. They might not take a clear decision on the regime of activity in Moldova either, as recommended by experts and international institutions, because it is not of political use. For example, on March 18, the Parliament met to discuss laws and decisions, such as those on the establishment of the Special Commission for the Selection of Candidates for the Office of the People's Advocate, on amending and supplementing the Law on Veterans, the Maritime Navigation Code, the draft amendment and supplement to the Law on the Petroleum Products Market, projects aiming to amend the Law on Public Finance. Yet not a single subject dedicated to public health.
It will take long until we declare Victory over the COVID-19.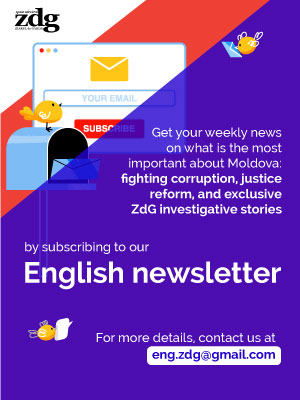 Cristian Jardan
12 July 2020
While looking for interesting local people to invite to the Moldovan-American Convention MAC8 in Seattle, that will be held between September 30th and October 2nd 2022, I found Vladislav Zotea, a mountain climb…
Starting with his own life story, in 2010, Jasminko Halilovic, originally from Bosnia and Herzegovina, began documenting a book about children growing up in war times. Meanwhile, meeting dozens of people who we…
Roskomnadzor (Federal Communications, Information Technology, and Media Surveillance Service) ordered Ziarul de Gardă to delete an article about Russia's war on Ukraine and asked Internet operators to blo…
Several articles published by ZdG during 2021 have had an impact and led to opening criminal cases or sanctions. The investigation "Concrete Instead of Trees in a Chișinău Forest" brought to the public's…
"I left the unit out of fear. I joined the army to do military service and not to let someone mock me. (…) The superiors reacted aggressively. I learnt nothing from the military service: I made repa…
"Fighting corruption is a very important process that we engage to complete; the country's strategy, however, must focus on education." A year after the inauguration of Maia Sandu as President…
-