The Chișinău Court of Appeal removes the seizure applied on Christos Konstantinou's bank account in October 2019. Christos Konstantinouby is a Cypriot founder of offshore companies related to the former leader of the Democratic Party, Vladimir Plahotniuc, and his former party colleague, Vladimir Andronachi.
On July 20, 2020, the Chișinău Court rejected the request filed by Christos Konstantinou's lawyers to the Anticorruption Prosecutor's Office. Konstantinou's lawyers challenged the order regarding the seizure of his funds. The lawyers also claimed that the seized money was transferred to Christos Konstantinou's bank account held at Victoriabank, by the company Introstyle Solutions LTD for consulting services and that a part of the money was there for four years before the 2015 transfer.
The Chișinău Court of Appeal admitted on 12 January 2021, Konstantinou's lawyers' appeal and canceled the decision of the Chișinău court regarding the fund's seizure and compensation of court costs.
According to the documents, Konstantinou used the money received in 2015 for personal and business needs. His company, Introstyle Solutions LTD, is the founder of SRL Radio Media Group that was founded on March 27, 2012, under the director Victoria Bucătaru. SRL Radio Media Group and Radio Media Group Inc are companies founded by the former leader of the Democratic Party, fugitive oligarch Vladimir Plahotniuc. From 2015, four televisions and three radio stations were broadcast by these companies being hidden, over the years, behind offshore companies.
The name of Christos Konstantinou is found in several ZdG investigations. In September 2017, ZdG published an investigation showing the family ties of former Democratic Party deputy Vladimir Andronachi with Cypriots who founded offshore companies.
Andronachi's father-in-law, Fyodor Vasilcov, is the owner of the car trading company Individual Auto SRL. The company has its address in Vladimir and Nadejda Andronachi's building. This building is managed by Anatolie Blonschi that has connections with the Cypriot citizen. Blonschi administrates three companies, among which Metropolitan Construct SRL, a company founded in Chișinău by the Cypriots Christos and Rodoula Konstantinouthe through their Cyprus company Katsiaco LTD. 
Christos and Rodoula Konstantinouthe's company C. Argyrou & Associates manages another company in Cyprus, Investar Investments Limited, that owns the Business Agreement company in Chișinău. The Business Agreement company owns the so-called White House in Chișinău, an impressive building attributed to Vladimir Plahotniuc. Rodoula Konstantinou is the one who empowered Iuri Luncașu, a close friend of the Vladimir Plahotniuc, to manage the Business Agreement company in Moldova.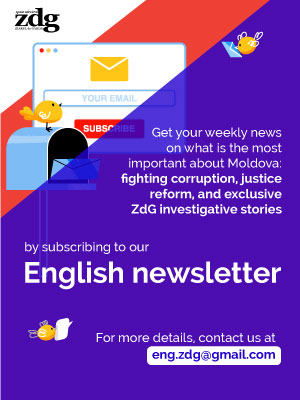 Diana Severin
22 July 2020
While looking for interesting local people to invite to the Moldovan-American Convention MAC8 in Seattle, that will be held between September 30th and October 2nd 2022, I found Vladislav Zotea, a mountain climb…
Starting with his own life story, in 2010, Jasminko Halilovic, originally from Bosnia and Herzegovina, began documenting a book about children growing up in war times. Meanwhile, meeting dozens of people who we…
Roskomnadzor (Federal Communications, Information Technology, and Media Surveillance Service) ordered Ziarul de Gardă to delete an article about Russia's war on Ukraine and asked Internet operators to blo…
Several articles published by ZdG during 2021 have had an impact and led to opening criminal cases or sanctions. The investigation "Concrete Instead of Trees in a Chișinău Forest" brought to the public's…
"I left the unit out of fear. I joined the army to do military service and not to let someone mock me. (…) The superiors reacted aggressively. I learnt nothing from the military service: I made repa…
"Fighting corruption is a very important process that we engage to complete; the country's strategy, however, must focus on education." A year after the inauguration of Maia Sandu as President…
-