The Parliamentary Assembly of the Council of Europe adopted a resolution on undermining the independence of the judiciary in Moldova. The Assembly is concerned about the judiciary's proximity to political authorities, which doubts the effectiveness of efforts to combat abuse of power and corruption.
According to the Resolution, the Assembly is concerned that several attempts to reform the judiciary in Moldova have been unsuccessful and that corruption, including in the judiciary, remains a widespread phenomenon. The Assembly also notes the latest political changes and the Government's political will to prioritize the reform of the justice system and welcomes high-level consultations between European authorities and representations.
The Assembly calls on the Moldovan authorities to continue the reform of the judiciary, the Superior Council of Magistracy, and the Prosecutor's Office, in accordance with the recommendations of the Council of Europe.
"The Moldovan authorities should give priority to the assessment of judges and prosecutors and make full use of the procedures already available to ensure the integrity of the judiciary," the resolution reads.
The Moldovan authorities are called upon to significantly intensify their efforts to combat corruption among judges and prosecutors and, to this end, to implement GRECO's recommendations and to continue to cooperate with the Venice Commission and other bodies of the Council of Europe.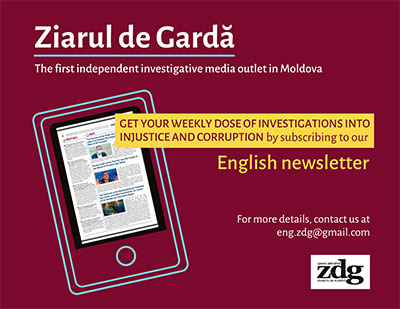 Daniela Calmas
12 November 2020
The Medicines and Medical Devices Agency authorized the Pfizer-BioNTech and AstraZeneca vaccines, as well as the Gam-COVID-Vac (Sputnik V) vaccine, to prevent the coronavirus infection. "On February 26, w…
President Maia Sandu had a meeting yesterday with the Minister of Foreign Affairs of Lithuania, Gabrielius Landsbergis, who is on a working visit to Moldova. The president claims that the current problems of Mo…
Dumitru Diacov, former president and current deputy of the Democratic Party risks losing part of his fortune after the National Integrity Authority found a considerable difference between the acquired wealth an…
Pavel Eni, the head of the Saint Lazarus cemetery, previously detained for corruption and later suspended from office at the prosecutors' request, was reinstated. The Chișinău Court took the decision on Thursda…
After the Constitutional Court declared Sandu's decree unconstitutional, she held a press conference stating her position. Deputies from different factions reacted to the president's position supporting or cond…
The Moldovan Constitutional Court will take over the Presidency of the Conference of European Constitutional Courts for a three-year term, according to a Constitutional Court's note. "For two days, on Feb…