The Justice System Reform in Moldova started in 2011. According to a survey, judges, prosecutors, and lawyers view the justice quality and the reformative impact the same as five years ago, although opinions differ considerably on some topics. The data also show that trusting the judiciary in 2020 remained the same as in 2011 when the judicial reform began.
About 2/3 of judges, more than half of prosecutors, and almost half of lawyers believe that the reforms launched in 2011 had a positive impact on the judiciary.
83% of judges, 59% of prosecutors, and only 35% of lawyers have agreed that the quality of justice is currently better than five years ago.
83% of judges and only 22% of lawyers agreed that judges have independence.
At the same time, 60% of prosecutors confirmed the statement on the independence of prosecutors in 2020, and 39% of prosecutors disagreed with it.
83% of judges and 61% of prosecutors and a fourth of the lawyers believe that judges' solutions are adopted without outside influence. The same question about prosecutors' solutions was supported by only 49% of judges and 24% of lawyers and 75% of prosecutors.
These figures suggest a distinct doubt of lawyers in the real independence of judges and prosecutors and moderate confidence of judges in the independence of prosecutors.
Respondents who do not agree that judges 'solutions are fair and adopted without outside influence consider that judges' decisions are most often influenced by politicians and rarely by police.
Confidence in the justice system in 2020 is at the same level as in 2011 when judicial reform began. 72% of judges, 73% of prosecutors, and 68% of lawyers believe that low trust in the judiciary is determined by politicians' attacks on justice. 40% of judges believe that some of their colleagues make political decisions, which affects confidence in the whole system – an opinion supported by 68% of prosecutors and 80% of lawyers.
The study also shows that only 67% of judges, 70% of prosecutors, and 33% of lawyers believe that the European Convention on Human Rights is respected in Moldova's justice system.
Regarding their perception of the level of corruption in the country, 12% of judges, 9% of prosecutors, and 6% of lawyers said that there is no corruption in Moldova, and 28% of judges, 43% of prosecutors, and 74% of lawyers – that there is a lot of corruption in Moldova.
The survey "The perception of judges, prosecutors, and lawyers on judicial reform and the fight against corruption " was conducted by the Center for Sociological Investigations and Marketing "CBS-RESEARCH" at the request of the Center for judiciary resources in Moldova.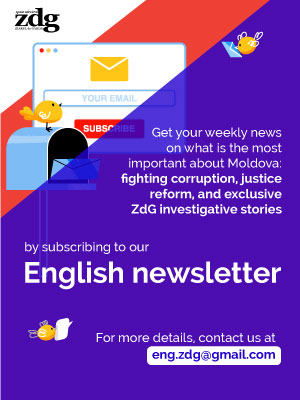 Daniela Calmis
03 March 2021
While looking for interesting local people to invite to the Moldovan-American Convention MAC8 in Seattle, that will be held between September 30th and October 2nd 2022, I found Vladislav Zotea, a mountain climb…
Starting with his own life story, in 2010, Jasminko Halilovic, originally from Bosnia and Herzegovina, began documenting a book about children growing up in war times. Meanwhile, meeting dozens of people who we…
Roskomnadzor (Federal Communications, Information Technology, and Media Surveillance Service) ordered Ziarul de Gardă to delete an article about Russia's war on Ukraine and asked Internet operators to blo…
Several articles published by ZdG during 2021 have had an impact and led to opening criminal cases or sanctions. The investigation "Concrete Instead of Trees in a Chișinău Forest" brought to the public's…
"I left the unit out of fear. I joined the army to do military service and not to let someone mock me. (…) The superiors reacted aggressively. I learnt nothing from the military service: I made repa…
"Fighting corruption is a very important process that we engage to complete; the country's strategy, however, must focus on education." A year after the inauguration of Maia Sandu as President…
-
-
eskort
-
eskort eskişehir
-
-
barista oat milk