The United Kingdom, UNDP, WHO and OHCHR support health workers and people from vulnerable groups from the left bank of the Nistru river to overcome the COVID-19 crisis
3 December 2020, Tiraspol. More than 1160 packages containing non-perishable food, hygienic products and 1500 packages with masks and sanitizers shall reach out to approximate 1200 vulnerable women, men and children from the left bank of Nistru river. Among beneficiaries are women survivors of domestic violence and their dependents, single mothers, persons with disabilities, Roma, older persons, people with chronic illnesses, or weakened immune systems, and HIV positive people.
"Now, when the crisis caused by the COVID-19 pandemic is in active progress, when the situation is strained in various spheres of society's life – any assistance to those groups who are especially vulnerable is extremely important and valuable. Food, personal protection and hygiene products are more important than ever for our beneficiaries – women and children in difficult situations. We express our sincere gratitude to the United Kingdom and UN Moldova for such humanitarian aid and opportunities, especially since the whole world is in crisis now and assistance is needed to those who are left behind!" said Alexandra Martynenko, women's program coordinator, from "Resonance" civil society organization from Tiraspol.
"We feel the consequences of the pandemic. Our beneficiaries, people living with HIV, especially women, suffer even more from isolation. Thanks to the support, people from vulnerable groups will not only receive essential products and hygienic items, but will also feel moral support, they will understand that they are not alone," said Janna Vilhovaia, Executive Director of the Alliance for Public Health from the left bank of Nistru river.
With support from the United Kingdom, 26,875 gowns are being distributed for frontline health workers from medical institutions from the left bank of the Nistru river.
Ghenadii Gribencicov, a surgeon at the Tiraspol hospital, noted: "A COVID-19 center with a capacity of 500 seats has been opened in our hospital. The assistance provided by the UK is valuable to us and will be used not only in the Tiraspol hospital, but will be distributed to all specialized medical institutions and will allow us to improve the quality of care provided and to protect health care workers. Previously, essential medical equipment was delivered through UNDP, contributing to saving dozens of lives. We thank the development partners for their help and look forward to further financial, advisory and informational collaboration and support. Together we believe we can defeat this virus."
"We come here today, to the Tiraspol Hospital to donate protective equipment for use in the fight against a global pandemic. This equipment has been paid for by the taxes of the British people, few of whom have ever visited Chisinau, Tiraspol, Dubasari or Bender. Most of whom would struggle to find these places on a map. This act of selfless generosity typifies the United Kingdom's response to the pandemic. We are the second largest donor to the World Health Organisation – for whose leadership we have the strongest respect. We are amongst the architects of the COVAX system, which will ensure fair and affordable distribution of vaccines throughout the world. And we have donated many millions of pieces of Protective Equipment to healthcare professionals on the front line, in many countries, including here in Moldova, on both banks of the Nistru. To the brave professionals at the Tiraspol Hospital, I say that the British people are pleased to support you and to help you to continue your daily battle to save lives," noted Steven Mark Fisher, UK Ambassador to the Republic of Moldova, during a visit to Tiraspol, conducted on 2 December 2020.
This support offered to the left bank of Nistru river is a part of a wider assistance programme supported by the United Kingdom as an emergency response to the COVID-19 crisis on both banks of the Nistru river, with a total value of £160,000. The assistance is offered through the United Nations Development Programme. The World Health Organization and the Office of the High Commissioner for Human Rights are partners of this initiative.
Also, with support from the United Kingdom, 100 pulse oximeters, measuring oxygen distribution in critical patients, are being provided to COVID-19 Triage Centre in Chisinau.
Overall, health institutions from both banks of Nistru river received 55,125 disposal medical gowns and coveralls, 6000 masks, 3,800 liters of sanitizers and disinfectants and 100 non-contact infrared thermometers.
The UN Development System in Moldova and development partners have been actively supporting the national response to the pandemic through the coordinated activities aiming to protect people, increase capacities of a healthcare system to respond to public health emergencies and reduce the economic and social shocks.
Contact for mass-media: Laura Bohantova, Communications Analyst, UNDP Moldova, tel. +373 685 11 883, E-mail: laura.bohantova@undp.org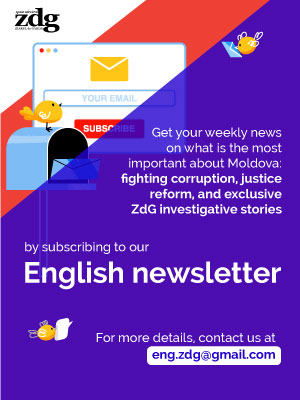 31 October 2021
While looking for interesting local people to invite to the Moldovan-American Convention MAC8 in Seattle, that will be held between September 30th and October 2nd 2022, I found Vladislav Zotea, a mountain climb…
Starting with his own life story, in 2010, Jasminko Halilovic, originally from Bosnia and Herzegovina, began documenting a book about children growing up in war times. Meanwhile, meeting dozens of people who we…
Roskomnadzor (Federal Communications, Information Technology, and Media Surveillance Service) ordered Ziarul de Gardă to delete an article about Russia's war on Ukraine and asked Internet operators to blo…
Several articles published by ZdG during 2021 have had an impact and led to opening criminal cases or sanctions. The investigation "Concrete Instead of Trees in a Chișinău Forest" brought to the public's…
"I left the unit out of fear. I joined the army to do military service and not to let someone mock me. (…) The superiors reacted aggressively. I learnt nothing from the military service: I made repa…
"Fighting corruption is a very important process that we engage to complete; the country's strategy, however, must focus on education." A year after the inauguration of Maia Sandu as President…
-