The second presidential elections are on November 1, and possibly the last great struggle for Moldova's independence, after which (depending on how the Moldovan citizens vote) Europe and our moving freely around Europe will remain a beautiful memory.
Russia does not let us alone. On Sunday, the Russian secret services may get us into a trap. Putin wants to catch us in his electoral nets with either pro-Russian candidates Dodon or Usatii. If the Russians succeed, not only Dodon's and Usatii's opponents will lose. Moldova will fail too. Will we get caught up in Russia's electoral nets, or will we riposte with an anti-Dodon and anti-Usatii solidarity vote?
On Sunday, we are having elections. The first thing we have to do is go to the polls. The statistics show that about 60 percent of voters are undecided about who to vote with or whether to go to the polls at all. The presidential elections on November 1 are the second and possibly the last great struggle for Moldova's independence, after which (depending on how we vote) Europe and our moving freely around Europe will remain a beautiful memory.
This is why we have to make an effort and go to the polls and vote consciously.
We must not vote at random or out of anger. Let us also not get flattered or fooled down by a trifle electoral gift. We must have learned something from other electoral lessons. It is high time we understood that those who robbed us and lied to us for four years would continue to steal and lie. There should be no more room for them in our lives. These are not heads of state; they are dealers and smugglers.
Moldova needs a President for everyone, not just for the president's family. Moldova needs a President who will, at least, restore everyone's hope for a better life.
We must go to the polls to take Igor Dodon down. By our solidarity vote, let us tell him that he didn't do his job, that he compromised his mandate, and that he has to leave. Dodon did not achieve anything he committed to, neither in relations with Russia nor with its neighbors, nor in those with its Euro-Atlantic partners. As for the "Transnistrian problem," he exceeded any moral and legal norm. Igor Dodon is the first of Moldova's presidents who committed an act of betrayal by admitting breakaway Transnistria's independence. We must say that Dodon has never been President of Moldova; he was just a squire, who acted, like the brave soldier Svejk, at the command of the Kremlin. According to Dodon, this is friendship with Russia. However, it is nothing else but excessive docility towards Putin, the reason why, in relations with foreign countries, Dodon has been the most unwelcome president of Moldova, and this means international isolation.
Internally, things aren't any better either. Moldova lost the fight against COVID. It numbers ninth in the world according to the number of infections and deaths per thousand inhabitants. There are no advances in the field of economic reforms and justice either. Plahotniuc left, but corruption, protected by Dodon, is still here. State banditry, thievery, and poverty have remained. The quality of life decreases, the cost of necessities increases. According to the Public Opinion Barometer latest data, over 75 percent of the population considers that Moldova is going in the wrong direction. The same survey shows that most Moldovans live on the edge of poverty, and only 0.7 percent are satisfied with life and admit that they have everything. Igor Dodon and his family are among the 0.7 percent category.
On Sunday, we must go to the polls. Russia pushes its candidate Dodon with all sorts of diplomatic scandals, inflating polls, and setting up several election fraud scenarios. At the same time, Moscow is aware that only the naïve and the fools, either bought or lied to, can vote for Dodon, who is an "expired" personage. In this situation, Russia may not want to risk Dodon. Moscow does not need a new April 7, therefore, Russia comes with an alternative – Renato Usatii, the current mayor of Balti. Let it be clear: Usatii is Moscow's second (undisputed) presidential candidate, who suits them even better than Dodon. Why? Because if he is announced a winner, no one will accuse him of winning by fraud. What a lovely arrangement: Usatii is an opposition candidate with the most critical voice against Dodon and his name is first on the ballot.
Usatii has more chances than Dodon and is attractive to the electorate. He can criticize anyone and promise anything, for he has never been at governance. Moldovans know little of Usatii, just that he was born in Fălești and studied in Bălți. In 1994, he left for Moscow. It is not clear what he did, but he has established close relations in the Russian special services and Kremlin and the Russian underworld. Usatii was repeatedly announced in search by both Russian and Moldovan law enforcement bodies. He is also wealthy. Too rich for a former 'Gastarbeiter,' as Usatii likes to introduce himself. He is very skilled, sociable, and well-schooled. Otherwise, he is the same Dodon, with the same pro-Soviet views on Russian-Moldovan relations and development perspectives, with the same approaches to the Transnistrian region issue, the Russian language, the so-called Moldovan language, relations with Romania.
Usatii does not hide the fact that he aims to overtake Maia Sandu and go out in the second round with Dodon. Moscow is prepared with two scenarios. One: Dodon and Maia Sandu in the second round in which Dodon was given the winner. Two: Dodon and Usatii in the second round, in which Usatii is the winner.
Do the right-wing candidates take these scenarios into account?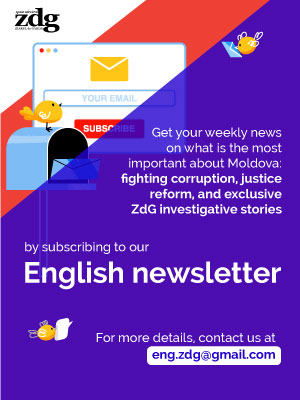 03 December 2020
While looking for interesting local people to invite to the Moldovan-American Convention MAC8 in Seattle, that will be held between September 30th and October 2nd 2022, I found Vladislav Zotea, a mountain climb…
Starting with his own life story, in 2010, Jasminko Halilovic, originally from Bosnia and Herzegovina, began documenting a book about children growing up in war times. Meanwhile, meeting dozens of people who we…
Roskomnadzor (Federal Communications, Information Technology, and Media Surveillance Service) ordered Ziarul de Gardă to delete an article about Russia's war on Ukraine and asked Internet operators to blo…
Several articles published by ZdG during 2021 have had an impact and led to opening criminal cases or sanctions. The investigation "Concrete Instead of Trees in a Chișinău Forest" brought to the public's…
"I left the unit out of fear. I joined the army to do military service and not to let someone mock me. (…) The superiors reacted aggressively. I learnt nothing from the military service: I made repa…
"Fighting corruption is a very important process that we engage to complete; the country's strategy, however, must focus on education." A year after the inauguration of Maia Sandu as President…
-
-
barista oat milk
-
yatırımsız deneme bonusu