Ziarul de Garda is the newest member of the "Zero Zone", a community of honest and responsible people, announced ZdG's Executive Alina Radu.
"We decided to join Zone Zero because, for 16 years, we have been writing about corruption and promoting integrity, both in politics and in business. We want to be numerous and united in this field. Our advertising policy restricts even publicity coming from possible corrupt people; however, we are open to those part of the Zero Zone! " mentioned Alina Radu.
The director of Ziarul de Garda newsroom noted that ZdG's mission is to promote transparency and human rights, to serve the public interest through investigative journalism and equidistant information.
Zero Zone is a campaign initiated by  CPR Moldova – Center for Policies and Reforms and "is a community of the honest and the responsible. In a country where corruption is always in the top three, where people say "everyone is corrupt" and few bring solutions, we want to show that there are citizens, especially entrepreneurs who work properly and have a responsible attitude towards by those around you, " says the campaign's website.
"Zero Zone means identifying honest and responsible businesses, promoting them, encouraging citizens to support them, and showing that it is possible," reads the community's description that has already brought together over 35 companies and businesses in Moldova.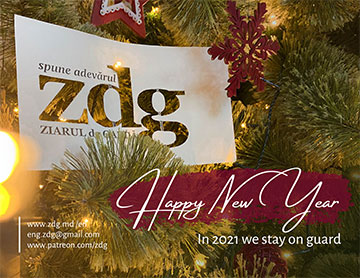 Alina Frunza
08 July 2020
Natalia Gavriliță is the candidate for the prime minister position. The announcement was made today, January 27, during a press briefing by President Maia Sandu. "Today I made the decision to nominate Nat…
President Maia Sandu came with a message on International Holocaust Remembrance Day. She says that it is our duty to do everything possible so that such tragedies never happen again, anywhere in the world. R…
The General Prosecutor's Office confirms to ZdG the detention of the former anti-corruption prosecutor Roman Statnîi, a former subordinate of the suspended head of the Anticorruption Prosecutor's Of…
The Parliamentary Assembly of the Council of Europe adopted a resolution on undermining the independence of the judiciary in Moldova. The Assembly is concerned about the judiciary's proximity to political autho…
President Maia Sandu amended the regulations of the Supreme Security Council establishing new and exact criteria regarding the persons who can be appointed as members. Today was the first meeting of the new cou…
At the end of December 2020, the EU offered Moldova a batch of equipment to combat the COVID-19 pandemic as part of its "Solidarity for Health" Initiative in the Eastern Partnership (EaP) countries.