Prime Minister Ion Chicu declared the removal of four ministers, members of the Democratic Party of Moldova, from office.
Moreover, Chicu will ask president Dodon to accept the resignation of the Minister of Foreign Affairs and European Integration of Moldova, Oleg Țulea. The announcement comes after Saturday, the leader of the Democratic Party of Moldova, Pavel Filip, declared that he would withdraw the Party's representatives from the government after the presidential elections.
In today's Government's meeting, Prime Minister Ion Chicu announced he would also come up with nominations for the Democratic Party ministers' replacement and hopes that the president will accept the new suggested ministers by the end of the day.
Thus, the dismissed ministers are Sergiu Răilean, the Minister of Economy; Igor Șarov, the Minister of Education; Alexandru Pînzari, the Minister of Defense and the Deputy Prime Minister for Reintegration, Cristina Lesnic. At the same time, Minister of Foreign Affairs Oleg Țulea allegedly submitted a resignation request and will move to Moldova's ambassador's position in Hungary.
Moreover, as the Government changes its ministers this week, the second round of the presidential elections will take place on Sunday, November 15. Moldovans will choose between current president Igor Dodon, supported by the Socialists' Party, and the former Prime Minister Maia Sandu, candidate of the Action and Solidarity Party.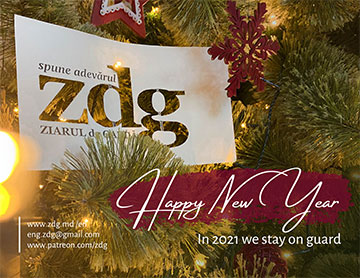 Victor Moșneag
18 November 2020
The Constitutional Court declared inadmissible the notification of the Action and Solidarity Party regarding the possibility of self-dissolution of the Parliament. The announcement was made today, January 18, b…
The President of Moldova, Maia Sandu, had a meeting with Laura Codruța Kövesi, Chief Prosecutor of the European Public Prosecutor's Office, in Brussels, during which the judicial reforms were discussed. &…
Durlești Forest, located in the suburbs of Chisinau, is destroyed under the eyes of the authorities. Instead of trees growing, we see reinforced concrete constructions all over the place, despite the fact that…
This week we watched a symptomatically sad meeting between three former Soviet countries' presidents: Vladimir Putin invited Armenian Prime Minister Nikol Pashinyan and Azerbaijani President Ilham Aliyev to a m…
In 2020, the website www.zdg.md hosted the most readers in its history: 5 million. The news, surveys, interviews, and reports of ZdG journalists were read, distributed, and discussed both online and in many loc…
Last week President of Moldova, Maia Sandu withdrew Pavel Abraham from the Commission for the selection of candidates for the position of judge at the European Court of Human Rights (ECHR). As a follow-up, the…