In full swing of the election campaign, each candidate brings his advocates. Therefore, the President of Moldova, Igor Dodon, has recently posted an interview with his wife Galina on his Youtube channel. It seemed to be a relatively long performance for Galina, as it lasts for 25 minutes. The first interview of the first lady of Moldova turned into a chasm. Although she had the opportunity to say a lot during the interview, she had nothing to say. This is how she managed to show the enormous cognitive and cultural gap and the cosmic distance between her family and ordinary people.
Her task was to show the world how beautiful, intelligent, and generous the president's family is. No doubt, a presidential family must have a very high intellectual and moral standard. Four years have been full of opportunities to show this, but she failed even in the last interview.
Galina said that the two met when they studied Economics at the Agricultural State University of Moldova. Why do some people learn at the Agricultural State University instead of choosing a specialized institution in Economics and Finance? They probably can't access a technical institution or because they want to practice economy in the agricultural sector. Either Galina Dodon (or her husband) did not subsequently engage in economic activities in the agricultural sector. Neither other serious studies. Except for several classes, Galina attended an institute on Hristo Botev Street in Chisinau. During the 25 minute-interview, she said nothing about economics, finance, management, culture, theaters, books, libraries, discoveries, music. She only mentioned that the former student Igor played the guitar and they used to sing together "Дым сигарет с ментолом" (Menthol Cigarette Smoke), a song by a Russian band about alcohol, cigarettes, and loveless relationships. Indeed, anything can happen in the study period. It seems odd that the first lady did not mention other equally popular songs of that period, like the world-famous singers Celine Dion, Ricky Martin, or a very popular Romanian band 3Sud-Est. Moreover, she did not seize the opportunity to mention the electoral interest in Vysotsky or Tsoi's songs. And, sadly, she did not name the Moldovan band "Noroc", which was incredibly popular at that time, including among Russians.
In terms of her visits overseas, she could give the final stroke of intelligence, but the chasm widened more. Due to her husband's poor qualities, they had official visits to Russia, Azerbaijan, Armenia, and Israel. They also visited Turkmenistan, Turkey, UAE, and several European countries where some international meetings were held. When asked about the most memorable trip, the first lady mentioned Japan for its "different traditions, exceptional dishes we tasted there", providing some photos in which she posed wearing expensive outfits.
Japan is one of the most prosperous countries with the longest-lived people and an example for many countries. For this reason, we dare to recommend that Ms. Galina, when visiting Japan or any other country with public money, focus on more beneficial things for her country than traditional food and tourist attractions. Here are some suggestions: fighting corruption, supporting mothers with many children, effective health policies, education, etc.
Answering the question of who takes care of her public image, Galina only mentioned her outfits. She told who tailors her clothes and chooses the style. She probably believes that the image of a presidential family is all about dresses and shoes. But, apart from that, the image of a person who represents the citizens of a state means intelligence, moral attitude, the causes for which she militates, the events to which she is invited, necessary speeches and statements.
From the interview with the first lady, we learned a lot about the outfits of the presidential family, their nostalgic songs, favorite countries to visit, and other preferences. What didn't we learn from the chasmic interview was anything about transparency and corruption, about her activity at Exclusiv Media SRL, where she manages the money of the TV channels affiliated to the socialists. We learned nothing about the mandatory financial statements on the charitable activities of the first lady. Thus, Galina Dodon deepened the chasm of image, incompetence, obscurity, and lack of elementary culture. Yes, she's a nice wife, wearing beautiful dresses from dark money. But how much she could have done if she had wanted to learn from other first ladies.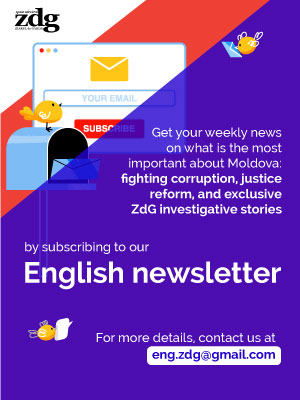 Daniela Calmis, Diana Gatcan
05 November 2020
While looking for interesting local people to invite to the Moldovan-American Convention MAC8 in Seattle, that will be held between September 30th and October 2nd 2022, I found Vladislav Zotea, a mountain climb…
Starting with his own life story, in 2010, Jasminko Halilovic, originally from Bosnia and Herzegovina, began documenting a book about children growing up in war times. Meanwhile, meeting dozens of people who we…
Roskomnadzor (Federal Communications, Information Technology, and Media Surveillance Service) ordered Ziarul de Gardă to delete an article about Russia's war on Ukraine and asked Internet operators to blo…
Several articles published by ZdG during 2021 have had an impact and led to opening criminal cases or sanctions. The investigation "Concrete Instead of Trees in a Chișinău Forest" brought to the public's…
"I left the unit out of fear. I joined the army to do military service and not to let someone mock me. (…) The superiors reacted aggressively. I learnt nothing from the military service: I made repa…
"Fighting corruption is a very important process that we engage to complete; the country's strategy, however, must focus on education." A year after the inauguration of Maia Sandu as President…
-
-
eskort
-
eskort eskişehir
-
-
barista oat milk