On October 20, the Chișinău Municipal Council approved the loan contract between the Municipal Sanitation Enterprise  "Autosalubritate" and the European Bank for Reconstruction and Development (EBRD), amounting to €9 million and a grant of €5 million for the implementation of the "Solid Waste Chișinău" Project.
The repayment term of the loan is 12 years, including a three-year grace period.
According to Chisinau City Hall officials, the financing source for the repayment of the bank loan, interest, and fees will be ensured by the annual adjustment of tariffs for waste collection and transportation by individuals and legal entities.
The General Financing Plan of the Project foresees an EBRD loan for € 9 million and an EIB (European Investment Bank) loan – € 9 million. The payments will benefit the Chișinău local public authorities (APL), as a non-repayable loan and as an integral part of the Country Waste Management Project.
The Municipality's contribution to supporting the Project is €7.96 million, of which 1.5 million have already been invested, according to the City Hall representatives.
Based on the support offered by the two European banking institutions within the "Solid Waste Chișinău" Project, works will be carried out on the recultivation of the temporary landfill from to key-districts, following EU standards. The money will be invested in the modernization of the car park, the infrastructure for waste transportation from the City, and installation of a manual sorting line for separately collected recyclable waste.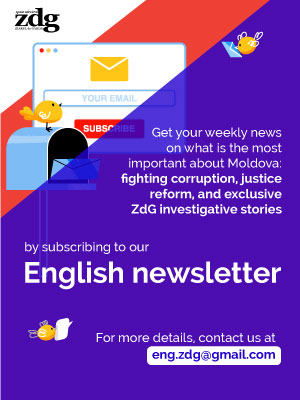 Petru Grozavu
20 November 2021
While looking for interesting local people to invite to the Moldovan-American Convention MAC8 in Seattle, that will be held between September 30th and October 2nd 2022, I found Vladislav Zotea, a mountain climb…
Starting with his own life story, in 2010, Jasminko Halilovic, originally from Bosnia and Herzegovina, began documenting a book about children growing up in war times. Meanwhile, meeting dozens of people who we…
Roskomnadzor (Federal Communications, Information Technology, and Media Surveillance Service) ordered Ziarul de Gardă to delete an article about Russia's war on Ukraine and asked Internet operators to blo…
Several articles published by ZdG during 2021 have had an impact and led to opening criminal cases or sanctions. The investigation "Concrete Instead of Trees in a Chișinău Forest" brought to the public's…
"I left the unit out of fear. I joined the army to do military service and not to let someone mock me. (…) The superiors reacted aggressively. I learnt nothing from the military service: I made repa…
"Fighting corruption is a very important process that we engage to complete; the country's strategy, however, must focus on education." A year after the inauguration of Maia Sandu as President…
-
-
-
barista oat milk
-
Tipobet Giriş
-
Ligobet