The general mayor of Chisinau, Ion Ceban, had several official meetings in Geneva, Switzerland. The head of Moldova's capital met with representatives of the World Bank and Moldova's Ambassador to Switzerland, Tatiana Molcean.
The officials focused on solutions to the municipality's approach, addressed to the World Bank Office in Chisinau, following several joint working meetings.
A Chisinau City Hall press release reports, the mayor of the capital requested technical assistance addressing the World Bank Office regarding the municipal public transport service development. In response, World Bank experts and representatives of Swiss companies are to provide technical assistance to the Chisinau City Hall in transport and infrastructure. 
According to the City Hall, Ion Ceban discussed with the World Bank representatives and other topics of municipal interest, such as infrastructure projects, the actions already carried out by the Chisinau City Hall, including those related to the application for international development projects of the city.
The mayor of the capital pays a working visit to Geneva, Switzerland, during October 6-8, 2020, where he participates in the UN Forum of Mayors (city leaders), organized by the European Economic Commission.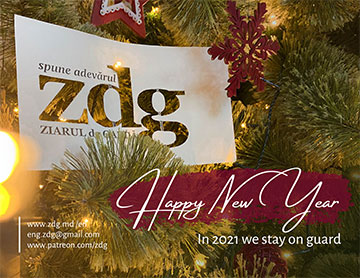 Cristian Jardan
13 August 2020
Natalia Gavriliță is the candidate for the prime minister position. The announcement was made today, January 27, during a press briefing by President Maia Sandu. "Today I made the decision to nominate Nat…
President Maia Sandu came with a message on International Holocaust Remembrance Day. She says that it is our duty to do everything possible so that such tragedies never happen again, anywhere in the world. R…
The General Prosecutor's Office confirms to ZdG the detention of the former anti-corruption prosecutor Roman Statnîi, a former subordinate of the suspended head of the Anticorruption Prosecutor's Of…
The Parliamentary Assembly of the Council of Europe adopted a resolution on undermining the independence of the judiciary in Moldova. The Assembly is concerned about the judiciary's proximity to political autho…
President Maia Sandu amended the regulations of the Supreme Security Council establishing new and exact criteria regarding the persons who can be appointed as members. Today was the first meeting of the new cou…
At the end of December 2020, the EU offered Moldova a batch of equipment to combat the COVID-19 pandemic as part of its "Solidarity for Health" Initiative in the Eastern Partnership (EaP) countries.