For four years, President Igor Dodon, in direct or indirect complicity with those from the Democratic Party of Moldova, raided and robbed, perpetuated lies, humiliated, and betrayed the Moldovan citizens. Yet, he has the nerve to declare: "I am confident I can make the country richer and more beautiful." When, how, and with what human and financial resources?
Just like in 2016, Russia will "participate" in the presidential elections in Moldova. Vladimir Putin and Igor Dodon agreed. In this regard, the Central Electoral Commission decided to double the polling stations in Russia (17 compared to eight in 2016) for the November 1 elections and to open on the right bank of the Nistru River additional 12 polling stations. Therefore, there will be 42 polling stations, compared to the 30 there were four years ago, open for the breakaway Transnistrian region's population with Moldova's citizenship. As we know, the Transnistrian community is an indoctrinated, paid, and trained electorate to vote for the Kremlin candidate.
It's hard to believe that Igor Dodon would step into presidential elections without seeing Vladimir Putin, his generous Kremlin host. It's true, and it was not an official visit to Moscow, as Dodon might have preferred. Anyway, the two discussed during a teleconference on Monday. As Dodon says, "We addressed a wide range of topics on the agenda of our strategic partnership," and "we paid more attention to current issues."
No serious issues were discussed. The Putin-Dodon meeting was nothing more than an electoral television show, with Putin's electoral image transfer to Dodon, as it happened in other years.
Dodon and the Socialists have frequently used Putin as an electoral mascot. The topics, declared by Dodon are all with electoral subtext: the Moldovan-Russian Economic Forum and the meeting of the Moldovan-Russian Intergovernmental Commission for Trade and Economic Cooperation on October 1-2, the renegotiation of the Russian loan of 200 million dollars, Russian humanitarian aid of 40,000 tons of diesel (in the middle of the election campaign) for farmers affected by drought, the purchase of the Russian anti-COVID vaccine, the problems of Moldovan students studying in Russia, the resumption of air and rail traffic between Russia and Moldova. All these "topical issues" are electoral PR exercises, which Dodon uses to lie and attract voters to his polls, and namely those voters who believe that Dodon's submission to Putin would do good to Moldovan-Russian friendship and brotherhood. It's nonsense. Russia never gives anything without asking for something in return or taking it by force. The breakaway Transnistria region is a sufficient example.
Last Monday, Putin and the Moldovan President had an online conference: Dodon asks, Putin smiles, approves or promises, and does not ask for anything in return.
In reality, immediately after the elections, after appreciating Dodon's loyalty to Russia, he will ask "to continue the work of rebuilding our bilateral relations, in the spirit of and according to the Treaty of friendship and cooperation between the Russian Federation and Moldova, concluded 20 years ago." Russia, however, never respected that treaty.
Russian ultranationalist leader Vladimir Zhirinovsky is even more explicit in what Putin demands: "After the elections, the Constitution will be amended in Moldova, the breakaway Transnistrian region will be granted more rights than the Chișinău authorities, and the problem with Moldova will be solved," he said in a show on a Russian TV station last week. Nothing new. Dodon wants the same thing, only Zhirinovsky, unlike Dodon, is more honest.
After Monday's teleconference, Dodon takes courage and, on Tuesday, declares himself "ready for the start of the election campaign" In the same statement, Dodon arrogantly declares that he will remain in office and that he will not participate in the television debates. Curiously, he manages to meet the electorate both as the current president and as a candidate.
Dodon cannot see reality through the tinted windows of his presidency car. He could, at least, keep track of the growing prices. We have higher fees for vegetables, dairy products, and bread.
A month ago, Prime Minister Ion Chicu assured us that we have enough wheat reserves for this year to avoid hunger. Immediately after, bread prices have risen, and experts say they could double soon.
Moldova cannot be prosperous and beautiful with a president who is always begging for pity and is ready to sell himself to Putin or Erdogan.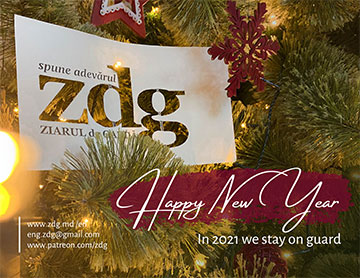 Diana Severin
20 August 2020
President Maia Sandu met with Josep Borrell, High Representative of the European Union for Foreign Affairs and Security Policy, Vice-President of the European Commission. Maia Sandu thanked for the constant sup…
The President of Moldova, Maia Sandu, had a meeting with the President of the European Commission, Ursula von der Leyen. Maia Sandu posted a message on Facebook and "thanked the President of the European Commi…
The Constitutional Court declared inadmissible the notification of the Action and Solidarity Party regarding the possibility of self-dissolution of the Parliament. The announcement was made today, January 18, b…
The President of Moldova, Maia Sandu, had a meeting with Laura Codruța Kövesi, Chief Prosecutor of the European Public Prosecutor's Office, in Brussels, during which the judicial reforms were discussed. &…
Durlești Forest, located in the suburbs of Chisinau, is destroyed under the eyes of the authorities. Instead of trees growing, we see reinforced concrete constructions all over the place, despite the fact that…
This week we watched a symptomatically sad meeting between three former Soviet countries' presidents: Vladimir Putin invited Armenian Prime Minister Nikol Pashinyan and Azerbaijani President Ilham Aliyev to a m…